Home Inspection Problems That May Not Be Found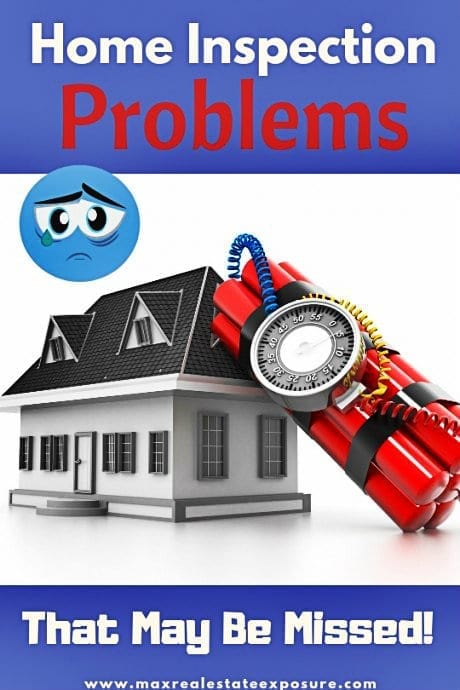 Having a home inspected before you buy it is standard procedure for obvious reasons. You want to know that that house you are spending all this money on is in good repair and that you aren't moving into any major surprises.
Unfortunately, even with the home inspection, there are some issues that may not be noticed before the money exchanges hands.
Even the best home inspector can only identify so many issues in the short amount of time he or she is in the home – meaning you may still find some problems later on.
The last thing you want of course is to find home inspection issues that were missed by the inspector!
Keep in mind this does not necessarily mean that the home inspector didn't do his or her job. An experienced home inspector has gone through numerous homes identifying problems and even the newest inspectors have gone through lots of training to identify major home inspection issues. However, households are composed of multiple systems – systems where even one broken or damaged component can cause problems.
This is why there are specialists in so many areas concerning homes – including roofing, plumbing, electrical, foundations and more.
The home inspector will do his or her best to identify problems and notify you of them. Just don't be surprised if something pops up later on when you are living in the house.
When looking to hire a home inspector one consideration would be to hire someone that is certified by The American Society of Home Inspectors or ASHI for short.
An ASHI certified inspector goes through many additional hours of training to attain their certification. The ASHI Standards of Practice and Code of Ethics serves as a guideline for home inspectors on their performance and is universally recognized and accepted by many professional and governmental bodies.
This is much like a real estate agent and a Realtor being two different things based on subscribing to the code of ethics. A Realtor is required to follow the code of ethics.
ASHI home inspectors work their way to ASHI certified status by meeting rigorous requirements, including passing a comprehensive, written technical exam and performing a minimum of 250 professional home inspections conducted by the ASHI standards of practice and code of ethics.
ASHI inspectors are also required to take mandatory continuing education classes that help the inspector stay up to date with the latest in technology, materials, and professional skills.
While having a certified ASHI inspector will not guarantee that home inspection problems are not missed, it could potentially help. ASHI puts out a great guide for anyone who is going to be purchasing a home and getting an inspection.
Take a look below at some of the more common home inspection issues that may not be found.
Common Problems Missed in a Home Inspection
Failing Heating or Air Conditioning Equipment – HVAC equipment is a lot like your favorite automobile. It may keep running strong for decades, or it could stop working tomorrow. Sometimes the only way to detect future problems is a thorough examination of the equipment – something the home inspector is not qualified to do in most instances.The inspector will make sure the HVAC system is functional at the time of his or her visit, but that does not mean everything will keep working after you move in. If you are buying a home with an older unit, be prepared for potential problems especially if the current owner has not kept the maintenance up to snuff.
Cracked Heat Exchanger – There are a few circumstances where it could be worth the cost of bringing in an HVAC specialist for the inspection along with the home inspector. If the home has a heat exchanger unit that is ten years or older, it is probably time to have it inspected. A cracked heat exchanger can lead combustion byproducts – like carbon monoxide – to mix with the indoor air. A deadly gas is not something you want in your home. A few years back I remember a terrible situation that took place in Holliston Massachusetts. The owner almost was killed because of the heating system creating a very unsafe situation where carbon monoxide was being released into the home. Some inspectors have specialized equipment that can check for such leaks. Unfortunately, however, it is common for most inspectors not to have this safety device.
Damaged or Blocked Sewer Lines – Home inspectors know to check for a functional water and drainage system, but this does not mean they can detect partial blockages or pipe damage. They can determine the age and type of pipe system in the home and can advise on potential issues caused by tree roots, but it often takes special equipment to detect certain issues. After living in the house for a little while, you may discover problems with the pipes that the inspector was unable to identify earlier on.
Electrical Issues – The inspector is paid to come into the home and identify any obvious problems in a short amount of time – mostly through visual inspection. This keeps the review affordable for the seller or buyer and is often enough to detect common problems. However, electrical issues can require a lot more investigation than the inspector has time for – even if he or she is qualified to do electrical work. The inspector can tell you if there are noticeable electrical problems, like an outlet that has no ground, or identifying double tapped breakers. They may not be able to determine the malfunction of another component in the home, however, if it is due to an electrical issue. To get a correct understanding of what is wrong with the more technical parts of an electrical system, you will usually need the help of an electrician.
Internal chimney issues – a qualified home inspector is going to look over the fireplace both from the exterior and the interior. On the outside, they will be looking for structural cracking and deterioration of the bricks along with whether mortar joints need re-pointing among other things. On the inside, the inspector will visually look up the chimney to check for issues including whether there is unsafe soot build up. They will also be looking for any internal damage. This is where things can get tricky, and a problem could easily be missed. In order be one hundred percent sure there are no chimney issues you need to get what is referred to as a level two inspection. Specialists perform level two inspections. Most often a standard home inspection will not include this expertise. Additionally, level two checks are required when changes are made to the heating system. This could include changes in fuel type like going from oil to gas. You would also want to have a level two inspection if there was a house fire, chimney fire or seismic event where the chimney could have become damaged.
Structural Problems – The home inspector will include the roof in his or her inspection, and will know how to tell if the irregularities in the roof are acceptable or indicative of a bigger issue. The vast majority of all home inspectors will be qualified on how to figure out if the roof needs replacement. This is an area where calling in a roofer is usually not necessary. He or she will also look at the foundation of the home and examine it for any significant cracks or issues that you should know about. If the home does have major issues, the home inspector may not know how to diagnose the problem accurately, or how to measure the cost of repairs. When the inspector identifies the problem being structural in nature most often a structural engineer will need to be called in to evaluate the situation. Roof and foundation issues – and structural problems in general – can be some of the most challenging and expensive problems to fix on a home. If you already know that the house has these types of problems, it is best to bring in a contractor that specializes in roofing or foundations to give you an accurate measure of the damage and the cost of repairs. Bringing in specialized contractors should be done as part of the inspection process.
Leaks – Leaks can cause all sorts of issues with a home, including mold infestations and structural degradation. This is why it is so important to have a home that is well-sealed against the elements, and that effectively redirects water away from the home. Your inspector will be looking for any evidence of water damage and leaks in the home. The only problem is, it takes water to make the leaks show up in the first place. This means that if the inspector is looking at the house after it has gone unoccupied for a while, or after a dry season, he or she might not notice leaks. It will only be later on after you have occupied the house and experienced precipitation in your area, that the water penetration makes itself known.
Perpetual Ice Dams – this is a complicated issue to identify when you are not in the winter home selling season. It is certainly possible that before a home inspection the owner of the home could conceal previous water damage without the inspector identifying it. The most recognizable damage that occurs from ice dams is a water stain. Ice damn issues could easily be cleaned up by the owner either by bleaching out the stain or painting an entire ceiling. If the ice dam is located in an area where the inspector has no access to see behind the wall, it is a home inspection issue that could easily be missed.
Septic Systems – In some states such as Massachusetts, it is a requirement to have your septic system inspected to get a mortgage. This inspection process is known as getting a Title V. The problem with a septic inspection is that it is only good on the day it was done. In other words, there is no guarantee that from the time the evaluation is performed to a few months later when a new owner has purchased the property, which it won't fail. This is the unfortunate part of owning a home that is serviced by a septic system. It is the very reason many homeowners prefer having public sewer. There are some things you can do that will increase the odds you won't be faced with this problem including looking over the eighteen-page Title 5 report thoroughly. You should be looking for whether or not the current owner has been maintaining the system properly. For example, a septic system should be pumped out every two to three years depending on the amount of people living in the home. The greater use of the system the sooner as a septic system should be pumped.
These are some of the most common inspection items the inspector may miss during your inspection. Keep in mind nobody is perfect. The home inspector is not intentionally going to miss home inspection problems.
Like any other business, however, you should keep in the back of your mind there are good and bad inspectors. Getting this part of your real estate transaction right is important.
The last thing you want is to move into a house of horrors. If your real estate agent is worth their salt, they should be able to provide you with a few names of well-respected inspectors.
Only take suggestions from a Realtor if they are working for you as a buyers agent! You do not want to get stuck with a home inspector that is hand picked by an agent working for the seller as they could pick the inspector with the reputation for glossing over things that are important.
When I am working with a buyer, they receive names of five home inspectors that do an excellent job. The customer can then call these inspectors and choose the one that best meets their needs, budget, etc.
A real estate agent should not give out the name of one hand picked home inspector. We live in a sue happy society so guess what happens when you recommend someone, and they miss something. If you have your hand raised and are thinking the real estate could be sued you are correct!
Additional Home Inspection Resources
Use these additional resources to help understand the home inspection process and ensure you come away with a property you will be proud to call home for years to come!
---
The above Real Estate information on home inspection problems the inspector may not find was provided by Bill Gassett; a Nationally recognized leader in his field. Bill can be reached via email at [email protected] or by phone at 508-625-0191. Bill has helped people move in and out of many Metrowest towns for the last 32+ Years.
Are you thinking of selling your home? I have a passion for Real Estate and love to share my marketing expertise!
I service Real Estate sales in the following Metrowest MA towns: Ashland, Bellingham, Douglas, Framingham, Franklin, Grafton, Holliston, Hopkinton, Hopedale, Medway, Mendon, Milford, Millbury, Millville, Natick, Northborough, Northbridge, Shrewsbury, Southborough, Sutton, Wayland, Westborough, Whitinsville, Worcester, Upton and Uxbridge MA.