Major Money Mistakes to Avoid as a First-Time Home Buyer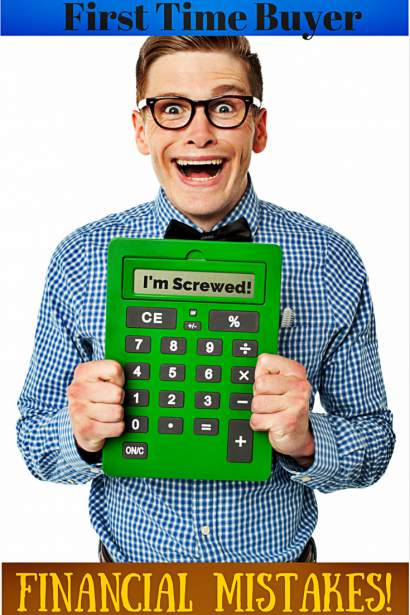 As a first time home buyer, you have a lot of pressure on you to get things right – and not a lot of experience to rely on. While a few mistakes may be inevitable, especially if you are not using a real estate agent, there is no reason to go into this situation blind. Most of the obvious money mistakes can be avoided if you know how to spot them from the start.
By educating yourself before you even start looking at homes you put yourself in a far better position not to make mistakes. After being in the real estate business for nearly thirty years, I can tell you with certainty that financial mistakes of first time home buyers are quite common!
One of the common financial that first time home buyers make when purchasing a home is focusing too much on how to get the best interest rate on a mortgage. While this is certainly important the rate will mean little if you can't afford the home a year later.
Maxing Out Your Loan 
This leads to the #1 financial mistake. One of the best first time home buyer tips I can give you is not to max out the amount of mortgage you are able to get from the bank or mortgage company. The amount the lender is willing to give you will vary depending on a lot of factors. What will not be taken into consideration is your cost-of-living, possible repairs you may need on the home, savings goals and just about everything else that comes up in day-to-day life.
Lenders may offer you considerably more money than you should accept. Everyone lives life a little differently. You may have no problem paying back the maximum loan amount. However, you may also find yourself buried under a mortgage you have no hope of repaying if anything should disrupt your financial situation. Many buyers do not take the time to consider all the extra expenses when buying a house. These costs can add up quickly and put a strain on your financial well being if you are not careful.
Only you are able to judge what you can and cannot handle.If you need the maximum loan amount to get the home you want then you may need to take all you can get. Just try to keep a level head while making your decision. It is better to live in a more modest home that you can reasonably afford than to dread the first of the month because you are never sure you will be able to make the payment.
Speaking of expenses, many buyers are not educated well enough when making a home purchase for the first time. There are a number of extraneous costs associated with buying a home that buyers sometimes are shocked by. For this reason I have put together a comprehensive list of every home buyer cost you can imagine. Some of these expenses are mandatory while others are things you may or may not opt for.
Not Considering Your Credit Score
Often your first home purchase is the biggest financial decision you have made up to this point. This means you might not have a complete grasp on the implications of what interests rates can do when applied to substantial amounts of money – namely your home loan. Your credit score will affect your lending rate for your home, sometimes in a big way. It can mean thousands of dollars over the life of your loan. For this reason you should do everything you can to raise your credit score before purchasing a home for the first time.
Most lenders say that a credit score that is above 720 will get you the best interest rates on your loan, while a score below 620 is about the minimum for getting a loan for a house. In between those numbers the rates you get will vary. If your credit score is lower than 720 it is worth talking to a financial adviser or other expert to find out if there are any ways to increase your score that can be done in a timely fashion. If it takes you six months to bring your score up to a higher number it may be well worth the wait. You could save a considerable amount of money overall on your house.
Failing to Get Pre-approved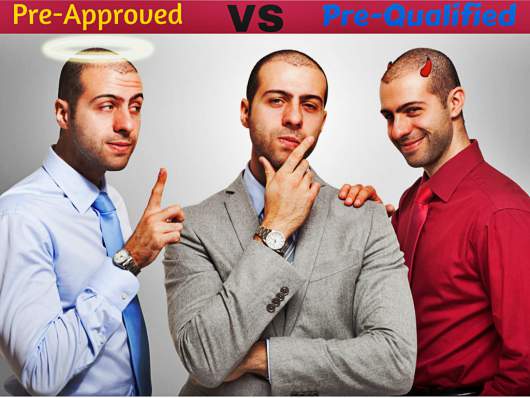 The process of getting approved for a home loan can take some time. The bank or lender will be giving you a substantial amount of money and may take a good deal of time to determine if you are a reasonable risk. Unfortunately, not all first-time home buyers realize that this is part of the buying process and wind up frustrated when they cannot get a loan in time to snag the home they really want. Make sure you understand there is a difference between getting pre-approved and pre-qualified for a loan.
Having a lender issue a pre-approval letter will make sellers and real estate agents far more confident you will actually get the mortgage. Unfortunately getting a pre-qualification letter is very easy to do because rarely is anything ever verified by the lender. With a pre-approval the lender verifies you income, employment and credit history. A pre-qualification letter does nothing more than tell someone you are able to spend "X" amount of money. The problem is without verification it is meaningless.
Sellers are motivated to get rid of their homes as quickly as possible. Once they have an offer they want they want to get the sale over and done with fast. If you are not ready to hand over the money then you should not be surprised if the seller chooses to move on to the next buyer and leaves you without the home of your dreams.When you are ready to buy, find the lender that seems to be best for you and start the process of pre-qualifying for the loan. Once you are pre-qualified you know you are ready to buy and you can make an offer you can follow through on. You also have the added benefit of knowing exactly how much you can spend on a house.
Choosing The Wrong Type of Loan
While the most popular type of home loan is still the 30-year fixed-rate mortgage, this is not the only type of home loan that is available to buyers. There may be other options that work better for you depending on your situation. The best way to find the right loan for you is to talk to your preferred lender and explain all of your concerns and your home-buying goals. For instance, if you are planning are relocating with your company in the next five years you may be better off with a 5/1 ARM mortgage.
In this instance it would actually make more financial sense to avoid the standard 30-year fixed-rate mortgage if the rate you receive on the adjustable rate loan is better. Or you may be doing really well financially and want to build equity in your home as fast as possible. In this case you could choose a 15-year mortgage instead of the 30-year version. While the payments will be larger, you will avoid a good deal of interest due to the halving of your loan term.
Advising you on the correct mortgage for you is beyond the scope of this article – or any article for that matter. Speak candidly to your loan institution and choose what works best for you. Just know that going with the traditional route is not always the best financial bet if you are in certain situations.
Many first time buyers are better off going with a low down payment loan and having money in reserve than put all of their savings which they have worked for years to save. Popular low or no down payment loan options include an FHA mortgage or USDA loan if the home is in a rural area. One smart consideration when making an offer is to ask the seller for a closing cost credit so that you have even more money left in reserve. The money you don't have to come up with for the closing costs can be used for other essentials when buying a home or just as a financial security blanket to have funds when needed.
Not Looking For Ways to Save Money
Sometimes when buying a home you can get so caught up with the emotions of the moment you forget about the long term consequences of your decision. The perfect example is the buyer that starts their home search and stumbles across a home that has granite counters in the kitchen and a whirlpool tub in the master bath. None of the other homes in the price range have these amenities. These things sometimes becomes so tantalizing to buyers that they overlook some more obvious things that should not be swept under the rug.
Maybe there are other cheaper homes where you could add these things for far less money? There are many ways that first time home buyers can save money. The key is having a true real estate advocate in your corner pointing some of these things out along the way.
Buying The Wrong Home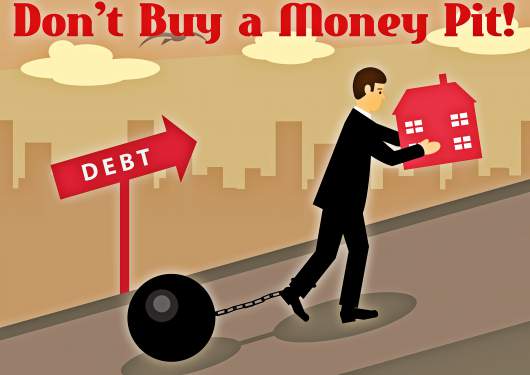 Sometimes despite a buyers best efforts they will end up buying the wrong home. There could be any number of reasons why the home ends up being a bad choice but one of the more common ones is purchasing a "money pit". Many real estate agents are all too familiar with this term. This is the home where there is a constant influx of money needed to not only keep the place safe but a viable means of shelter. Of course nobody ever sets out to purchase a money pit.
There are times despite you best intentions it just happens. In order to minimize the chances of this occurring a buyer should always have a home inspection and be on the look out for some of the most common home issues. A good home inspector will flag these kinds of problems. Remember you can't put lipstick on a pig. So while the kitchen may have new stainless steel appliances and granite counters when your roof starts to leak or you heating system starts to fail you will care less!
Buying The Wrong Location
Ask any qualified real estate agent and they will tell you that a homes location play a huge role in not only a homes value but it's saleability as well. This is another common area where first time home buyers make financial mistakes they regret. I can't even count how many times over the years someone is looking to sell their home because they can't stand the area in which they are living. You would not believe how many times this happens with people who have not occupied a home for long!
One of the more common scenarios is with first time home buyers who have purchased a home that they now regret buying. The theme I hear most often from these folks is not having taken into consideration their desire to have kids. Many young couples don't take into account the little ones that could enter their life at some point. Some of the reasons I hear quite often for the desire to move is the street being far too busy or the school system not being up to snuff.
When you are young and buying a first home many do not realize just how much schools can affect home values. The same can be said about busy streets when it comes time to sell. It is usually much harder because your buyer pool shrinks tremendously.
Additional Helpful Articles For First Time Home Buyers
Use these additional articles to make sound financial decisions when buying a home especially when it is your first time doing so!
---
About the author: The above Real Estate information on financial mistakes of first time home buyers was provided by Bill Gassett, a Nationally recognized leader in his field. Bill can be reached via email at billgassett@remaxexec.com or by phone at 508-625-0191. Bill has helped people move in and out of many Metrowest towns for the last 28+ Years.
Thinking of selling your home? I have a passion for Real Estate and love to share my marketing expertise!
I service Real Estate sales in the following Metrowest MA towns: Ashland, Bellingham, Douglas, Framingham, Franklin, Grafton, Holliston, Hopkinton, Hopedale, Medway, Mendon, Milford, Millbury, Millville, Northborough, Northbridge, Shrewsbury, Southborough, Sutton, Wayland, Westborough, Whitinsville, Worcester, Upton and Uxbridge MA.