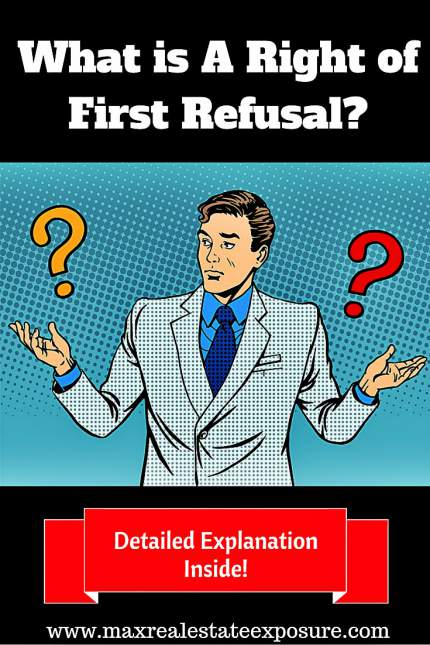 Over my nearly thirty years in the business, there have been numerous clients who have asked me what is a right of first refusal and how do they work. When selling a home, you are often forced to deal with scenarios that are less than ideal. One such scenario is a purchase offer that is contingent on the sale of the buyer's home.
Should you accept such an offer? Are there any options that could make such an offer more appealing – and with a less potential downside. If you are in a situation where you are really in need of an offer, even an imperfect one with contingencies, the "right of first refusal" clause may be just what you need.
It is rare that I will ever counsel a client to accept an offer with a home sale contingency, however, a right of 1st refusal in some circumstances could be a good alternative.
It should be noted that a right of 1st refusal is also referred to as a "kick- out clause." These two real estate terms mean the same thing.
So what exactly is a right of 1st refusal in real estate sales?
The Right Of First Refusal Clause Explained
If you list your home and find yourself with fewer offers (or none at all) than you had hoped for, you may be looking for any buyer that will make the leap and purchase your home. When a buyer does come along, what happens if you get an offer that comes with baggage that you are unsure how to deal with – like if the buyer will only buy the home if they sell their current home. While it may be a situation that you had not anticipated, now you must determine if you want to sell your home badly enough to accept such an offer.
An offer with a home sale contingency comes with quite a bit of risk. I often refer to the home sale contingency clause as real estate fools gold. You think you have a deal but in reality, you don't. Read the article to see why.
When you are considering an offer with a home sale contingency, you want to minimize the risk you put yourself in. A right of first refusal clause accomplishes the goal of protecting you, while still allowing you to accept the offer. When you add a right of first refusal or kick out clause, you are telling the buyer making the contingency offer, which you will still keep your house on the market until the buyer purchases your home.
If another buyer comes along and makes an offer for your home, you must give the original buyer the option to eliminate the contingency for the sale of his or her home and purchase your home within a period – 24 to 72 hours is typical.
If the original buyer does not buy the house from you within the specified period, then you can return the earnest money from the original offer and can then sell your home to the second buyer. Working as a top real estate agent in Franklin MA, I am going through this exact scenario right now. A buyer made an offer on a home I am listing and asked for a home sale contingency. We said no way and the buyer proposed a right of 1st refusal instead which was subsequently accepted. The buyers home have since gone under contract so we should be closing soon!
So it seems like accepting a right of first refusal is a win-win for a seller. You might be wondering if there are any drawbacks to this situation. There is only one. If you have accepted a right of first refusal giving the first buyer 72 hours to decide if they want to move forward, the second buyer may find they can't wait that long. Maybe they are being transferred to the area and have narrowed down their search to your home and another. The buyer might not want to take a chance on losing the other home they have an interest in. This is especially true in hot markets with limited inventory.
What to Expect With a Right of 1st Refusal or Kick Out Clause
When you are selling a home and receive an offer with right of 1st refusal or kick out clause there should be a few things that you look for just like any other offer including the following:
What is the buyer willing to pay for your home.
Is the buyer going to have a home and other inspections? If so how long do they have to complete them? 7-10 days is the typical time frame.
How long will the buyer have to procure mortgage financing? Even though the buyer has a home, they must sell before completing the purchase they still can get pre-approved for a mortgage.
What is the proposed closing date?
How long will the buyer have to respond should you get another offer from a different party.
If the client does not have their home currently on the market, how long will you give them? This should be a short time frame – no longer than a week.
Be Careful With Contingency Offers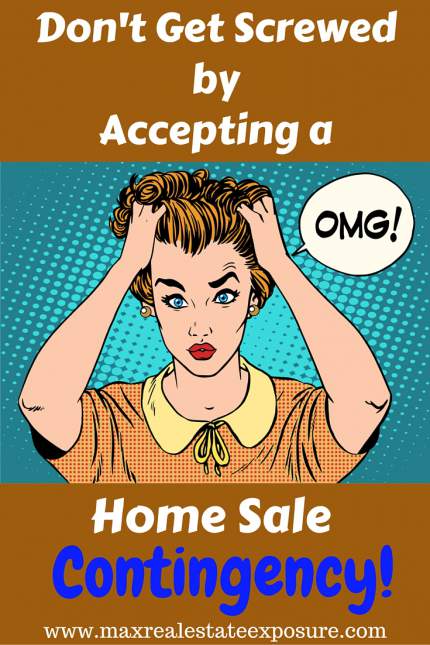 It should be noted – there are not many situations where a Realtor should advise you to accept a contingency offer like the one above. Unless you are having lots of trouble selling the home – like if it is severely damaged, needs extensive work done or has become highly undesirable for some other reason – it is usually better to just wait for a serious buyer that is in the position to purchase your home on time.
Waiting around for someone who is buying a home before selling their current property puts you in a bad position. You know how hard it is to sell a home now, from personal experience, and the person who made the offer on your home may run into the same problems. You are left waiting for a sale that may never happen. When accepting an offer with a home sale contingency, you are putting faith in this person that they will sell their home. The problem with this is you've given up complete control of your sale.
How do you know this person is going to price their home correctly? How do you know the real estate agent marketing their home will do a good job? Will the home be marketed properly? Is the home any more salable than your own?
The answers to these questions are vital and should be a large part of your decision process.
Unless your home is significantly less salable than the property owned by the person making the contingent offer, it is wise not even to consider a home sale contingency.
This is where a right of first refusal clause can come in handy instead of a home sale contingency. Once you add in a right of first refusal clause, you minimize your risk and allow yourself to continue to seek other buyers. If you are selling a home accepting a right of first refusal is a much better alternative.
Why Would A Buyer Accept A Right Of First Refusal Clause?
You may be wondering why any buyer would take a clause to an agreement that would disadvantage them. The truth is any buyer who makes an offer contingent on the sale of their home is already in a compromised position. If they are working with a real estate agent, then the agent will have told them that making this kind of offer is often ineffective because few sellers want to bother with this sort of contingency. They want to sell their homes with as little trouble as possible.
It is common for people only to see things from their perspective. If you are in a situation where you are struggling to sell, you may feel grateful for any offer and worry about upsetting a potential buyer, even one offering contingency deals, by asking for your clause to the purchase agreement. Understand, any buyer like this, is also going to struggle to buy a home. There will be others sellers that will feel the same way you do. You should both be willing to compromise to achieve the outcomes you want.
Buying and Selling a Home at The Same Time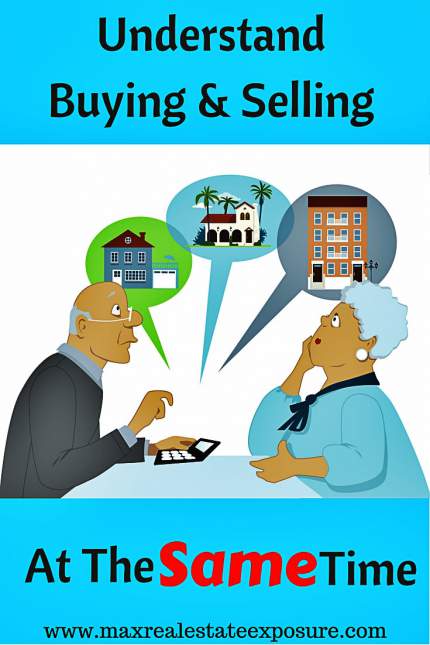 Often the discussion of the right of 1st refusal and home sale contingencies come into play when people are selling and buying properties simultaneously. These conversations almost always come into play when purchasing a home is impossible without first selling the property already owned. This is where a good real estate agent comes into play to set people straight on how their local real estate market works.
For example, in my area of Massachusetts, it is very uncommon for a home seller to accept a home sale contingency clause for the reasons mentioned above. It is important to know this because some people will go out and start looking at homes – find something they love and then try to purchase it without having sold their current home.
A seasoned real estate professional will have a conversation up front explaining to their client that it is unlikely they will be able to purchase with a home sale clause. This saves a lot of time and anguish.
When you are not in a position to sell and buy at the same time, the focus should be getting your current home under contract first! As is often the case with most things in life some people will be so concerned about being homeless they will try to cheat the system. Instead of asking for a home sale contingency they will make selling their home subject to finding another. In my opinion, this is a colossal mistake. See all the reasons why in the article.
Other Types of Right of First Refusal
In real estate sales, there are also a couple of other scenarios where a right of first refusal could exist. A few examples include:
Condo association right of first refusal – Some condominium associations retain the right to purchase a condo from an owner who is selling thus retaining veto power over the acquisition.
The land between homes – this can occur when an owner of a subdivision sells a lot to someone, and there is a vacant lot adjacent to the property that has not been built upon. Sometimes an owner will grant a right of first refusal to the person who has already bought if they desire privacy and think that could drastically change.
Downside to The Right of 1st Refusal
With many things in life, there is a disadvantage. Let me explain how a right of first refusal could backfire on you. You have your home on the market. A buyer comes along who wants to purchase your home but can't because he has a house to sell. He asks for a right of first refusal which you grant. Along comes buyer #2 who makes a great offer you want to accept. First, however, you have to give customer #1 their right of first refusal. If buyer #1 is not able to qualify to buy your home without selling their home first but they take the risk and gamble they will sell it before they need to close where does that leave you?
In this circumstance buyer #,2 was ready, willing and able to purchase with no hang ups. Customer #1 was is not but is going to gamble their escrow deposit it will work out. Where does that leave you if it doesn't? That is only something you can answer as a home seller. You may be able to keep their deposit, but you still haven't sold your home.
Work With A Real Estate Agent & Attorney

If you are the kind of seller that worries about difficulties in selling your home, and if you think you would be willing to work with a contingency sale, it is advisable for you to work with a real estate agent to protect yourself.
A good Realtor can help you understand where you and your home fit into the current market, and can help you know what your options are. Your Realtor may tell you to avoid this kind of sale and to hold out for a good buyer. Or he or she may think that a right of first refusal clause is exactly what you need.
A trained agent can guide you through the sales process and make sure that the contracts you sign are in your best interests. Experienced guidance can save you a considerable amount of money in your sale, and make certain that you get the outcome you really want within the current real estate market. Remember all real estate is local. Many prudent decisions are made based on what is going on in your current market.
It is also wise to have a real estate attorney to protect your interests, especially in cases where you are going to accept a right of first refusal or home sale contingency. Having carefully crafted language inserted into the agreement outlining what you are and are not agreeing to is crucial.
Other Helpful Home Selling Articles
Use these additional articles to make informed home buying and selling decisions. A kick out clause may or may not be a good option for you. Understand your circumstances and consult with a top real estate agent.
---
About the author: The above Real Estate information on what is a right of first refusal was provided by Bill Gassett, a Nationally recognized leader in his field. Bill can be reached via email at billgassett@remaxexec.com or by phone at 508-625-0191. Bill has helped people move in and out of many Metrowest towns for the last 29+ Years.
Thinking of selling your home? I have a passion for Real Estate and love to share my marketing expertise!
I service Real Estate sales in the following Metrowest MA towns: Ashland, Bellingham, Douglas, Framingham, Franklin, Grafton, Holliston, Hopkinton, Hopedale, Medway, Mendon, Milford, Millbury, Millville, Northborough, Northbridge, Shrewsbury, Southborough, Sutton, Wayland, Westborough, Whitinsville, Worcester, Upton and Uxbridge MA.
Enjoy This Real Estate Article?
"Subscribe To My Blog - It's FREE and No Spam EVER!"
Get my blog articles in your inbox as soon as they are published!