How to Pick a Neighborhood You Will Love
There are so many things that go into buying a new home. While many people are familiar with checking out potential areas for things like schools and crime, not everyone remembers some of the finer details of choosing a neighborhood.
Understanding how to choose a neighborhood is important! You are going to be there for quite a few years, so it is worth taking the time to research all aspects of what your new life will be like in the area you choose.
How to pick a neighborhood is something that some home buyers don't give much thought to because of how wrapped up they get in thinking about what they want in a home.
Things to Consider About a Neighborhood
Read about local laws – Most communities have bylaws that dictate what can and cannot be done there. Depending on where you settle down, the rules may be drastically different than what you are currently used to.
There may be restrictions on where you can park, what kind of vehicles you can keep on your property and what you can do to the land you will own.
Know these laws before you take over ownership. In many neighborhoods, these are what's know as "protective covenants." Some people like to refer to them as restrictive covenants.
If you are moving into a classy neighborhood where all the homes are well kept, and the lawns are tightly manicured the last thing you want is a few bad eggs who move in and ruin the party.
The way this is avoided is by having protective covenants to prevent home owners from doing certain things. A few examples of protective covenants are:
No storing commercial vehicles on the property.
No raising of livestock including animals like chickens or goats.
Not being able to paint your home purple.
These are all things the vast majority of people would not want if their neighborhood has been established to have a certain look and feel to it.
Learn about any homeowner's association – Depending on where you go, the homeowner's association may provide some valuable services or be the bane of your existence. HOAs run the gamut, from professional and caring organizations to corrupt, inefficient and sometimes even petty overlords.
You need to know what you are getting into with these groups before you agree to become a part of them. Ask neighbors, read up on local news stories and do your homework on any HOA you are considering. Research is vital when buying into a home owners association. I know quite a few buyers who thought that wanted to own a condo but later regretted their decision strictly because of the HOA.
Debbie Drummond, a Las Vegas real estate agent, gives some excellent advice in her article about deciding whether an HOA is right for me or not. Debbie takes us through some outstanding examples of what you should be thinking about when looking at neighborhoods that have an HOA and those that don't. When picking a neighborhood to live in, getting your priorities straight is imperative.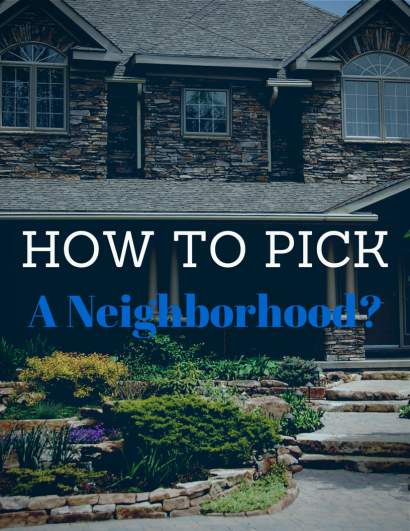 Taxes and insurance – The area you are moving to may handle taxes differently than you are used to. This can result in an unpleasant surprise after you have been living in your new home for a while. You were expecting a certain amount and find that you owe a lot more than with your previous home.
This can be especially true if you are moving to a different city or state. Read up on what living in the new area means when it comes to taxes. This can also be an issue with your car insurance. Living in your new area may cost you more when your car insurance bill comes due.
If you feel you are being taxed greater than your neighbors and shouldn't be, you can always appeal your real estate taxes. Just be sure you are prepared to defend why you believe you are being taxed unfairly.
Noise – One neighborhood may be a whole lot noisier than another. There are some things that can lead to this, from highways, busy city streets, pedestrian traffic, nearby stadiums and event centers and trains. You want to know about these noises before you purchase the home.
Some people are fine with a little noise to have closer access to the things they enjoy, but others cannot stand all the racket. Be realistic about what you can get used to and what you can't.
Without a doubt homes that have a large volume of noise are harder to sell than those that don't. Given this, the appreciation rate is also less. These are all things to consider not only while you are living in the home but when it comes time to sell.
Entertainment – Being close to the things you enjoy doing means you can do more of them. If you love hiking, maybe you should live closer to the trails you enjoy? If you love concerts, are you moving close to where they are happening? Prioritizing this kind of stuff is okay. Not every moment is spent working, shopping and maintaining your home. You deserve to enjoy yourself, so make sure you live nearby to the things you want to do.
Internet service – Broadband access is quickly becoming a necessity for many people. Unless you are an exception, make sure the area you buy has good connectivity. You may be surprised to discover that your internet options are few and far between the further out of town you get, or even in some new suburban developments.
Living with slow internet speeds is harder than you might imagine – especially if you are part of the new wave of tech-savvy users.
Cell phone service – one of my biggest pet peeves as a real estate agent is going into an area that has limited cell service. Our cell phones today are little mini computers. They are the life blood of our business to function properly.
With so many people working out of the home today and giving up landlines, it is imperative to know that cell phone coverage is excellent. If I were going to be picking a neighborhood to live in, this would be one of the first things I would check!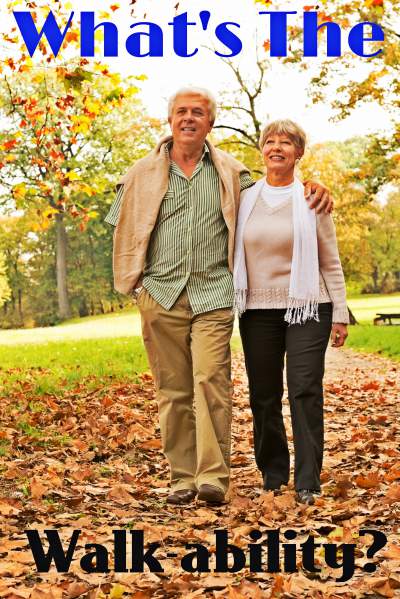 Walk-ability – Another favorite reason to choose a neighborhood is walk-ability. This is increasingly becoming a priority for many people and new developments are reflecting this.
People want to be able to walk to their favorite coffee shop, the grocery store, and a nice restaurant. They may not want to walk all the time, but it is nice to have the option.
Unfortunately, there are far more housing developments out there where walking is limited to a stroll around your isolated island of homes. Some people are okay with this. Just make sure you are one of them before you buy in an area with a low walk-ability score.
In many locales, there is clear evidence that walk-ability drives real estate values. If you are new to an area figuring out the walk-ability of a particular neighborhood may be difficult. For this, you can use a great tool that checks an areas walk score. Use this tool to find out how far it is to the things you enjoy most.
Bike access – Perhaps bicycling is more your style? There are plenty of housing options that put you in ideal biking distance from the things you like to do.
Many cities are increasing the number of bike lanes available and doing what they can to encourage bicycling. If this is important to you, make sure to check out the bike riding options of your new place.
Even if it is not too walking friendly, it may be perfect for riding. Milford Massachusetts is one of the towns in my area that has put together a fantastic biking and walking trail for the public to use. It encompasses a few local communities and is extremely popular for those looking to exercise.
Light – If you prefer to sleep in the dark, you may want to verify that this is an option in the home you are looking at. Street lights, traffic lights, parking lot lights – numerous light sources could make your nights much brighter than you would prefer.
Granted, you can purchase thick curtains that will block out most of the light – but why to put yourself through that if you don't have to. Plenty of neighborhoods value darkness just as much as you do.
On the other hand, you may prefer a well-lit area that lends itself better to safety. This is yet another one of those neighborhood details that one set of buyers may prefer and others not so much.
Gardening – You may be interested in growing your garden, or raising some chickens for fresh eggs. Make sure that this will be an option before you move, though. Many neighborhoods have strict rules on the kind of animals you can keep and what you can do with your yard.
As mentioned previously, what you may find to be a necessity for your neighborhood could be another person's nightmare. Researching your preferred features in a neighborhood is a smart move!
As you can see, there are a lot of details to consider when choosing a neighborhood. Do your research wisely and you will more than likely come away a happy camper!
Additional Helpful Articles For Picking a Neighborhood
Use these additional resources on how to choose a neighborhood when buying a home. Understanding what to look for is half the battle in coming away with a choice that will make you feel happy for years to come.
---
About the Author: The above Real Estate information on neighborhood details to consider when buying a home was provided by Bill Gassett, a Nationally recognized leader in his field. Bill can be reached via email at [email protected] or by phone at 508-625-0191. Bill has helped people move in and out of many Metrowest towns for the last 31+ Years.
Are you thinking of selling your home? I have a passion for Real Estate and love to share my marketing expertise!
I service Real Estate sales in the following Metrowest MA towns: Ashland, Bellingham, Douglas, Framingham, Franklin, Grafton, Holliston, Hopkinton, Hopedale, Medway, Mendon, Milford, Millbury, Millville, Northborough, Northbridge, Shrewsbury, Southborough, Sutton, Wayland, Westborough, Whitinsville, Worcester, Upton and Uxbridge MA.