Disclosure of Haunted Homes, Paranormal, Ghosts, and Murder
Do you need to disclose stigmatized properties? With Halloween right around the corner, I thought it would be the perfect time to discuss one of the more ghoulish issues in real estate disclosure laws. Do you need to disclose a haunted home, murder, suicide, paranormal activity, stalker, or sex offender in the neighborhood?
Whether you need to disclose a haunted house and other stigmatizations is a question, lots of sellers and real estate agents have asked themselves more than once.
Selling a home can be challenging even in the best of times. The various obstacles you have to overcome to get a house sold tend to motivate sellers to put their best foot forward, which is understandable.
Every seller wants to sell – as quickly as possible and for as high a price as the market will bear.
But what happens when you are selling a home that carries its baggage – like a home where someone committed suicide, was murdered, or a home that is known to be haunted by paranormal activity? If you are one of the owners of such a house, it is vital that you be aware of the laws in your state concerning disclosure.
You are selling what is known as a stigmatized property, and you may (or may not) be required to disclose the unique issues about your home to buyers before you make a sale.
Therefore finding out from your real estate agent or attorney if revealing haunted homes, paranormal activity, murder, and suicide at your property are necessary becomes paramount!
Getting sued is probably not something most people want to experience. Real Estate agents and homeowners should always educate themselves on what their responsibilities entail.

What You Need to Disclose
Depending on the state in which you reside there are some things a real estate agent may or may not need to disclose. Keep in mind if a Realtor is asked a direct question they ALWAYS need to answer honestly.
Hiding information from a consumer can easily lead to getting sued. Voluntary providing information, however, is another matter altogether. Here are some common disclosure issues that both real estate agents and homeowners need to be familiar with.
This means understanding whether you are required to disclose them or not.
Do I need to disclose a haunted home?
Do I need to disclose paranormal activity?
Do I need to disclose if a murder took place in a property?
Does suicide in a home need to be disclosed?
Do I have to disclose that a sex offender lives next door or close to the home?
Do I need to let buyers know that death from AIDS or other diseases took place in the home?
While I am sure every buyer would like to know the answers to these questions, it may not be a requirement to feed them with the information voluntarily.
The Stigmatized Property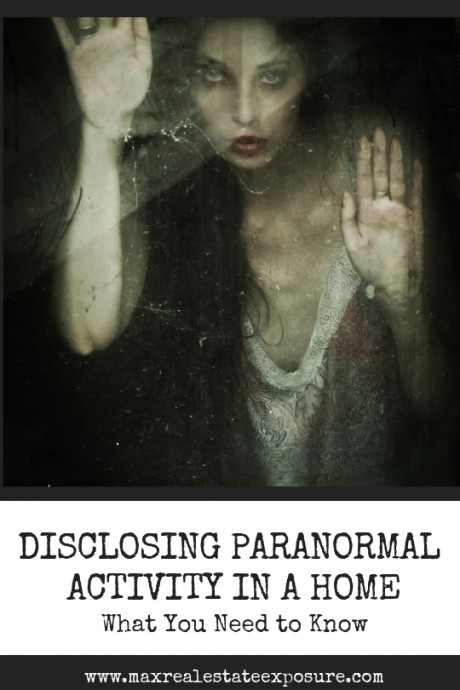 Bad things happen sometimes, and when they do, you may have no control over them. Murder, suicide, and other misfortunes occur regularly throughout the country and the world. Plenty of these unfortunate events happen in everyday homes.
There are also homes that many consider haunted, scattered throughout the country, and well-known by some as locations where paranormal activity occurs.
Wikipedia defines a haunted house as a home or other Real Estate that is often considered to be inhabited by disembodied spirits of the deceased who may have been former residents or were familiar with the property.
The supernatural activity that occurs in homes is often attributed to violent or tragic events in a building's past, such as murder, accidental death, or suicide.
Properties affected by such events are often referred to as stigmatized. A stigmatized property can also be a property that has been the scene of well-known crimes, cult activity, or famous adulteries.
Some states still refer to homes where inhabitants had AIDS to be stigmatized, as well, but this is a throwback to when the disease was not as well-understood as it is today.
In another recent unusual case, a home was being stalked a person known as the watcher. The couple who purchased the home is suing the former owner because they did not disclose a stalker who has been sending them threatening letters since the day the house closed.
The buyer feels the owner should have made them aware of this nut job before they decided to move forward with their home purchase. It is an exciting case that bears watching – no pun intended!
Some buyers won't even want to be associated with an area that has stigmatized properties, never mind a house. From a buyer's perspective, knowing how to pick a neighborhood is crucial not only for general happiness but the resale value in the future.
Your Disclosure Requirements
The traditional legal rules surrounding a home sale were known as caveat emptor or let the buyer beware. This meant that sellers were not required to disclose anything about the home they were selling. But some states have made changes to this rule, requiring the disclosure of specific information – such as information about murder, suicide, a haunting, or what's known as a haunted house.
Keep in mind that caveat emptor does not mean making misrepresentations, or lying to buyers. If someone asks a direct question about the property they are interested in buying, you are required to reply truthfully and avoid any efforts to mislead.
Half-truths can get you into significant trouble should the buyer discover something wrong that you did not disclose after being asked. Communicating haunted homes and murder in real estate sales is not something to be taken lightly.
Example: Massachusetts Vs. California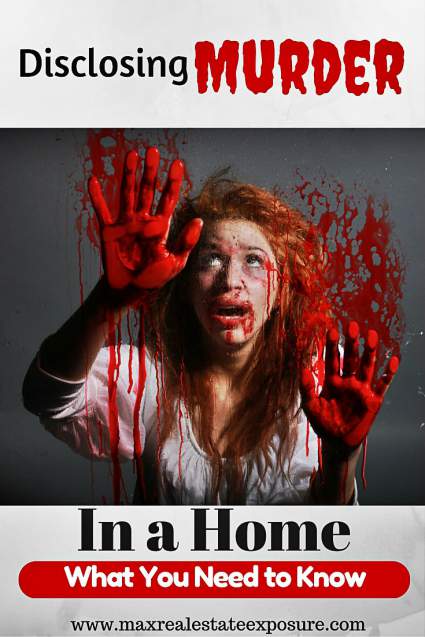 Every state has its version of real estate law, so you need to do your own research to verify that you are following all the rules when selling the home.
As an example, we can look at the differences between Massachusetts and California when it comes to disclosure surrounding a stigmatized property.
Massachusetts
Massachusetts clearly states that you are not required to disclose the fact that the property was the site of "…felony, suicide or homicide" or "… that the real property has been the site of an alleged parapsychological or supernatural phenomenon."
The law goes on to state that there will be no penalty for a seller that fails to disclose any of these issues to a buyer before selling the property.
However, you are required to reply truthfully if asked directly. You just don't have to say anything if you are not requested. This is important for those selling for sale by owner to understand.
Provided here is the pertinent excerpt from the Massachusetts General Laws Chapter 93, section 114 that discusses Real Estate disclosure for alleged haunted homes, murder and suicide:
"The fact or suspicion that real property may be or is psychologically impacted shall not be deemed to be a material fact required to be disclosed in a real estate transaction.
Psychologically impacted shall mean an impact being the result of facts or suspicions including, but not limited to, the following:
(a) that an occupant of real property is now or has been suspected to be infected with the Human Immunodeficiency Virus (HIV) or with Acquired Immune Deficiency Syndrome (AIDS) or any other disease which reasonable medical evidence suggests to be highly unlikely to be transmitted through the occupying of a dwelling;
(b) that the real property was the site of a felony, suicide or homicide; and
(c) that the real property has been the site of an alleged parapsychological or supernatural phenomenon.
No cause of action shall arise or be maintained against a seller or lessor of real property or a real estate broker or salesman, by statute or at common law, for failure to disclose to a buyer or tenant that the property is or was psychologically impacted."
I would be willing to bet if you asked 100 Massachusetts real estate agents if they were required to disclose a haunted home or a murder taking place in a property, they would get it wrong. Many agents would incorrectly assume this is something they must do.
California
The state of California has different laws concerning a stigmatized property. In California, you are required to disclose any deaths that occurred at the property in the last three years.
The interesting thing about the California law is that it only requires disclosure if the event happened in the past three years. However, in the legal case Reed v King a buyer, brought a lawsuit against a seller in California after it was learned that the home had been the site of a multiple murder a decade earlier.
The case was successful, with the court determining that the murders affected the value of the home. So even if the law only says three years, it appears that in certain circumstances, you could still get into trouble by failing to disclose major adverse events, even if they fall outside of the three-year limit.
It cannot be overstated that every Realtor should understand the disclosure laws in their state regarding these kinds of issues. Some home buyers will not consider buying a home if they know a recent death took place in the property. Want to see how you can find out?
Here is a great site called Died In House that will tell you if a death occurred in a home. A pretty nifty tool for those who worry about such things.
Safest Places to Live In Massachusetts
Safewise has an excellent resource that has shows the safest towns in Massachusetts in which to live. To be included in the Safewise community ranking, a town had to have a population of over 10,000 as of 2012 and needed to meet criteria regarding both violent and property crimes, that were published according to FBI statistics from 2012.
They analyzed the number of violent crimes, consisting of aggravated assault, forcible rape, murder, and robbery, as well as property crimes, consisting of arson, burglary, larceny-theft, and motor vehicle theft. They then calculated the chance of these crimes happening out of 1,000, to give each city an equal opportunity of making the list despite its population.
There were several towns in which I provide real estate services that made the list including Franklin Mass, Grafton Mass, Medway Mass, Holliston Mass, and Hopkinton Mass, all of which made the top 30 safest towns. If you are looking for a safe place to live, including a lack of murder or other violent crimes, these would be great towns to explore.
Making The Sale, Honesty And Protecting Yourself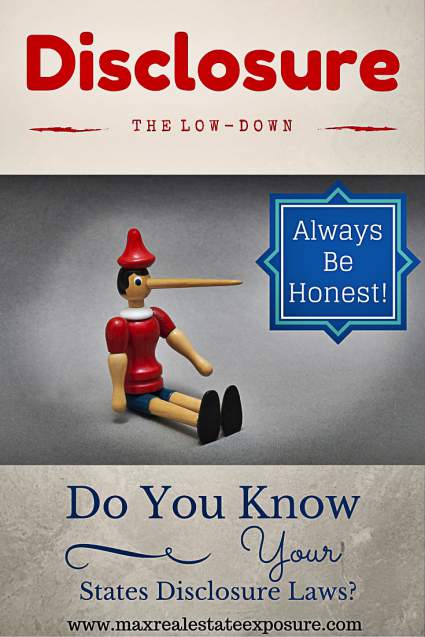 The question of what to disclose when selling a home can get quite complicated for both you and your real estate agent. On the one hand, you want to sell your house, and you want to get the best possible price.
On the other hand, you do not want to feel like you are deceiving anyone, and you want to protect yourself from lawsuits and such after the home has sold. What you ultimately choose to disclose will have to be considered carefully by you and your agent.
The most important criteria for what to disclose should always be the law in your state. You cannot take the chance of breaking any rules during your sale, so make sure you adhere to all regulations that apply to your situation.
But if the law does not require you to disclose that your home is stigmatized, you will need to think carefully about what buyers need to know, and more importantly, what they are likely to be upset about should they find out about it later.
Realtors working as sellers agents need to remember that their loyalty lies solely with the seller. While an agent may feel the need to disclose a haunted home, it is not their place to do so. In fact, an agent would be violating their oath as a sellers representative.
A seller's agent owes the seller undivided loyalty, confidentiality, obedience to lawful instruction, and accountability. In other words, if the seller asks an agent not to disclose a murder that took place in the home, the agent can't reveal this information. If this is something the Realtor is uncomfortable with, then they shouldn't enter into the relationship to sell the house.
Whatever you choose to disclose initially, always be honest if you are asked directly about any problems. Having your Realtor interact with sellers can be helpful here.
An experienced agent can be honest without being off-putting, which can come in handy if your property is stigmatized.
Other Helpful Real Estate Disclosure Articles
Disclosure can be a tricky endeavor in real estate, but Realtors should always err on the side of caution when making disclosures. If there is any kind of a gray area, it is probably best to disclose what you know and don't know. If a property is stigmatized, it is essential for Real Estate agents to understand their responsibilities under state laws. Use these additional helpful articles to make sound decisions.
---
About the Author: The above Real Estate information on disclosing haunted homes, murder, suicide, and sex offenders in real estate sales was provided by Bill Gassett, a Nationally recognized leader in his field. Bill can be reached via email at [email protected] or by phone at 508-625-0191. Bill has helped people move in and out of many Metrowest towns for the last 33+ Years.
Are you thinking of selling your home? I have a passion for Real Estate and love to share my marketing expertise!
I service Real Estate Sales in the following Metrowest MA towns: Ashland, Bellingham, Douglas, Framingham, Franklin, Grafton, Holliston, Hopkinton, Hopedale, Medway, Mendon, Milford, Millbury, Millville, Natick, Northborough, Northbridge, Shrewsbury, Southborough, Sutton, Wayland, Westborough, Whitinsville, Worcester, Upton, and Uxbridge MA.