Get Your Property Taxes Reduced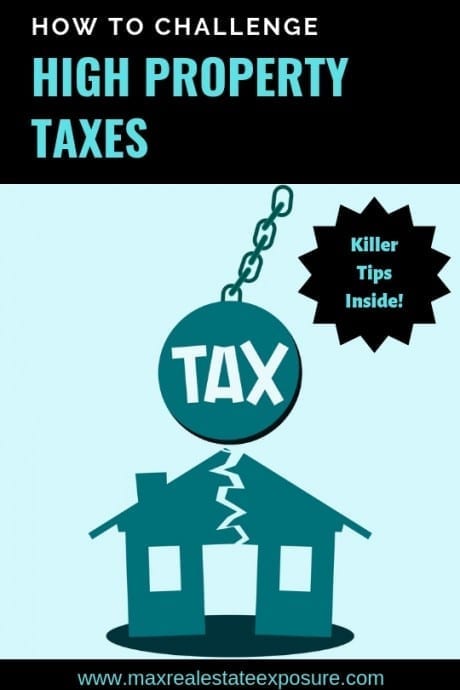 Do you feel like you are paying too much taxes on your home? Are you getting the feeling your tax assessment is higher than it should be? Appealing property taxes is something a lot of homeowners are forced to do.
If you are looking for how to appeal high property taxes, you've come to the right place.
Taxes are a part of life. While we may disagree with this, it doesn't change the fact that the federal and state government are coming for their money every year.
One area where homeowners are hit particularly hard is through property taxes. You will pay a particular tax rate on your property based on where you live and your property's characteristics.
But did you know that you might be able to get that amount lowered? Lowering property taxes, of course, is on the minds of many homeowners who feel they are paying too much.
If you are like most people, you would like to know how to lower your property taxes! Who wouldn't want to understand how to reduce their property taxes, especially if they are getting unfairly taxed?
Strap yourself in and find out how to appeal your property taxes when you know your property assessment is too high.
Lowering Your Property Taxes
You may reduce the amount of property taxes you pay, but first, you will need to do some investigating. Appealing property tax doesn't happen like magic.
You need to know how your state and county determines what you pay in property taxes, and you need to know what information the town has in your home.
While you may not alter the actual tax rate, you can correct the information the county has in your home to get a lower assessed value. The tax rate for your city is typically determined and set each year. Once determined, it does not change.
The first thing to do is visit your local assessor. You can find out how the city or town determines property taxes, information that every homeowner should know. You can also ask the assessor what it takes to go about appealing property taxes. The assessment of your home is really what is in question since the tax rate for your city or town is fixed.
Lastly, you can ask for the field card that the county has on your property. This property card will list all the relevant facts about your property, circumstances you may be able to contest.
The property card will list things like the square footage of your home, the size of your lot, the number of bedrooms and bathrooms in the house, and even the size of your garage. It is here where you may find an easy way to contest how your town determined your property value.
If the card says you have a four-bedroom home when you only have a three-bedroom house, you can appeal this fact to the town. If your square footage or lot size is off, these are additional valid reasons why you may be getting taxed improperly. Appealing property taxes start with verifying all the information on record is correct.
These are a couple of good examples of how you may end up paying taxes that are too high for your property. Understanding how to appeal high property tax assessments will be the basis for getting your tax bill lowered.
Assessed Values Can Be Way Off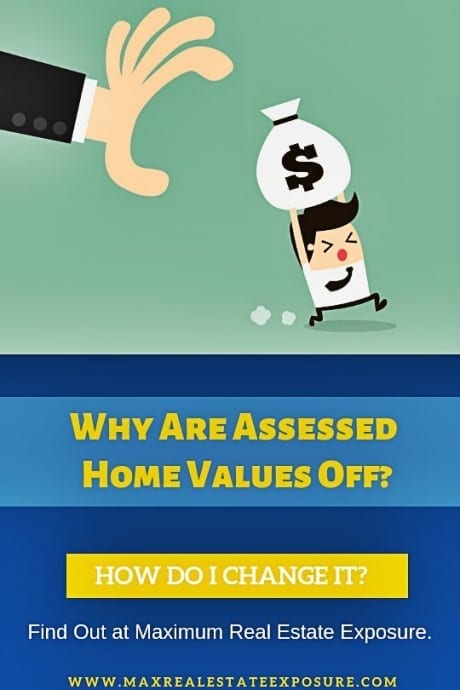 Lowering your property taxes starts with understanding your assessed value. There are a lot of different ways to determine the value of a home. Lenders appraise at one value, Realtors evaluate at another, and then there is the actual market value.
Of course, there is also the assessment made by the local assessor. The fact is, all of these numbers can vary. These valuation methods can get very confusing for the average person.
Here is a good explanation of how assessed value differs from market value for those that do not know the difference between these two real estate terms.
Getting your taxes lowered will center around whether or not your home's assessed value is higher than it should be. You'll start by fact-checking the records at your city or town hall.
When you move beyond challenging the particular facts on your property card, you can begin looking at your neighborhood and other properties similar to yours to see what they are assessed at by the town.
This is another place where you may find some discrepancies that work in your favor. Remember that the assessor's office is only going to be interested in hard evidence. Your neighbor may tell you how much lower his property is assessed, but this is not enough to appeal to the local assessor.
This is another place where you may find some discrepancies that work in your favor. Remember that the assessor's office is only going to be interested in hard evidence.
Your neighbor may tell you how much lower his property is assessed, but this is not enough to appeal to the local assessor.
Consider talking to a local real estate agent you trust to see if you can gather evidence on why your home's assessment is off. The Realtor can look for comparable sales – information that shows what other similar homes were sold for in the area – and can provide you this information to take to the assessor's office.
If the market has changed considerably or a mistake has been made, your home could be assessed at a higher value than it should be.
Theoretically, the market value and assessed value should be similar to one another, but they rarely ever are. This is because when assessed values are calculated, the market data is already old. So if the market is increasing or decreasing in value, the data used will not reflect the current market conditions.
What is important is that other like properties that are similar to yours are being evaluated the same. For example, if another home is statistically similar to yours and is located in a relatively similar neighborhood, they should be taxed in the same ballpark.
Zillow Has Nothing to Do With Your Tax Assessment
One caution – do not use Zillow to estimate the value of your home! While Zillow has an excellent site for looking at homes, many consumers are not aware that home values from Zillow are not accurate. The "Zestimate of value," as they like to call it, can be off by tens of thousands of dollars or more.
I have personally seen home values on Zillow off by over one hundred thousand dollars! Obviously, if you are looking for accurate information to make a case about your home's value, you would not want to use a tool that fails miserably. Appealing property taxes by using Zillow as a source of information would fail miserably.
What you should understand about assessments is that they are just a yardstick for a city or town to collect an appropriate amount of taxes to run the municipality fiscally yearly. Assessors adjust assessments typically on an annual basis to order an appropriate amount of taxes from the residents.
Most of the time, assessed values are more accurate on homes that have sold recently. You will often see the assessment of homes that have been sold years ago having a more considerable variation to market value.
If your neighbors home is nearly identical to yours and is assessed much lower for no apparent reason, it could be because, in a prior year, they filed a challenge to the assessment with the town and were granted a reduction.
Their property now has a reduced assessment. You can count on the fact that the city will not decrease every other value of similar homes in the area. This is an excellent example of the squeaky wheel getting the grease. Understanding this information will go a long way in knowing how to appeal a high property tax.
Appeal Your Homes Assessment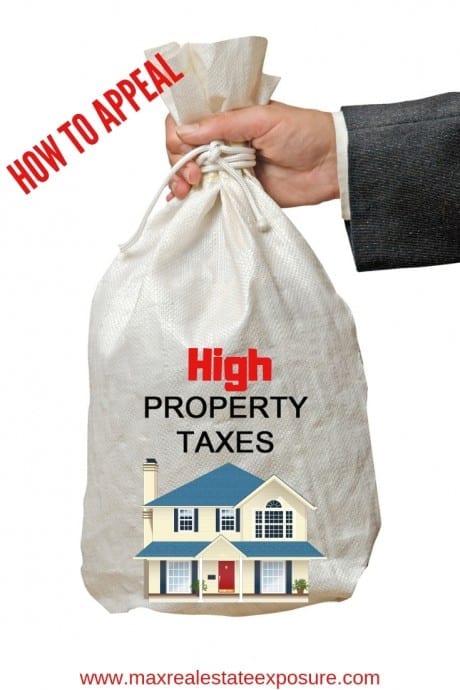 If you have reliable information demonstrating that your home is incorrectly assessed, gather that information and request a meeting with your local assessor's office.
It does not need to be a formal meeting, to begin with – as long as a representative will agree to meet with you. If the office doesn't meet with you, you may have to take it a step further and file a formal appeal.
Usually, appeals begin with the presentation of evidence for your case. You can deliver this to the assessor's office in writing, and the office will tell you how long it will take to review your case.
Most departments can look over your property tax appeal within a reasonable time frame – often within two weeks to a month after you deliver it. Of course, this will vary depending on where you are submitting your appeal.
If things go your way, you could manage to get your assessed property value lowered and end up paying less in taxes each year—more than worth the effort for most people. But if you are rejected, the road may become a little more challenging.
If you are denied, you will typically take your case to the state level to see if you get a different outcome.
Appealing Property Taxes to Appellate Tax Board
There are states, including Massachusetts, that allow you to appeal your taxes in front of an appellate tax board if the local assessor does not change their opinion.
If you happen to live in Massachusetts, here is how you can appeal your property taxes. If you reside in another state, just Google "appellate tax board and your state's name." This will give you the exact location of where you need to go for your tax appeal.
Keep in mind there are also deadlines on when you can challenge your home's assessed value. For example, in Massachusetts, owners can still challenge their real estate tax assessments within thirty (30) days of the actual tax bill's mailing date.
The real tax bill is usually the third-quarter tax bill in jurisdictions that assess taxes on a quarterly basis.
January 1st is when most third-quarter tax bills are mailed in Massachusetts. Therefore, under M.G.L. Chapter 59, the majority of abatement applications must be filed with local assessor's offices on or before February 1st.
However, in jurisdictions in which taxes are assessed on a semi-annual basis, this date can vary. To preserve your abatement and property tax appeal rights, your taxes must be paid in their entirety for the current and all prior periods.
It would be wise to check in your particular state to find out any deadlines you may have on filing an appeal to challenge your property assessment!
If you are still denied, the only option is to take the case to court. At this point, it is up to you to determine if the cost of hiring a lawyer and going through a court value is worth the savings you will get if your case is successful.
Frequently Asked Property Tax Questions
1. Is appealing property taxes worth it?
That is a personal question that only you can answer. For many people, it would really depend on how much money is going to be saved. Challenging property taxes can be hard work.
2. How do you successfully appeal property taxes?
Appealing property taxes and winning is all about creating a compelling case with fact-based evidence. Opinions will hold little wait with the local assessor.
3. Where can I find comparable sales for my property?
You can ask a local real estate professional for help with coming up with comparables for your home. Real Estate agents work with comparable sales data weekly for their clients.
4. Is it too late to appeal my property taxes?
Challenging high property tax assessments is determined on a state level. You will need to check with the deadlines for appealing property taxes in your particular state.
5. Can you appeal your assessment after the deadline?
No. You will need to wait until the following year to challenge your tax assessment if you miss the deadline.
6. Do property taxes go up when you make renovations?
Yes. If you are doing the work on your home legally by getting the required building permits, the city or town will know about your improvements. The assessor will visit your home at some point and adjust your assessed value based on the work completed.
If you are thinking about skipping building permits to keep your property taxes lower, don't do it! You will create a challenging situation when you eventually sell your home.
Get Clear on Your Property Taxes
You may or may not want to go to great lengths to appeal your property taxes. Everyones motivation level for saving money is different. But regardless of how much effort you want to put in, every homeowner should at least get educated on how their property taxes are calculated. You can do this in an afternoon and check your property card in the process. Who knows? You may save yourself thousands of dollars with just a little work on your part.
On the slip side, if you are buying a home where the assessed value is significantly higher than the market value, this should be adjusted during the next tax year. If this does not happen for some reason, you are now well-armed on how to challenge the assessed value!
Hopefully, this has given you a clear direction on how to get your property taxes lowered! Appealing high property tax assessments isn't easy, but it can be done.
Additional Helpful References on How to Appeal Property Taxes
Use these additional references to determine whether your home's assessment is correct and if it is worth it for you to appeal your property taxes.
---
About the Author: The above Real Estate information on how to appeal high property taxes was provided by Bill Gassett, a Nationally recognized leader in his field. Bill can be reached via email at [email protected] or by phone at 508-625-0191. Bill has helped people move in and out of many Metrowest towns for the last 34+ Years.
Are you thinking of selling your home? I have a passion for Real Estate and love to share my marketing expertise!
I service Real Estate Sales in the following Metrowest MA towns: Ashland, Bellingham, Douglas, Framingham, Franklin, Grafton, Holliston, Hopkinton, Hopedale, Medway, Mendon, Milford, Millbury, Millville, Natick, Northborough, Northbridge, Shrewsbury, Southborough, Sutton, Wayland, Westborough, Whitinsville, Worcester, Upton, and Uxbridge MA.