Nine Home Maintenance Tips Worth Doing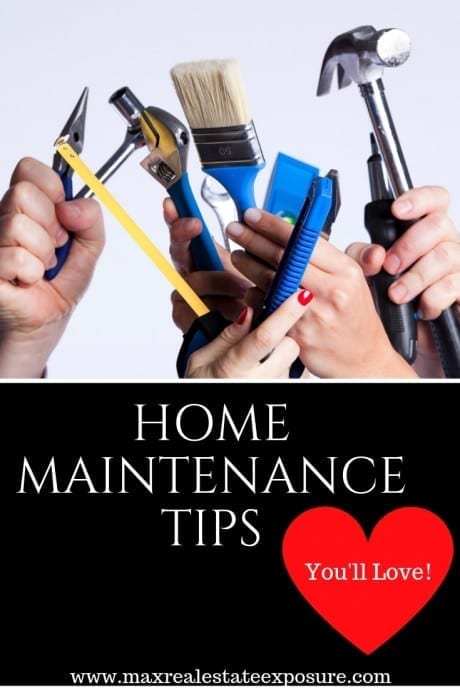 Whether you are going to be selling your home shortly or years down the road, making sure you keep up with the maintenance of your property is important. A home that does not have proper maintenance will undoubtedly suffer when it does become time to sell.
When you talk to people that are successful in the sale of their homes both quickly and for a good price, you will usually discover that their success was a result of forethought.
They may have been lucky to make as good of a deal as they did, but they likely spent a significant amount of time preparing for that lucky moment as well. Making a home appealing to buyers takes work – much of which occurs before the house ever goes on the market.
There are some home maintenance items that most people do not always think about. Many of the things that make a house stand out are the result of regular maintenance, tasks that may seem a little mundane, but that do a lot to keep up the functioning and appearance of a home.
These little jobs, when performed on a periodic basis, can help you avoid paying costly replacement or repair fees in the months leading up to putting your home on the market. Unless you are planning on selling your home for a bargain to shoppers searching for a fixer-upper, keeping up with the little things is worth the effort.
These home maintenance tips can go a long way in helping that your sale goes smoothly and does not end up going south due to a failing home inspection. Keep in mind that a skilled home inspector can tell when a homeowner has not been keeping up with regular home maintenance items.
You can bet your bottom dollar that while the home inspection is taking place, they will be pointing this out to the buyer. Whether you are selling now or not, use these nine maintenance tips to keep your home running like a well-oiled machine! If you are going to be selling by following this advice, you will keep your negotiating after the home inspection to a minimum.
Maintain Your Filters
One of the more important maintenance tips for homeowners is making sure you keep up with changing your heating and cooling filters. Your central heating and air conditioning unit work hard to push air throughout your house. By changing your filters on a regular basis, you help the unit operate efficiently and effectively.
It already requires a significant amount of energy to run air through the various vents – failing to install a clean filter makes this process much more challenging, and can put unnecessary strain on your central air unit. Make sure you pay particular attention to the rating of the filter you are using.
Some filters need to be changed monthly while others are "rated" to last much longer. A quality filter can usually be bought for your system that is designed to be modified far less frequently.
Change Batteries For Smoke/Carbon Monoxide Detectors
While changing the batteries is a small maintenance item. making sure that you smoke and carbon monoxide detectors are working is not. In fact, your families safety depends on it!
The last thing you ever want to go through is having your home destroyed by fire when it could have easily been avoided. Having working smoke and carbon monoxide detectors is critical.
In some states including mine (Massachusetts), they are a requirement for sale. This is a great law that is designed to reduce casualties from two potentially hazardous situations.
You don't need to be selling your home to realize that keeping up with your local smoke and carbon monoxide detector regulations can be the difference in saving lives!
Inspect and Clean Your Furnace or Boiler
Heating and cooling systems push a lot of dust along with temperature controlled air, and this dust and possibly condensation can lead to degradation of your unit and the ducts it uses. An annual inspection by a certified service professional is always a good idea.
The service person can clean up any accumulated debris, and can verify that your system is functioning as it should. When you have a forced hot water heating system that is serviced by oil, the maintenance requirements are little more stringent.
Oil, unfortunately, does not burn as clean as gas and therefore can cause a system to be cleaned on a more regular basis. Most heating companies recommend an Oil fired heating system be tuned up once a year where gas can typically be done every two years.
Keep in mind that staying up with maintenance on your heating system can extend the lifespan by years. Also, consider that if a buyer sees you have not been maintaining the system, they may take into account offering less for your home thinking they may need to replace it sooner than expected.
Keeping up with your heating system is a maintenance tip you should never neglect as it is one of the most costly items in your home to replace.
Check Your Water Heater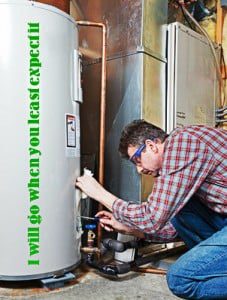 Your water heater may heat thousands of gallons of water a year, and like every appliance, it can only perform well for so long.
A yearly maintenance check is recommended for any water heater, even one you just purchased.
Seals have a way of failing, and drains can clog – especially if you have hard water. If you notice even minor leaks or severe scale build up, consider contacting a plumber or water heater installation company to take a look.
It is far better to catch a failing water heater before it goes out completely than to come home to a flooded room or basement. Water heaters are an area that home inspectors will pay particular attention to. Making sure that you do not have any pipe fittings that are leaking or corroded is important.
At home inspections leaking fittings are quite common because most homeowners do not pay attention to a maintenance item like this until it becomes a bigger problem.
Check Your Toilets and Faucets
Home inspectors and appraisers notice everything, and they are sure to see if you have any problems with your toilets or your sinks. Take a moment every six months or so to inspect your basic plumbing fixtures. Water will find any available avenue to escape, especially when under pressure, and you can guarantee that sooner or later one of these fixtures will begin leaking.
If you are handy, replace the faulty seal. If not, bring in a plumber to tackle the problem before it becomes much bigger.
Spruce Up Your Front Door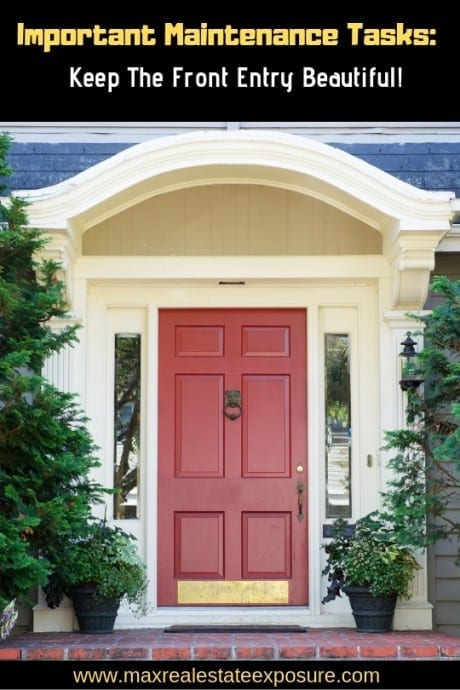 It may seem trivial, but your front door is usually the first close look anyone gets at your home and is worth sprucing up on a yearly basis because of this. If you have a hardwood door with a natural look, take the time to clean and polish it. If it is painted, consider touching it up or repainting it as necessary.
Buyers like a welcoming, well-maintained front door. Have an old door handle that is very weathered? Consider upgrading to something that will be visually appealing while also offering good home security.
Keep in mind that maintaining the curb appeal of your home will pay you back when it comes time to sell.
Vacuum Refrigerator Condenser Coils
Most people do not think of inspecting their refrigerators. They seem like self-contained units, and there is not a lot the average person can do to maintenance them. However, the condenser coils on the back of your fridge will collect dust, and this dust can inhibit its operation.
Pulling the fridge out and cleaning off the dust can help your fridge work more efficiently, and will give you the opportunity to clean behind and underneath it as well.
More than likely if you clean your coils the refrigerator will work noticeably better. Refrigerators are expensive to replace so this is an important maintenance tip for homeowners not to forget.
Clean Your Exhaust Hood
Cooks working in professional kitchens are required to clean vent hoods on a regular basis. It is a dirty job, typically involving caked on grease and dust. Your kitchen vent may not be as dirty as one used in a professional setting, but it still poses a fire hazard and is unsightly when not cleaned regularly.
Take a few minutes to wash off any accumulated grime and to replace the filter if there is one. Exhaust hoods are a simple maintenance item that will stick out like a sore thumb if you do not deal with it.
Maintain Your Garage Door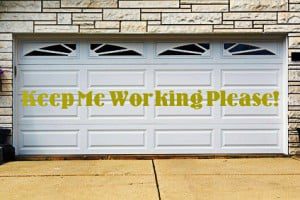 Your garage door and opener also require regular maintenance to operate as intended. The chain on your opener must be lubricated, along with any exposed metal joints, and you should check to make certain the door runs smoothly in its tracks.
Most inspectors will pay close attention to a garage door because of the potential for significant injury to a child or pet. Most newer garage door systems have electronic eyes at the bottom that sense movement. These need to be checked regularly to make sure they are functioning as intended.
An Ounce Of Prevention
Taking the time to do these things now, before you ever put your home up for sale, will make the whole selling process easier when you finally begin it in earnest. You and your family will also enjoy the benefits of a cleaner, more livable home right now.
While the above-mentioned home maintenance items are mostly considered small potatoes, there are always other common home selling issues that could derail your sale far more quickly. Things like a failed septic system, not taking out required permits for work, and appraisal issues are potential road blocks.
When selling a home, it is important to stay out ahead of the curve and pay particular attention to all the potential issues that could get in the way. A prepared home seller enjoys the benefit of not having to face those unfortunate things that can surface in a Real Estate transaction!
Other Home Maintenance Resources Worth Reading:
Use these additional home maintenance resources to keep your home in tip top shape! You'll also increase the odds of selling your home for top dollar when the time comes.
---
About the author: The above Real Estate information on nine maintenance tips for homeowners was provided by Bill Gassett, a Nationally recognized leader in his field. Bill can be reached via email at billgassett@remaxexec.com or by phone at 508-625-0191. Bill has helped people move in and out of many Metrowest towns for the last 31+ Years.
Thinking of selling your home? I have a passion for Real Estate and love to share my marketing expertise!
I service Real Estate sales in the following Metrowest MA towns: Ashland, Bellingham, Douglas, Framingham, Franklin, Grafton, Holliston, Hopkinton, Hopedale, Medway, Mendon, Milford, Millbury, Millville, Northborough, Northbridge, Shrewsbury, Southborough, Sutton, Wayland, Westborough, Whitinsville, Worcester, Upton and Uxbridge MA.