Understanding The Basics of TRID
Unless you work as a loan office, chances are you are not that familiar with the documents that are used when taking out a mortgage. Financial documents can be difficult to understand without training, but it is still advisable that you have a basic grasp of what to expect as you move forward with your loan. The better educated you are about the process, the less intimidating the whole thing will be.
Working as a Southborough Real Estate agent, I am often explaining to buyers what they will be signing when buying a home.
Essentially there are four documents that will play a huge role in the purchase of your home. Learn what you can about these documents before you sign anything. The more you know, the more comfortable you will feel as you go about borrowing money for your new property.
In order for home buyers to become better purchasers of settlement services, as well as eliminate kickbacks that increase the costs of settlement services, the government put in place what's known as The Real Estate Settlement Procedures Act (RESPA) back in 1974. This statute had become a staple in protecting consumers. Recently RESPA was updated.
On October 3, 2015, The Consumer Finance Protection Bureau or CFPB for short changed how the world of mortgage documents work in a real estate transaction. This initiative is now known as The TILA-RESPA Integrated Disclosure Rule. Most people in the real estate industry refer to this as TRID. Without a doubt, TRID has had a major impact on the real estate industry. There are many parties who have been affected including mortgage companies, real estate agents, attorneys, as well as buyers and sellers.
The reason TRID was put into place was to make it easier for consumers to understand the costs and fees that they'll face at closing.
TRID was first introduced in 2010 by the Dodd-Frank Wall Street Reform Act and was approved in 2013. TRID, however, did not go into effect until this past October.
If you are going to be buying a home in the near future it is important to educate yourself on TRID and how it will affect your home purchase. Keep reading to educate yourself on four important mortgage documents you will be signing when purchasing a home.
4 Documents You Will Sign For Your Mortgage
The Real Estate Settlement Procedures Act (RESPA) and the Truth in Lending Act (TILA) have been put in place by legislators to protect home buyers from hidden fees and other abuses on the part of real estate agents, lenders and title companies. As of October 2015, the Consumer Financial Protection Bureau (CFPB) condensed all of the various fee disclosures and mortgage rate documents into two standardized forms. These two forms – the Loan Estimate and the Closing Disclosure – along with the promissory note and the security instrument, are all documents that will play a major part in your loan process.
The loan documents that buyers have to deal with have been simplified somewhat over previous years, which means you will have an easier time understanding the loan you are taking out. These forms should be reviewed carefully as you receive them to make sure they match up with your expectations and with what you were told by the seller and the lender.
1. Loan Estimate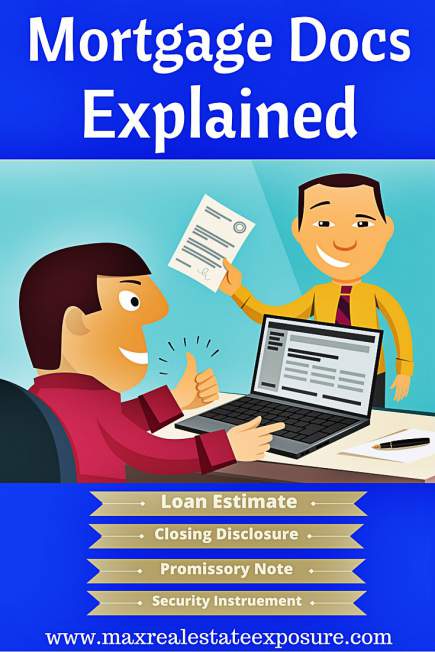 The Loan Estimate is a document that details the terms of your loan, including the projected payments and the line item closing costs. You are supposed to get the Loan Estimate within three days after you apply for a loan. Review the Loan Estimate carefully to make sure you understand exactly what the loan will entail and that you are comfortable with the terms.
One of the big mistakes that some borrowers make is shopping for the lowest mortgage interest rate without understanding how other costs factor into exactly what they are paying. For example, you might find a lender who will give you a lower interest rate than another but if you are paying more points and/or closing costs to get that rate, you might not really be getting the best deal.
This is how some borrowers end up paying too much for their mortgage. Instead of shopping for the lowest rate, home buyers should be looking at the entire package and all the costs of each program.
2. Closing Disclosure
The Closing Disclosure will look very similar to the Loan Estimate. It includes information on the loan terms, while also adding a detailed list of what is being paid by who – buyer, seller, and third parties. Here you will find all the costs associated with the sale and who is covering those costs, which is important if you want to make sure everyone is doing what was agreed. The Closing Disclosure is supposed to be delivered to you three days prior to the closing of the sale.
3. The Promissory Note
Here is the actual loan contract. The Promissory Note will list all the details of the loan, including the length of time, interest rate, payment intervals, early payment penalties and all other information that pertains to the loan. The note will also state that you are putting up the home as collateral on the loan. If for whatever reason you are unable to meet the terms of the loan, then the note states that your lender can take back the house as payment for what is owed.
4. The Security Instrument
Depending on what state you are in, the loan will require you to sign either a mortgage or a deed of trust. Both documents are there to pledge the home as security for the loan. The document will also define the way the home will be occupied, either owner-occupied, second home or non-owner occupied. Each of these requires that you use the house in a certain way.
Owner-occupied means you have to live in the home as your primary residence for at least a year before you try to rent the home out or use it as a second home. If the home is defined as a second home, then you must use it as one – not a primary residence, nor as a rental. Lastly, the non-owner occupied designation states that you can rent out the home. This category comes at a higher cost, and if the home is non-owner occupied you can always change it to one of the other two categories.
Problems with TRID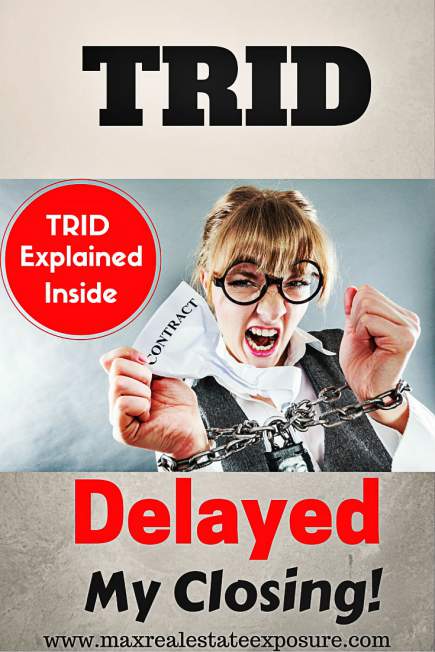 One might wonder if putting TRID in place has caused any industry issues. The answer would be yes it has. One of the biggest complaints so far is the time it has added to completing the mortgage process and ultimately the time it takes to close on a home.
There is a number who have gone on record saying that it has done more harm than good including Governor and former Presidential candidate Chris Christie quoted on Housing Wire. Chris states that if he were elected he would deregulate the consumer protection bureau and roll back some of the recent initiatives. He also mentioned that TRID was another example of government creating more problems than it solves.
Another TRID related problem that has been in the news recently is investors refusing to buy certain loans due to the fact they are not in compliance. 2016 is sure to be an interesting one when it comes to TRID and real estate closings.
ClosingCorp, a company that operates the premier source of intelligence for closing costs and service providers in the U.S. residential real estate industry recently reported that 63 percent of buyers said that the new "Know Before You Owe" forms for loan estimates and closing disclosures are easier to understand than the old forms that were used.This was based on a survey of 1000 respondents.
Additionally, 68 percent said the new forms did a better job preparing them for the closing costs they would have to pay. 6 percent thought otherwise. Another 65 percent of the respondents said that the costs and fees were "explained better" in their most recent home buying experience.
Educate Yourself For Maximum Confidence
The home buying process can move along very quickly once things get going, so the time to educate yourself about the loan process is before you make a purchase. A home is a large purchase – often the largest purchase people make. While it is normal to be a little nervous about such a big commitment, you can lessen the anxiety by making sure you have a basic grasp of the buying process. Millennial home buyers are left now facing changes in real estate that other first time home buyers have not previously experienced.
Working With Your Realtor And Lender
Your biggest ally in the buying process is your real estate agent. It is advisable to talk to your agent before you make an offer to get all the available advice and insight you can about what is coming up. In fact, I highly recommend you understand all the things to do before buying a home. A real estate agent can be your greatest ally but only if they are a true professional. Keep in mind just about anyone can get a real estate license!
Your real estate agent should be able to tell you about the basics of the loan process and how to navigate it. You can also make sure you pick a lender you are comfortable with and ask your mortgage broker to explain to you about the loan process and what your part will be in it. He or she can talk you through the forms that will be coming up and give you an idea of what to pay attention to. Some of the biggest mistakes buying a home are financial ones. Getting into trouble financially is the last thing you want as a new home owner as it can follow you around for years.
It is normal to feel a little out of your element when taking out a mortgage. It is not every day that most people buy a home.  A home loan involves a great deal of money and a complex process that is sometimes baffling to those who haven't been trained in it. Fortunately, just like so many other home buyers, you can learn the basics and trust your partners like your real estate agent to help you make sure that you are doing what is in your best interests.
Additional Helpful Mortgage and Home Buying Articles
When buying a home for the first time it is essential that you educate yourself on the process. Use these additional home buying resources to make a smart decision when purchasing a home for the first time. Hopefully, you are now somewhat familiar with the TRID mortgage documents you'll be required to sign!
---
About the Author: The above Real Estate information on the important mortgage documents buyers must sign was provided by Bill Gassett, a Nationally recognized leader in his field. Bill can be reached via email at billgassett@remaxexec.com or by phone at 508-625-0191. Bill has helped people move in and out of many Metrowest towns for the last 29+ Years.
Thinking of selling your home? I have a passion for Real Estate and love to share my marketing expertise!
I service Real Estate sales in the following Metrowest MA towns: Ashland, Bellingham, Douglas, Framingham, Franklin, Grafton, Holliston, Hopkinton, Hopedale, Medway, Mendon, Milford, Millbury, Millville, Northborough, Northbridge, Shrewsbury, Southborough, Sutton, Wayland, Westborough, Whitinsville, Worcester, Upton and Uxbridge MA.