Contingent Real Estate Listings Are Common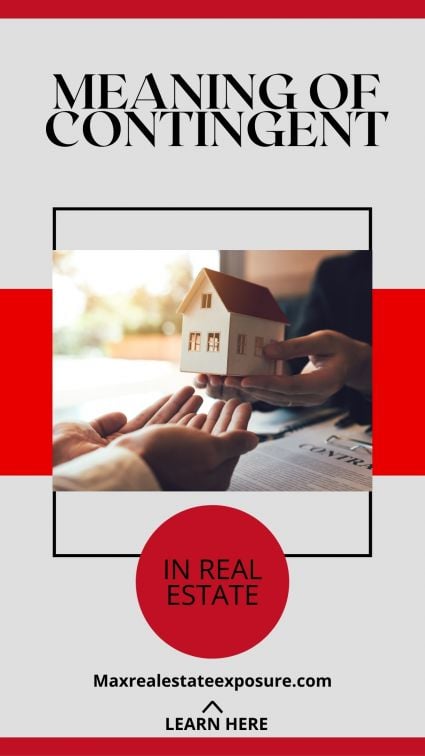 Real Estate agents get asked all the time what does contingent mean in real estate sites.
When checking online real estate listings, you might encounter some phrases you don't recognize. One such phrase is "contingent," but what is a contingent sale, and how will it affect your property transaction?
Real Estate agents often assume that consumers have a firm grasp of all the real estate terms we do, but that is rarely the case. A home buyer or seller quite often will have no idea of the meaning of contingent.
It would not be unusual to see a listing status you are unfamiliar with in a real estate listing when you have not bought or sold for a while.
By the time you're done reading, you'll have everything you need to know about the meaning of contingent in a real estate transaction.
Contingent real estate is commonplace, so buyers and sellers should know the basics.
What Contingent Means in Real Estate
If you ask, "in real estate, what does contingent mean?" The basic answer is that the seller has accepted a real estate contract with contingencies. In order for the purchase agreement to be satisfied, certain contingencies will need to be met.
A contingent offer is very common in most real estate sales. However, in a hot real estate market, buyers often leave out common contingencies to sweeten their offer.
Doing so will often increase the odds of winning a bidding war. A contingent offer is far less appealing to a seller than one without any contingencies.
The fewer contingencies in a sales contract, the better, as it increases the odds of the sale taking place.
Contingent vs. Pending Listing Status
Sometimes a real estate agent might change the listing status to pending in the multiple listing service with open contingencies that need to be met.
For example, the real estate contract might have a financing contingency for the buyer to procure financing from a mortgage lender. A listing agent may feel confident enough that the prospective buyers will have no problem satisfying the mortgage contingency.
So instead of changing the status to contingent, they will mark it as pending in the multiple listing service. In some real estate markets, a contingent home might have its days on the market continue to increase as if the home was still active for sale.
Instead of the market time continuing to grow, a seller's agent may decide their seller client would be better served by having the status be pending. See contingent vs pending for an in-depth explanation.
The bottom line is that the contingent sale means that there are still many things that can get in the way of the home sale closing. There could be contingencies that require the buyer to sell their home or a period that lets the buyer do their real estate due diligence.
It is not uncommon at all for home buyers to do extensive research on the history of a property before signing the final paperwork.
Whatever the contingencies, they can all lead to the sale failing.
What Does Active-Contingent Mean?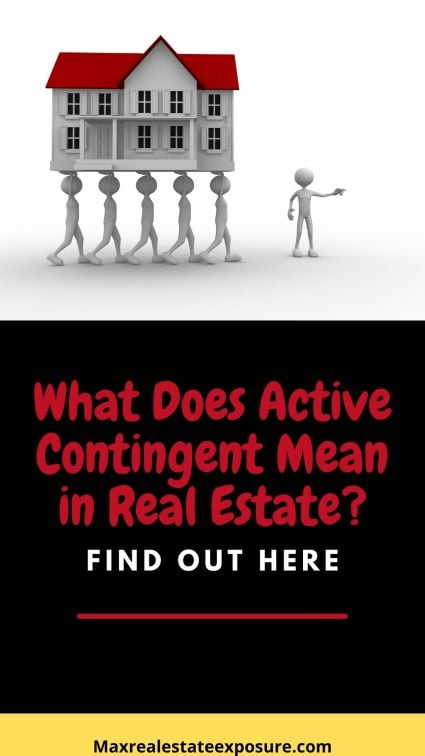 Another common question both buyers and sellers have is what active contingent means. The active contingent meaning is pretty straightforward.
Active contingent means the exact same thing as "contingent". A seller has accepted a buyer's offer and the property is technically off the market.
The owner cannot accept a better offer from another buyer unless the original buyer does not proceed with the sale. Real Estate agents also refer to this as active under contract. With contingent deals, it is certainly possible that the property will continue to be shown.
A buyer's agent can check on the listing status changes with the listing agent. Can you put an offer on a house that is contingent? Yes, you can! A buyer may decide they would like to write a backup offer which we will discuss shortly.
What Buyers Need to Know With a Contingent House Listing
It is vital for buyers to understand what contingent means in a real estate listing.
There can be many different types of contingencies that could stop the house from getting to the closing.
Not all contingencies are equal regarding the likelihood of them stopping the sale. So you need to know what contingencies apply to a home that you are interested in.
When the seller has accepted an offer from a buyer, a contract will be signed, and this contains typical contingencies that need to be completed by both parties. These contingencies allow buyers to back out of the deal if they want.
The seller can't accept another offer after signing the contract, but a new buyer can step in if the sale falls apart.
While the home is listed as contingent, the seller can accept backup offers.
A Contingent Offer Could Fall Through
A contingent sale could fall apart for many reasons. One of these could happen if the buyer fails to get the home loan they expect. Usually, buyers will get a mortgage preapproval letter from their lender confirming that they can get the loan they need to buy the home.
However, if the buyer hasn't been completely honest and accurate with the details given to the lender, their preapproval letter is worthless. The pre-approval letter isn't a guarantee that they will be approved for the mortgage they want, and some home purchases fail because of this.
Even if the borrower has been accurate with the information provided to the lender, there can sometimes be problems. If their financial situation has changed since getting preapproval, like their credit score changing for the worse, their mortgage application can be rejected.
Perhaps they have applied for other lending or missed a bill payment. The many ways to harm your credit score could lead to a mortgage application being denied. A borrower, at that point, may need to change gears and get a bad credit mortgage. A seller might not be willing to grant them a financial contingency extension.
Changes in the interest rates can also create problems for borrowers. Low interest rates make it easier to qualify for a home loan. But if rates rise, it can lead to increased contingencies not being met.
Can You Still Make an Offer on a Contingent House?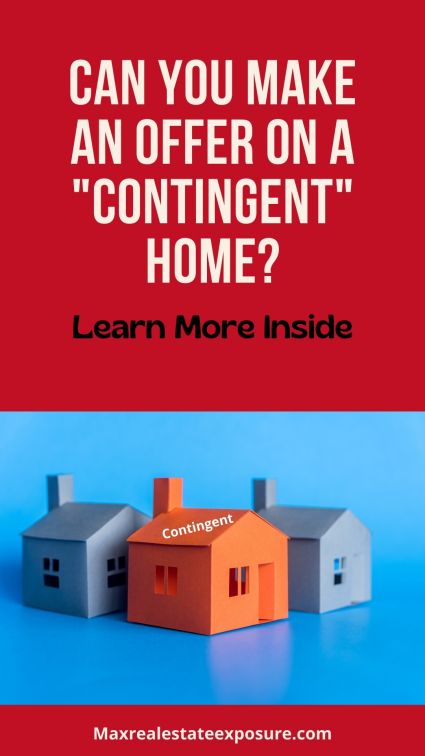 The contingent sale phase does typically allow other potential buyers to still make offers. The reason for this is that the sale is still considered active. There is still a possibility of the current buyer backing out of the deal or other things going wrong, leaving the seller looking for a new purchaser.
Often the buyer will have a contingency that requires them to sell their current home before purchasing the new property. If the current buyer struggles to sell their home, the seller will become increasingly interested in other potential buyers and the offers they are willing to provide.
If a buyer does manage to sell their home quickly, the contingency will be met. This will mean that the sale can move towards closing, and the listing changes from contingent to pending.
What is a Kick-Out Clause
If the buyer cannot sell their home, and the seller has a second offer on the table, they have another option. The seller can decide to contact the first buyer and give them a certain period to either remove the contingency or meet its requirements.
It is referred to as a kick-out clause. In some real estate circles, it can also be called a right of first refusal.
This could be as little as a day or two for the buyer to continue with their purchase, even though they might not have sold their current home.
This will leave the current buyer in a very difficult position if they don't have the finances without selling their current property. If the first buyer cannot continue with their purchase, the seller can take up the offer from the second buyer.
When you like a home with this contingent listing type, you can contact your real estate agent to place an offer. If your offer is attractive to the seller, they might consider moving forward with you.
It will mean that the first buyer will be forced to give up their contingencies and move the listing to pending, or you'll get the opportunity to buy the home.
What is a Backup Offer?
A backup offer is when a buyer writes a contract on a home they wish to purchase that already has an accepted offer. If the current contract falls apart, the holder of the backup offer would be in a position to purchase a home they really want.
Many active contingent or active under contract homes fall through. It is a good idea to write a backup offer when there is any uncertainty about a real estate transaction being completed.
It is essential for sellers to note they cannot accept a higher offer from a second buyer unless the first contingent contract falls through.
With contingent real estate coming back on the market from time to time, back up offers put you in a better position to land the home you want.
What Does Pending Mean in a Property Listing?
Most of the time, a listing will change from contingent to pending when the contingencies have been met. The buyer would have included these contingencies when they made an offer, and the seller would have agreed and signed the contract.
With the contingencies taken care of, the contract is then executed, and all that is left to do is the paperwork and closing. This is the time when a listing might have a pending listing status. While the contingent status allows other buyers to still make offers, the change to pending status ends that opportunity.
That is the most significant difference between pending and contingent sales.
See here for a comprehensive explanation of what pending means in real estate.
How Frequently Do Contingent Offers Fail?
The time it takes to close on a home can vary quite considerably across the country, but at present, the average is around 50 days. The amount of time for the closing time period can frequently change based on supply and demand.
In that time frame, there are quite a few reasons why an offer with contingencies could fall apart.
It is estimated that around three-quarters of real estate offers contain contingencies, with a total of about 10% of purchase contracts being terminated. So if you are interested in buying a home that has changed to contingent, there's only a relatively small chance of the first buyer not purchasing.
A Buyer's Offer Can Include Quite a Few Different Contingencies: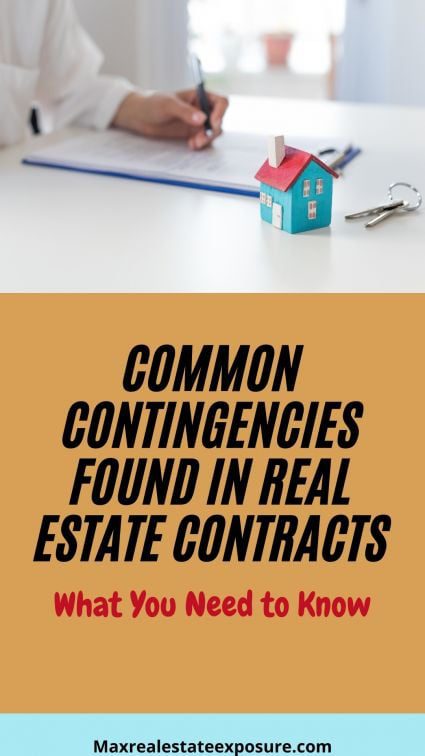 Some of the most common real estate contingencies include the following:
Home Inspection Contingency
A home inspection is a common contingency in most real estate contracts. The inspection report will detail any significant problems discovered by the home inspector.
If the home inspector discovers some severe issues with the home, this contingency can make sure they get fixed. It can also lead to the price being reduced or even allow the buyer to walk away.
Appraisal Contingency
You will occasionally see a home appraisal being satisfactory to a buyer in an offer-to-purchase agreement. The clause will read that the sale is contingent on the appraised value being at least as much as the purchase price.
A home appraisal contingency ensures that the lender isn't loaning more money than the home is worth. Sometimes the property does not appraise for the purchase price.
If the buyer has offered to pay more than the property's fair market value, the lender won't want to loan more than the appraisal value. They don't want to risk losing money should the borrower not keep up with mortgage payments.
The homebuyer has the option of increasing their down payment amount to meet the lender's loan-to-value requirement, negotiating a lower price, or walking away.
Home Sale Contingency
While it is far easier to sell your home before you buy another one, that is not always possible. There is always the possibility of things going wrong and delays leading to difficulty financing your new home purchase.
The home sale contingency gives buyers some protection and time to sell their current home. If their home doesn't sell, they can withdraw from the deal with their earnest money deposit returned.
Home sale contingencies are not looked at favorably, but many real estate agents and home sellers, especially in strong seller's markets. Nobody wants the buyer's home sale to interfere with a sale. Unfortunately, that is often the case with this type of contingency.
The home seller will often balk at agreeing to this contingency clause.
Title Contingency
In order for a final sale to be completed, there will need to be a clear title.
If the property doesn't have a clean title, future claims can be made over ownership. A title contingency will protect the buyer should there be issues like a mortgage lien or encroachment dispute. The title report will show problems such as these.
If a title search uncovers something wrong, continuing with the purchase can be a risk for the buyer. One of the roles of a title company is to seek and find these kinds of significant issues.
Short Sale Approval
A short sale is a specific situation where a home seller needs approval from their lender to sell the property. With a short sale, the lender lets the transaction take place by receiving less than their owed on the mortgage.
In a short sale, the home's sale price is less than the current mortgage balance. The sales contract will often read "subject to short sale approval by the lender."
A short sale is contingent real estate with much higher odds of failure than a traditional sale.
Do Sellers Have to Agree to Contingencies?
When you are selling your home, you don't have to agree to contingencies if you don't want to. It will be in your best interests most of the time to agree.
If you decide that you don't want to deal with contingencies, it will be more challenging to find a buyer, and you will get fewer offers. Unless you are in a very hot sellers' market, you'll probably need to accept a few contingencies to sell your home.
Contingent real estate is more the norm than the exception.
What Happens When a House Changes from an Active to a Contingent Status?
If a home you are interested in changes from active to contingent, it means that the seller has an offer with contingencies that need to be fulfilled. While this is still technically an active listing, and you can typically continue to make offers, there is a good chance that you won't buy the home.
You might decide it is worth making an offer regardless of the status change, but you shouldn't pin your hopes on success.
What Does Contingent Mean on Zillow and Realtor.com?
When you are looking at listings online, you're bound to see the contingent listing status on Realtor.com and Zillow. Many people wonder what contingent means on Realtor.com and Zillow.
A listing labeled as contingent on these sites means a contract between the buyer and seller has been executed. In order for the contingent status to change on Realtor.com and Zillow, the listing agent would need to change the status to pending.
Closing Thoughts The Meaning of Contingent
Buying a home isn't easy, but it is stressful. Contingencies can help remove some of the risks when you are buying a home, though they can seem to get in the way when you're trying to sell.
Whichever side of the home buying process you are on, you need to understand what contingencies are and how they will affect you.
Hopefully, you now have a much better understanding of what contingent means in real estate.
---
About the author: The above Real Estate information on the meaning of contingent in real estate is provided by Bill Gassett, a Nationally recognized leader in his field. Bill can be reached via email at billgassett@remaxexec.com or by phone at 508-625-0191. Bill has helped people move in and out of many Metrowest towns for the last 36+ Years.
Are you thinking of selling your home? I am passionate about real estate and would love to share my marketing expertise!
I service Real Estate Sales in the following Metrowest MA towns: Ashland, Bellingham, Douglas, Framingham, Franklin, Grafton, Holliston, Hopkinton, Hopedale, Medway, Mendon, Milford, Millbury, Millville, Natick, Northborough, Northbridge, Shrewsbury, Southborough, Sutton, Wayland, Westborough, Whitinsville, Worcester, Upton, and Uxbridge MA.
Summary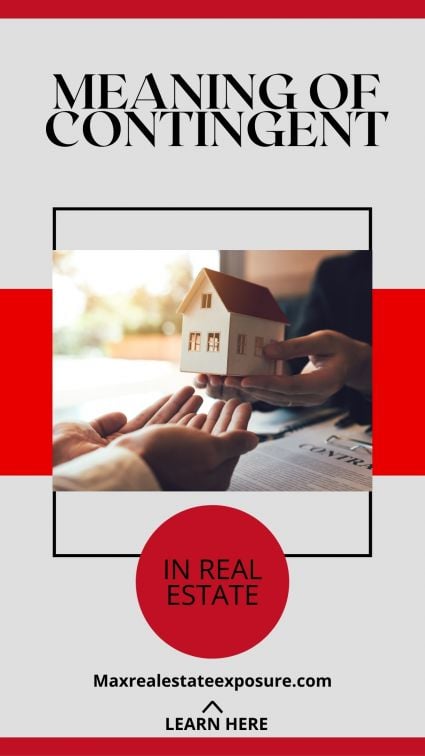 Article Name
What Does Contingent Mean in Real Estate
Description
What does contingent mean in real estate is a common question from buyers and sellers. See an explanation of the meaning of contingent.
Author
Publisher Name
Maximum Real Estate Exposure
Publisher Logo