Things to Look Over Before Buying a Home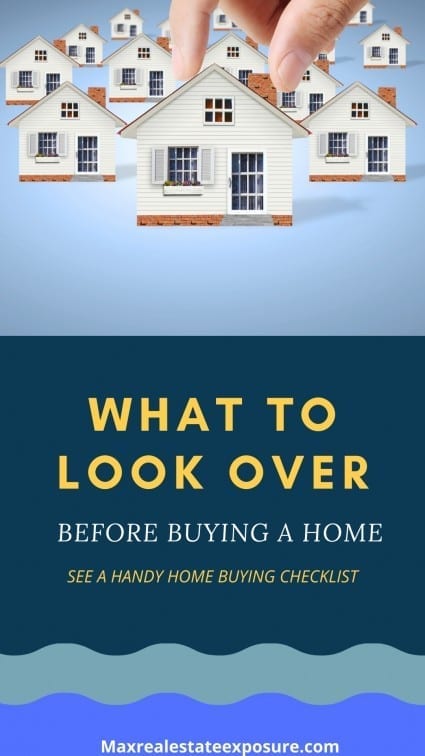 Do you know all the most vital things to look at when purchasing a home? Are there other things that you should consider other than the home inspection when evaluating a property? Absolutely! From a common-sense perspective, it would be right to say that the home inspection is essential.
However, there is more to buying a home than its condition. Losing sight of that could mean that you end up buying a home that does not suit your needs. Be realistic and make sure all of the aspects of the home you are considering buying are right for you.
There are going to be numerous things outside a home inspection that could give you second thoughts. Take a look at several things you should consider beyond the inspection before proceeding.
One of the best first-time house buying tips is to spend ample time with due diligence. These are things to think about when buying a home.
Let's take a look at some essential features to consider when buying a house. Use this as a house buying checklist, so you end up with no regrets.
Measure All Of The Rooms
It is hard to get a good idea of the rooms' size when the home you just viewed is full of clutter and furniture. It is a significant reason why real estate agents are always passing on low-cost staging ideas to their clients.
Getting rid of unnecessary furniture is always highly advisable. Sellers should be making it easy for buyers to picture their own things in the home. Many, unfortunately, don't!
If you are a potential seller reading this, one of the best ways to get rid of unwanted items is to have a charity pick it up for free! You will be improving the look of your home and helping someone out as well. A real win-win!
If you have things that should be removed but want to keep, get a temporary storage unit. You can do a Google search for storage units near me to figure out where is best to go.
Personally, I have lost count of how many times I have heard horror stories about furniture that will not fit in and how home decor essentials look out of place. I would advise all buyers to take their time, and above all, be realistic about their requirements when it comes to space.
Don't assume that your furniture will fit into the dream home that you have just seen. Go back to the property and measure the rooms. If you need help, there is an endless plethora of online room planners that you can use to plan the layout of your new home.
Just as important is having the square footage of the house allocated to all the right places. Not many people like a tiny kitchen, right? When it comes to resale, it's essential to have great space in the kitchen, family room, master bedroom, and baths.
Strongly Consider The Floor Plan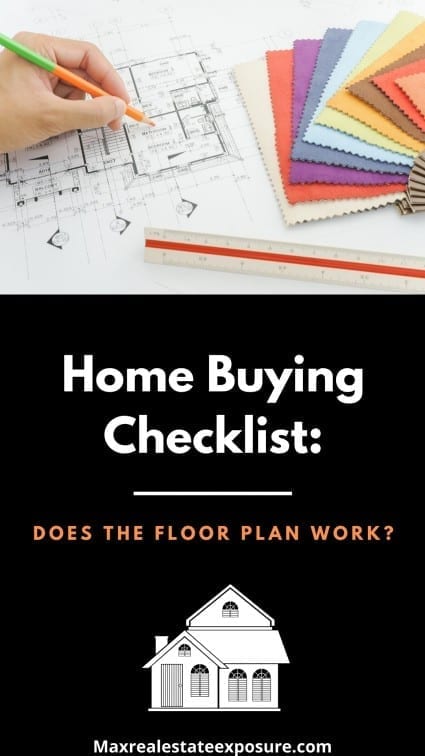 One of the most vital things on your home buying checklist should be the floor plan. The layout of your home is critical not only for your daily living habits but also for resale value.
Buyers will use the floor plan of a house as a significant factor in making their purchase decision.
One thing to make sure you don't have is functional obsolescence. Examples of functional obsolescence include things like:
The need to walk through one bedroom to get to another.
You must walk through a formal dining room to get to a bedroom.
You have to enter the house from the garage right into your family room or dining room.
Do any of these things sound appealing? No – of course, they don't. A significant percentage of buyers may not purchase a house just for one of these reasons alone.
Here are the things the layout should have:
Does the home flow? It is easy to walk from room to room and check that all of the rooms in the property are in good decorative order.
You should ask yourself if the home has the right kind of "flow" for your family's needs. Can you easily access the dining room from the kitchen, and is the family room located in the right place? Remember, these are the rooms in the home you're likely to spend the most time.
Always think about how you are going to use the home. Do you want to keep the same layout as the seller, or do you want to change things around?
If you conclude you would like to change the way the home flows, don't forget to estimate how much any work would cost. You may even need special permits to change some aspects of the home and a professional contractor to help you do the job.
Can you afford to do so, and who is going to do it? Paying a contractor could prove to be expensive, and you need to consider that.
This is often a problem you will come across when buying a fixer-upper home or older style property.
Is There Room For a Garage?
If the home does not have a garage, is there room to add one? One of the most popular amenities in real estate sales is a garage, and preferably one that can hold two cars.
For those who live in a cold-weather climate, the need for a garage becomes even more pronounced. Make sure you check into whether you can put on an addition. You will need to check with the local zoning department to make sure it's possible.
Additional garage features are becoming more and more in vogue.
What About the Light?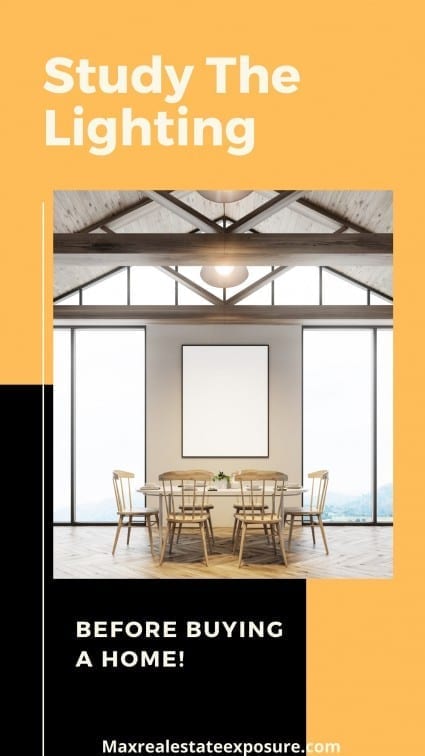 Having enough light coming into your home can save you a lot of money in the long run. During the home inspection, the security of the windows will be checked, and that is important. But, there are other factors to consider. Most importantly, how much light do the windows actually let in?
Light is critical, and there are many smart ways in which you can make the most out of natural light in your home to save money off your electricity bill. Many buyers only look at the house's interior and forget to look at how much natural light is available.
A top tip is to go back to the property and check out how much natural light floods in during different times of the day. Again, when it comes time to sell, many buyers will be turned off by dark houses. A bright home gives you an uplifting mood. A dark home can make you feel depressed.
Charm, Character, and Architectural Details
Do you know the homes that sell for the most cost per square foot? If you guessed the ones with exceptional details, you would be correct! Homes that are showcased with ample base and crown moldings, wainscoting, built-in bookcases, and beams are wildly popular.
Today's buyers would rather have a smaller home with great details vs. a cavernous house with no pizzaz. The days of McMansions being the most popular types of homes are over.
Bathrooms and the Kitchen
The most important parts of the home are probably the bathrooms and the kitchen. Make sure that you check them out carefully. Are they up to date, and do you have enough baths for your family's needs?
The kitchen in a home is often the most expensive part of the property to update. Replacing cabinetry can be extremely expensive. You can drop twenty to thirty thousand dollars, remodeling a kitchen in a heartbeat. When renovating a kitchen, you'll almost always need to do the appliances, countertops, and flooring when replacing the cabinetry.
If you do come across a home, you like, but the kitchen needs an update, it is always a good idea to try to get a better price. Before you put in an offer, go around a few kitchen stores, or speak to a contractor to find out how much a new kitchen will cost.
Bathrooms can be expensive to replace as well. Bear in mind that it is not only the old bathtub that may have to come out. On top of that, you are probably going to want to replace old tiles and fixtures.
Changing an old-style bathroom into a modern-day room can set you back several thousands of dollars. Damp and mold problems are common in bathrooms. Make sure you check them out carefully. In particular, you should pay attention to ventilation.
Today we know that proper ventilation is essential when it comes to stopping mold in its tracks. Installing new ventilation is often expensive and will need someone with special skills. Buying a home with mold can be somewhat commonplace, but you'll obviously want to have the seller take care of the problem.
Where is The Laundry Room Located?
More and more buyers love the idea of having a laundry room located on the second floor. If you think about it, all of the laundry is generated from the bedrooms. Having a 2nd-floor laundry room can be very convenient. The second choice, of course, is having it located on the first floor.
What you'll find is that a lot of older homes have the laundry housed in the basement. Can you live with this? Is the cellar cold, dark, and dank? Do you want to be carrying laundry up and downs multiple sets of stairs? It's certainly something worth considering.
How Are The Heating and Cooling Systems?
In real estate circles, you will often hear real estate agents talking about homes that have "good bones." Of course, this means the roof and foundation which of vital to the structural integrity.
However, don't lose sight of the importance of having young and modern heating and cooling systems. The heating and cooling will be given a high level of scrutiny, justifiably so. You should, as well.
Are There Any Significant Drawbacks?
You should always be thinking about resale when buying a home, especially if you get transferred quite a bit. Making sure there are no significant drawbacks is essential. Here are some examples that could be turn-offs to home buyers:
The home has low ceilings relative to others in the market.
There is no master bath or a place to add one.
There are flooring choices throughout that are highly undesirable, like Pergo or low-end vinyl.
Check Out the Outside Areas of the Home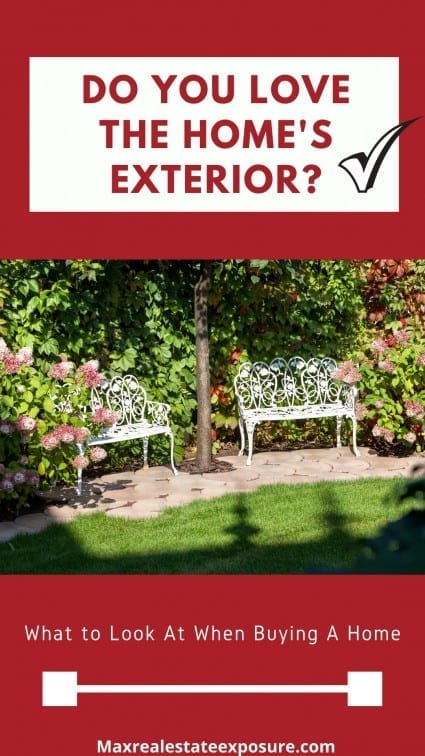 Do you like to entertain outside? Entertaining outside is something that many of us enjoy. Perhaps your current home had a dedicated area for outside entertainment, complete with a barbecue and many things that made entertaining outside easy for you.
Does this home have the same facilities, or will you have to start all over again? Never lose sight of lifestyle factors such as hobbies and the way they influence your life.
The garden and driveway should also be well maintained and looked after. Replacing a driveway does not come cheap and is a messy business. You might also want to stay away from a common driveway unless there is an agreement in place that discusses joint responsibility for maintenance and usage.
While you are out in the garden, check for orientation. Is it south facing? A south-facing garden is worth its weight in gold. It means that you can use it for longer for all of those late summer parties.
Outdoor buildings such as garages or workshops should also be in good condition. If they appear to have been recently painted, you should ask yourself why. What is the paint hiding?
Is there an area to add a deck or patio if one doesn't exist?
The truth is that you should pay attention to all of the areas of the home. Sure, they will be part of the home inspection, but at the end of the day, a home is not only about the "technical aspect." It is about so much more.
You are going to be living in the home on a day to day basis. At the end of the day, what really matters is that you and your family are comfortable in all areas of your home.
How Are The Neighborhood and Neighbors?
While looking over a home is of vital importance, so is giving consideration to the neighborhood and the immediate surroundings. One of the most significant drivers of market value is the home's location. A skilled Real Estate agent will be the first to tell you how much the neighborhood can influence the resale value and salability.
Another thing you should never overlook is who lives next door? Do they keep up their property to the level you expect them to? Trying to sell your home with a terrible neighbor in the future can be problematic.
Lastly, how is the local school district? Homes that have outstanding schools are far easier to sell and hold their value better.
Final Thoughts on Considerations for Buying a House

Checking out the condition of a home via a home inspection is smart. Don't, however, forget about all the other little things that make a house a home. Do your due diligence on everything that could be important to you now and in the future.
There are many considerations in buying a house. Make sure the one you pick will provide for most of what you want for years to come. Hopefully, you have enjoyed this home buying checklist.
Other Valuable Real Estate Resources
Should you renovate your property before selling – One of the age-old real estate questions is how much work you should do to your home before selling. See some helpful suggestions. Glenn Shelhamer, a Los Angeles based real estate broker, shares his thoughts on where to invest $1.00 where you'll get at least $3.00 back. Home renovation and landscaping improvements before listing a property on the MLS for sale is a smart investment.
What to avoid when selling a home – there are some things you should and should not do when selling your next house. Follow some excellent guidance to make the home sale process go much smoother.
Will the new FICO scores affect your home purchase – did you know that FICO scoring models will be changing? The change could have a direct impact on a buyer's ability to purchase a home.
Use these additional helpful articles to make sound decisions when buying or selling your next home.
---
About the author: The above Real Estate information on considerations for buying a home was provided by Bill Gassett, a Nationally recognized leader in his field. Bill can be reached via email at [email protected] or by phone at 508-625-0191. Bill has helped people move in and out of many Metrowest towns for the last 34+ years.
Are you thinking of selling your home? I have a passion for Real Estate and love to share my marketing expertise!
I service Real Estate Sales in the following Metrowest MA towns: Ashland, Bellingham, Douglas, Framingham, Franklin, Grafton, Holliston, Hopkinton, Hopedale, Medway, Mendon, Milford, Millbury, Millville, Natick, Northborough, Northbridge, Shrewsbury, Southborough, Sutton, Wayland, Westborough, Whitinsville, Worcester, Upton, and Uxbridge MA.
Summary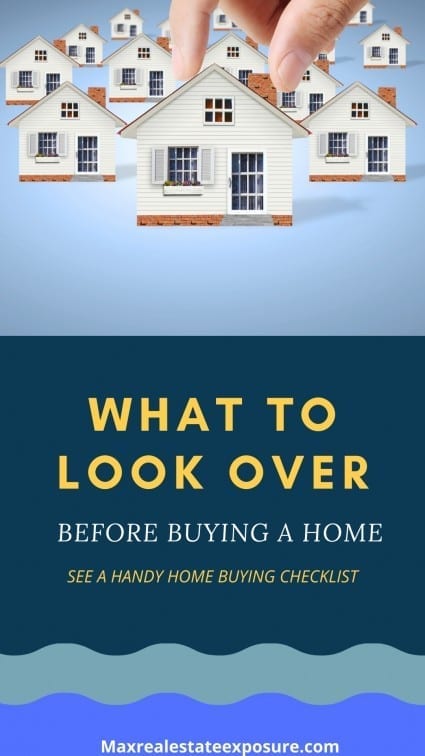 Article Name
Considerations For Buying a House Outside The Home Inspection
Description
Do you know some of the most essential considerations for buying a house outside of the home inspection? See key aspects to look at in this home checklist.
Author
Publisher Name
Maximum Real Estate Exposure
Publisher Logo