Why Buy A Walden Woods Condo?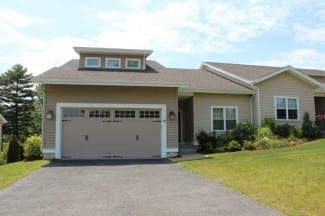 Walden Woods in Milford, Massachusetts, is not only the top-selling condominium community in Milford but one of the most popular townhome neighborhoods in all of the Metrowest area. The development is not age-restricted, so it has a broad appeal to both young and old. You could not ask for a more convenient location, as Walden Woods is only a few miles from the border of Hopkinton on Route 85 and just down the street from the Route 495 interchange.
From a commuting standpoint, the neighborhood is fabulous, as you can jump on 495 and be at the Mass Pike exits in a matter of minutes. Getting to Boston, Worcester, Cape Cod, and Providence is a breeze. The other main conveniences, shopping and restaurants are just down the street from the neighborhood.
As you approach Walden Woods of Milford, you will immediately notice how well the entrance to the community has been done by Eastland Partners, the neighborhood's developers.
There are beautiful New England stone walls along with beautiful landscaping surrounding well-lit signage that proudly identifies the subdivision. Upon entering the development, you immediately know how well-maintained the grounds are kept. The pride of the builders in keeping things pristine is evident even though there is a ton of going new construction.
Eastland Partners is the privately-held development company of Walden Woods and is owned by Logan Huffman, who has been a quality home builder in the Greater Boston area since 1989. Eastland is known not only for their quality condominium project but also developments of single-family homes and personalized custom-built luxury residences. If you are looking for a condo with excellent craftsmanship, at the very least, you should put Walden Woods, Milford, MA on your list of places to visit.
Walden Woods Walk/Bike Trails
One of the more appealing features of Walden Woods in Milford is the fact that 180 acres of the 294-acre property have been put into a conservation trust that never will be developed and keeps a protected buffer around the neighborhood. Only about 50 acres of land have been used for the actual housing. With so much of the land being donated to conservation, it creates a cool backdrop to the entire area.
While Walden Woods has a buffer of conservation land for nature lovers, also in proximity to the neighborhood is the Upper Charles Trail which connects Milford to some of the surrounding towns, including Hopkinton, Ashland, Holliston, and Sherborn. The first phase of the trail is 2.8 miles and runs from the center of Milford to Deer Street near the 495 exits. The Milford segment (Milford Upper Charles Trail) is about 6.4 miles in the distance and runs through Milford from the Holliston town line to the Hopkinton town line, offering Walden Woods residents direct access to the bike trail.
For those that have mountain biking as a hobby, there is also a fantastic mountain bike trail as well. The rugged terrain is known as the New England Mountain Bikers' mountain trail. This trail has become one of the most popular mountain biking areas in the state and happens to be only a few minutes away by bike from Walden Woods. On weekends it is not uncommon to see some folks heading into the trails simultaneously.
All About Building at Walden Woods Milford
One of Walden's more desirable features is that the builders offer the buyer many choices to custom-build their condominium to their specifications. Not only are the interior features and amenities customizable, but there are also quite a few floor plans to choose from as well. The most modern floor plan to date is the "Hudson" model.
The Hudson offers two bedrooms, two full baths, and a half bath. This model features a 1st-floor master suite. What draws most people to this plan is the wide open floor, which features a spacious kitchen open to a two-story family room. There is also a private first-floor study for those that work out of the home.
There are also a couple of other models, including a ranch style where all the living area is on one floor and another with the master suite on the second floor. There are enough choices in design that keep most buyers happy.
What I happen to like about Walden Woods is the interior finish. As someone who grew up with a father as a builder, I can tell the difference in quality from one builder to the next. Eastland Partners has done an excellent job providing the craftsmanship you do not always find in other new subdivisions. Some of the features that stand out in my mind are the
Custom kitchens with granite counters and stainless appliances
Excellent woodworking, including crown moldings, wainscoting, bead board, and wide baseboard/door casings
Three-season porches
Cathedral ceiling and skylights
Wide Oak Flooring
Kohler plumbing fixtures
There are, of course, other striking amenities as well, but these things stand out the minute you walk through the door. Walden Woods, Milford, MA, offers a fantastic floor plan and good value!
46 Walden Way Milford MA
46 Walden Way Milford MA is the perfect example of a customized townhome at Walden Woods. The owner spared no expense in making this condo a fine place to call home! While the Eastland Partners provides their standard condo with numerous upgrades that other builders charge extra for, this condominium is loaded with additional amenities above and beyond the norm.
This impeccably maintained unit is an "Anderson" floor plan that can best be described as an enlarged "Hudson" model. The Anderson design is no longer being built but has been replaced by the Hudson design. Essentially these models are very similar. The Anderson has a bigger first floor and a smaller second floor. The Hudson has an improved layout on the second floor. Another small difference is that the staircase in the Hudson is traditionally located in the entry foyer, whereas the Anderson has it is the family room.
Where you feel the size difference in the Anderson model is in the kitchen and family room, both larger in this home than in the Hudson plan that Eastland Partners are currently offering.
The home is located on a premium walk-out basement lot, of which only a small percentage throughout the neighborhood. If you are not interested in going through the wait for new construction, this home has almost everything you could want. The kitchen has been customized with upgraded Cherry cabinetry, granite counters, and stainless appliances. There is a large breakfast bar with plenty of counter space for morning conversation or when entertaining guests.
The flow from the kitchen into the formal dining area and family room are outstanding. A big part of the spacious feeling you get in a Walden Woods home is the spacious open plan combined with the cathedral ceilings. The owners elected to upgrade the floors to hardwood in both the kitchen and family room which look terrific. There is a corner fireplace for those cold New England Winter nights. For extending living in the warmer months of the year, the owners opted to add a screen porch with the builder offers as an additional upgrade.
One of the other attractive features of 46 Walden Way is the private first-floor study. For those working out of the home, this beautiful space is appointed with French doors. The room is large enough to support a desk and wall unit.
A first-floor master graces the home with its cathedral ceilings and multiple closets. The bath is exceptional with its upgraded Cherry vanity and solid top and tile flooring. The 1st floor also has a powder room with tile flooring.
The second floor features a spacious second bedroom that comes with a private bath. There is also a loft area that works well as an office space or reading nook.
Given that this Walden Woods home is located on a premium walk-out lot, there are plenty of options to add additional living space down in the lower level. The back of the unit has full-size windows for natural light and a door out to the yard. There was also planning done for future finishing with a roughed full bath. Whether it's a place for kids or adults, there is plenty of "flex" space here for whatever you find a need.
In total, this Walden Woods condo has seven rooms, two bedrooms, and 2.5 baths. The total gross living area is 2162 square feet which is a couple of hundred square feet more than the Hudson plan the builder currently offers. There is a two-car attached garage. The monthly condo fee for this home is $281.00, and the taxes for 2012 are $6301.00. There are public utilities, including town water and sewer.
Included below are a couple of interior photos of the condo I sold at 46 Walden Way in Walden Woods. The home was listed at $414,900 and sold at $412,000. You can also see a 46 Walden Way video tour by clicking the link.

Walden Woods Milford MA Location On Map



For an exact location of the Walden Woods condominium neighborhood in Milford, see the Google map provided below. You will notice how centrally located the neighborhood is to commuting routes and shopping, restaurants, and major highways. Rte 85 is Cedar Street in Milford and turns into Hayden Rowe Street in Hopkinton. Walden Woods has an ideal location!
View Larger Map
If you are interested in more information about Walden Woods Milford, Massachusetts or like this type of marketing I provide my clients, please contact me. I would welcome the opportunity to interview with you. You can reach me at 508-625-0191 or by email billgassett at remaxexec.com
I service Real Estate sales in the following towns in and around Metrowest, Massachusetts: Ashland, Bellingham, Douglas, Framingham, Franklin, Grafton, Holliston, Hopkinton, Hopedale, Medway, Mendon, Milford, Millbury, Millville, Northborough, Northbridge, Shrewsbury, Southborough, Sutton, Wayland, Westborough, Whitinsville, Worcester, Upton and Uxbridge MA.