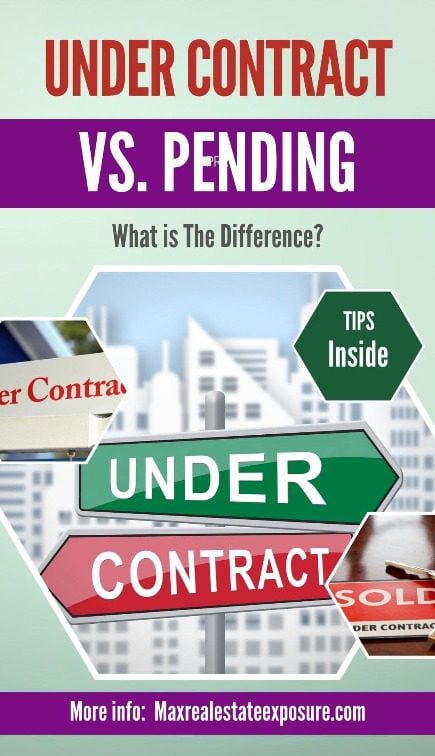 Are you wondering about under-contract vs. pending and the differences between them?
Real estate transactions involve various parties, including buyers, sellers, and mortgage lenders. When a buyer makes a formal offer that the seller accepts, the property is considered "under contract." However, the transaction still has conditions to be met.
For this reason, most properties will be moved from current to contingent status when an offer is accepted.
The conditions or contingencies often involve inspections, financing, and title searches. Once all requirements are fulfilled, the property enters the "pending" status, indicating the deal is nearly closed. It's important to note that "under contract" and "pending" are sometimes used interchangeably.
Around 7% of real estate contracts may be canceled, creating an opportunity for backup offers. Understanding the difference between under contract and pending is crucial in navigating the real estate process effectively.
In my experience as a real estate agent, many consumers don't understand the differences in our lingo. It is crucial to remember that as an agent. A buyer or seller may want to know these status differences in properties as it can impact their decision-making.
How Do Real Estate Transactions Work?
Regarding real estate transactions, it is essential to understand the process and the parties involved. We will provide an overview of how real estate transactions work, including making offers, contingencies and conditions, and the role of financing.
The Parties Involved in a Real Estate Transaction
In a standard real estate transaction, three parties are typically involved: the buyer, the seller, and the lender. The buyer is the individual or entity interested in purchasing the property, while the seller is the current owner looking to sell. The mortgage lender provides the funds for the buyer's purchase through a loan.
The Process of Making an Offer on a House
Once a buyer has identified a property they are interested in, they can make a formal offer to the seller. This offer includes the proposed price, contingencies, and desired terms of the transaction. The seller then has the option to accept, reject, or counter the offer.
If the seller accepts the offer, the property is considered 'under contract,' indicating an agreement between the buyer and seller.
Contingencies and Conditions in a Real Estate Contract
A real estate contract typically includes contingencies and conditions that must be fulfilled for the transaction to proceed. Contingencies allow the buyer to back out of the contract under specific circumstances, such as unsatisfactory home inspections or issues with financing. The two most common contingencies in real estate contracts are inspections and a mortgage contingency.
Conditions, conversely, outline specific actions or requirements that both parties must meet to move forward with the transaction.
The Role of Financing in a Real Estate Transaction
Financing is crucial in real estate transactions, as most buyers rely on mortgage loans to purchase a property. The buyer's ability to secure the funding for the agreed-upon price affects the transaction's success. The lender will assess the buyer's financial situation and the property's value before approving the loan. If the financing falls through, the contract may be terminated unless alternative arrangements can be made.
It is essential for sellers only to accept buyers who have a mortgage pre-approval. Without proof of a pre-approval letter, there is no way to know if a buyer is qualified to purchase. It doesn't take long for a buyer to get pre-approved for a loan.
What's the Difference Between Pending and Under Contract?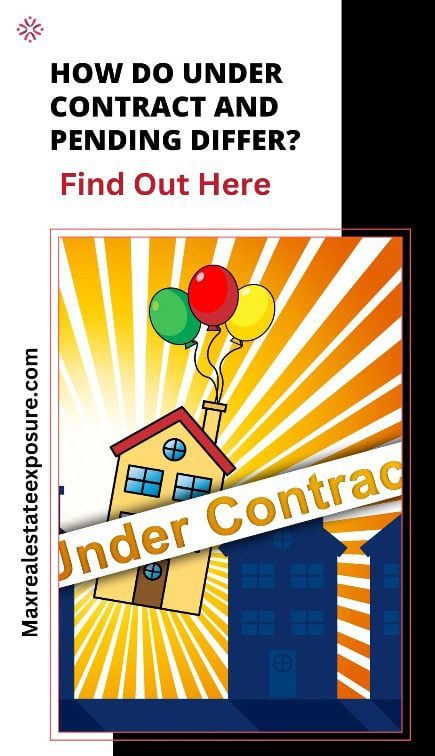 Understanding the distinction between pending and under contract is crucial when navigating the real estate market. These terms denote different stages in the buying and selling process, each with implications.
Understanding the Meaning of Under Contract
When the seller accepts a buyer's offer, a property is considered 'under contract.' This means that both parties have agreed upon the terms and conditions of the sale, and a legally binding contract has been signed.
However, as mentioned, it's vital to note that certain conditions, also known as contingencies, may still need to be fulfilled for the contract to proceed.
Explaining the Concept of Pending
Once all the contingencies have been met and the contract is in its final stages, the property transitions to a 'pending' status. This indicates that the deal is close to completion and that all conditions have been satisfied.
Typically, pending properties do not accept backup offers as the transaction is nearing its finalization.
Similarities and Differences between Pending and Under Contract
Under-contract and pending statuses signify that a property has a buyer and seller agreement.
Under-contract properties are still subject to conditions or contingencies being met while pending properties have completed all requirements. It should be noted there is a difference between contingent and pending sales.
Pending status implies that the transaction is in its final stages and close to closing, while under contract status could be at various stages of completion.
In both cases, there is a possibility that the transaction may not close, although it is less likely with pending status since all conditions have been fulfilled.
Understanding the differences between under-contract and pending is crucial for buyers and sellers. It helps buyers evaluate whether backup offers may be considered, and sellers understand the progress of their transaction.
Real estate agents are vital in guiding clients through these stages and ensuring a smooth transition from under contract to pending status.
Under Contract vs. Pending
When it comes to real estate transactions, understanding the difference between pending and under contract is crucial for both buyers and sellers. These two statuses indicate different stages in the process, each with implications and considerations.
Let's explore the dissimilarities between pending and under contract and how they affect contingencies, negotiations, and the parties involved.
The Differences in Terms of Contingencies and Conditions
Contingencies and conditions play a significant role in real estate contracts, safeguarding the interests of buyers and sellers. In the under-contract stage, these contingencies and conditions are still being fulfilled. Inspections of the property and searches for title issues are conducted during this time. If problems arise, the buyer can negotiate repairs or credits and back out of the deal if necessary.
Once all the contingencies and conditions have been met, the status changes to pending. All the necessary inspections, repairs, and title searches have been completed in this stage, satisfying the previously agreed-upon conditions. The property is now considered pending, and the deal is nearly finalized.
Implications for Buyers and Sellers in Pending and Under-Contract Homes
The status of a home as either pending or under contract has implications for both buyers and sellers. For buyers, a pending status may indicate that the property no longer accepts backup offers. With the deal nearly complete, there is little room for additional negotiations or competing bids.
On the other hand, a home under contract may still accept backup offers. This status suggests that the deal is not yet finalized, and the contract may be canceled due to unforeseen circumstances. As a result, buyers can submit backup offers to secure the property if the initial contract falls through.
How Offers and Negotiations are Handled in Pending vs. Under Contract Status
When a property is under contract, the primary focus is on fulfilling the agreed-upon conditions and contingencies. Negotiations and offers from other buyers are not entertained unless the initial agreement is terminated.
In the pending stage, offers from other buyers are not accepted as the deal is nearing completion. The seller and buyer primarily focus on finalizing the transaction, and negotiations from other parties may not be considered significant.
It's important to note that the distinction between pending and under contract can vary in practice, and it's always best to consult with a real estate agent or professional for the most up-to-date information regarding specific transactions.
Contingencies and conditions are fulfilled during the under-contract stage.
A property's pending status indicates that all contingencies and conditions have been met.
Pending homes generally don't accept backup offers, while under-contract homes may consider them.
Offers and negotiations are primarily focused on fulfilling conditions in the under-contract stage.
In the pending stage, negotiations and offers from other buyers are typically not entertained.
Active Under Contract and Backup Offers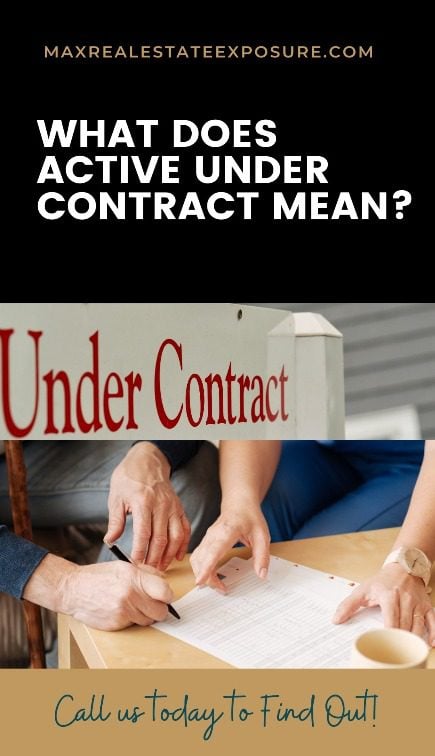 In real estate transactions, a stage known as the Active Under Contract status plays a significant role in the buying and selling process. Additionally, backup offers can also come into play, adding further dynamics to the transaction.
Understanding Active Under Contract Status
When a property is marked as Active Under Contract, a buyer and seller have agreed on the contract terms, and the property is no longer available for new offers.
At this stage, the buyer actively pursues the necessary steps to close the deal, such as inspections, financing arrangements, and fulfilling contingencies.
Active Under Contract status indicates that the transaction is progressing, and the buyer has actively taken steps to move toward closing. However, it's important to note that the deal is not yet final, and certain conditions must still be met before the property can move to a pending status.
How long a home remains in contingent status can vary from transaction to transaction.
The Significance of Backup Offers
Backup offers come into play when a property is already under contract. These offers act as a contingency plan if the initial deal falls through. If a seller accepts a backup offer, it means that if the primary contract fails to close, the backup offer will come into effect, allowing the backup buyer to purchase the property.
Accepting backup offers can benefit sellers by providing a safety net if the initial deal doesn't proceed. It allows them to have an alternative option lined up without returning to the market or restarting the selling process.
If a seller has accepted a home sale contingency which is very risky, a backup offer can be an excellent fallback plan.
Pros and Cons of Accepting Backup Offers
Accepting backup offers presents both advantages and disadvantages for sellers. Some potential pros include:
Increased likelihood of closing the deal if the primary contract falls through.
Potential for a shorter time on the market if the backup offer is accepted quickly.
Added leverage in negotiating repairs or other contingencies with the primary buyer.
On the other hand, there are potential cons to accepting backup offers, such as:
Additional complexities and paperwork in managing multiple offers simultaneously.
There is a potential delay in closing if the backup offer needs time to secure financing or complete inspections.
Potential disappointment for the backup buyer if they ultimately don't get the property.
Accepting backup offers depends on the seller's specific circumstances and preferences. Sellers must consider the potential benefits and drawbacks and consult with their real estate agent before deciding.
Essential Considerations for Buyers and Sellers
When navigating the process of buying or selling a home, there are several important factors that both buyers and sellers need to consider. These considerations can help ensure a smoother and more successful real estate transaction.
Let's explore some of these critical points:
The Importance of Having a Knowledgeable Real Estate Agent
A knowledgeable and experienced Realtor is crucial when entering a real estate transaction. A reputable agent can guide you through the process, provide valuable insights, and help you make informed decisions. They can negotiate on your behalf, protect your interests, and handle complex paperwork.
Having a reliable agent can significantly reduce stress and increase the chances of a successful outcome.
Navigating Contingencies and Inspections
Contingencies and inspections are critical aspects of a real estate transaction. Buyers should carefully review and understand any contingencies outlined in the contract. These contingencies might include obtaining financing, satisfactory home inspections, or appraisals.
Buyers should work closely with their agents to meet all contingencies within the specified timelines. Similarly, sellers must be prepared for inspections and promptly address any necessary repairs or modifications.
Navigating these contingencies and inspections efficiently is essential in keeping the transaction on track.
Responsibilities and Options during the Pending and Under Contract Period
Once a property is under contract or pending, buyers and sellers have specific duties and options to consider. Buyers should stay proactive during this period, diligently fulfilling any remaining obligations, such as providing required documentation or paying deposits.
On the other hand, sellers must maintain the property's condition and adhere to any agreed-upon terms. Sellers should be prepared to accommodate additional inspections or inquiries if needed. During this period, both parties should communicate effectively and be ready to negotiate any necessary adjustments to ensure a successful closing.
Buyers and sellers can increase their chances of a smooth and successful real estate transaction by being proactive and working with the right professionals.
Click To Tweet
Ensuring a Smooth Real Estate Transaction
Tips for Buyers in the Pending and Under Contract Stage
When you are a buyer in the pending or under contract stage of a real estate transaction, there are several essential tips to ensure a smooth process:
Stay in close communication with your real estate agent: Your agent can provide guidance and updates throughout the process, helping you navigate any challenges.

Be proactive with inspections and contingencies:

Schedule timely inspections and respond promptly to any contingencies to keep the transaction moving smoothly.

Stay informed about financing and appraisal:

Keep track of the progress of your loan approval and schedule the appraisal promptly. Any delays in funding can impact the transaction.

Document everything:

Maintain thorough records of all communication, agreements, and documents exchanged during the pending and under-contract stage to ensure transparency and avoid misunderstandings.
Tips for Sellers in the Pending and Under Contract Stage
As a seller in the pending or under contract stage, consider these tips to facilitate a smooth real estate transaction:
Respond promptly to buyer's requests and inquiries: Timely communication can help build trust and keep the transaction progressing smoothly.
Maintain the property in good condition: Continue to maintain the property as agreed to during negotiations, preparing for any potential inspections or appraisals that may occur.
Keep an eye on financing and contingencies: Stay informed about the progress of the buyer's financing and monitor the fulfillment of contingencies outlined in the contract.
Consider backup offers: Depending on the circumstances, accepting backup offers can be a strategic move to protect your interests in case the initial contract falls through.
Understanding the Possible Risks and How to Mitigate Them
During the pending and under-contract stage, there are some risks that both buyers and sellers should be aware of:
Financing issues:

Buyers may face challenges securing financing, which can delay or jeopardize the transaction. Stay close to lenders and be prepared with backup plans if needed.

Inspection concerns:

Discoveries during inspections can lead to renegotiations or the buyer withdrawing from the deal. Sellers should be prepared for such potential outcomes and be open to addressing concerns to keep the transaction on track.

Appraisal discrepancies:

If the property's appraised value is significantly lower than the agreed-upon price, the buyer may struggle to secure financing. Sellers should know the possibility and be prepared to negotiate if necessary.
By following these tips and understanding the potential risks, buyers and sellers can work towards a successful real estate transaction in the pending and under contract stage.
Final Thoughts Under Contract vs. Pending
In real estate sales, there are many listing statuses, each with a different meaning. When buying or selling, a basic understanding of them is essential. You now should better handle the difference between pending and under contract.
---
About the Author: The above Real Estate information on under contract vs. pending was provided by Bill Gassett, a Nationally recognized leader in his field. Bill has expertise in mortgages, financing, moving, home improvement, and general real estate. Learn more about Bill Gassett and the publications he has been featured in. Bill can be reached via email at billgassett@remaxexec.com or by phone at 508-625-0191. Bill has helped people move in and out of Metrowest towns for the last 37+ years.
Are you thinking of selling your home? I am passionate about real estate and love sharing my marketing expertise!
I service Real Estate Sales in the following Metrowest MA towns: Ashland, Bellingham, Douglas, Framingham, Franklin, Grafton, Holliston, Hopkinton, Hopedale, Medway, Mendon, Milford, Millbury, Millville, Natick, Northborough, Northbridge, Shrewsbury, Southborough, Sutton, Wayland, Westborough, Whitinsville, Worcester, Upton, and Uxbridge MA.
Summary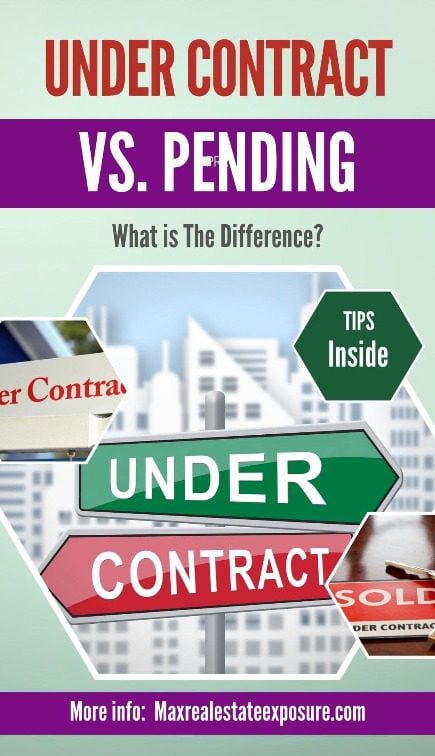 Article Name
Under Contract vs. Pending: What is The Difference?
Description
See the difference between under contract and pending in real estate and the multiple listing service (MLS).
Author
Publisher Name
Maximum Real Estate Exposure
Publisher Logo