Pros and Cons of Fixer-Upper Homes vs. Move-in Ready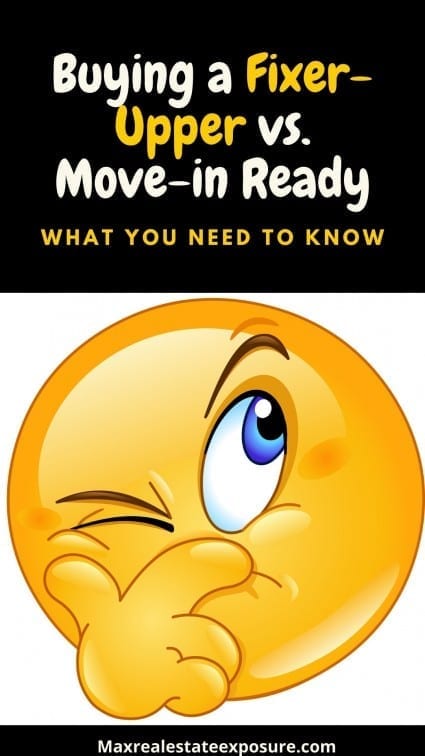 One of the questions a lot of potential home buyers ask themselves is, "should I buy a fixer-upper or a move-in ready home?" If you want to buy a bargain home, a fixer-upper can seem like an excellent choice.
You will get a property for less than the market value, with the potential to create your ideal home. But is buying a fixer-upper home really a great choice? In a previous article here at Maximum Real Estate Exposure, I've provided several considerations to think about.
Below is a summary of some of the pros and cons of this kind of home purchase. When done reading, take the time to come back and look over this resource for more sound guidance and tips.
If you have the time, the money, the skills, and be willing to put in the effort needed, it can be a great option over a move-in ready home. When you are buying a home for the first time budget constraints may make a fixer-upper your only option. When this is the case, one of the better first-time homebuyer tips, of course, is doing the necessary due diligence.
Let's take a look at what is involved in buying a fixer-upper to help you work out if this is really for you. Before putting down a home deposit, you'll want a thorough understanding of the upsides and downsides.
Buying a Fixer-Upper – The Good
You can "potentially" buy a home for far less, on average, 8% below market value.
Reduced property taxes will be due because of the lower price you've paid.
When you have renovated, it will be worth considerably more, and you can flip it for a profit or have built up your own sweat equity.
You can create the home you want, making design choices to fit your needs exactly.
The Downsides of a Fixer-Upper
More risks involved. You don't know for sure what the eventual costs will be.
You will need to hire contractors and be at the mercy of their schedules.
There could be monetary surprises with the home you didn't figure on even if you have a thorough home inspection.
It is not a move-in ready home; you will need to live somewhere else most of the time.
Your renovations could take longer than you imagine, increasing costs.
If you need to make structural changes, you will need a permit, which isn't cheap.
If you are a risk-averse person, a move-in ready home would probably better serve your needs as a viable home purchase option.
Required Repairs With Fixer-Upper Homes

If you are looking to purchase a fixer-upper, the first thing you need to know is how bad is it? A home inspection should give you the information to allow you to understand if the home is worth the trouble. If the problems with the house are too severe, the home inspection will give you a way out of the contract.
The home inspector should tell you if there are structural problems with the home, and if there are, it will be an expensive fix. A home with structural failings isn't a good candidate for a fixer-upper, and you should move on. While the house might appear to be structurally sound to you, it is better to have an expert check the condition so you can avoid an expensive mistake.
You can use the home inspection report to get a reduction from the seller if the problems aren't too serious. Get a contractor to provide a quote for the repair and renovation costs. Though this might not be what you pay in the end, it will give you a better understanding of if you should purchase the property.
When you have an idea of the costs involved in renovating, you can deduct this from the expected market value when completed. If you show a loss at this stage, it will be a good idea to reconsider the purchase.
Does what you what to do to the property require permits? If so, you will need to spend more on the project. Failure to get the necessary permits could make it very difficult to sell the home later on. Lots of buyers skip the permitting process, which can create significant headaches down the line. Don't skip out on this essential aspect of purchasing a fixer-upper!
Video: Pros and Cons of Buying a Fixer-Upper Home
Learn some of the upsides and downsides of choosing a fixer-upper vs a turn-key home.
Do You Have What it Takes?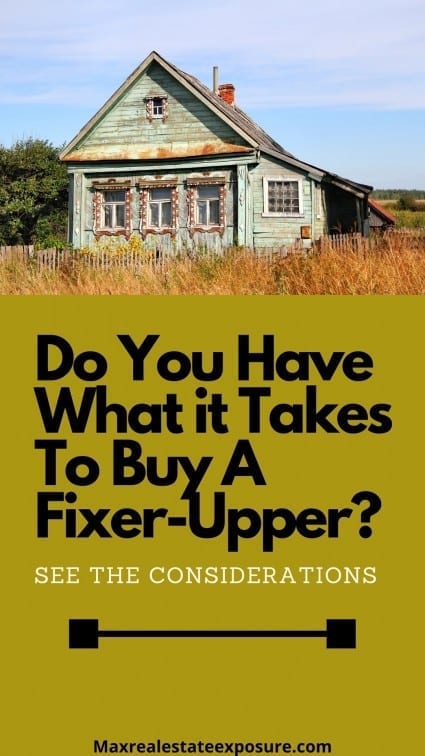 In assessing whether to buy a move-in ready house or a fixer-upper, you need to be honest with yourself when it comes to time and qualifications. In order to make a success out of your fixer-upper home, you will need to do a lot of the work yourself.
Do you have the time and motivation to complete the project? Do you possess the DIY experience to carry out the work? The more jobs you can do yourself, the more money you can save on the home.
If you need contractors for the majority of the project, you may be better off buying a move-in ready home. Even if you have the necessary skills to do most of the work, how long is it going to take you?
It is all too easy to underestimate the amount of time you will need to complete tasks, leaving it to drag on for far longer than you planned for. This can lead to reducing your motivation to finish the project, leaving you with an unfinished home.
If you have a full-time job and you hope to do this in your spare time, will you have the energy to spend a few hours in the evening and at weekends to get it done. The travel time to and from the fixer-upper should be remembered as well.
Covering the Costs
You will still need to buy the home, finding the down payment, and covering the closing costs, along with the costs of renovations. This is going to complicate your financing options, with possibly the need to get a loan to cover the repairs.
There are 203(k) loans available to finance home repairs, as well as the cost of purchasing the property. Though the process is more complicated than standard mortgages, and there are likely to be more fees to pay. There are other types of home improvement loans as well that could be worth exploring.
Buying a fixer-upper home and paying for the renovations could see most of your earnings going to the project. You will have the mortgage payments, utilities, and taxes to pay for as well as the costs involved in improving the home. It could be that waiting until you are in a better financial situation before embarking on a project like this is a safer thing to do.
Dealing With the Unexpected
With any home that needs some renovations, there is always the possibility that more costly repairs will be required. Even if you have had the home inspected, there could be things that you hadn't accounted for. This could certainly be the case when buying a foreclosed home where the previous homeowner did not take care of the property.
To make sure you are ready for such problems, you need to be prepared for additional costs or other issues that could occur. Don't make the mistake of believing that everything will go according to plan.
Do You Really Save Money Buying a Fixer-Upper?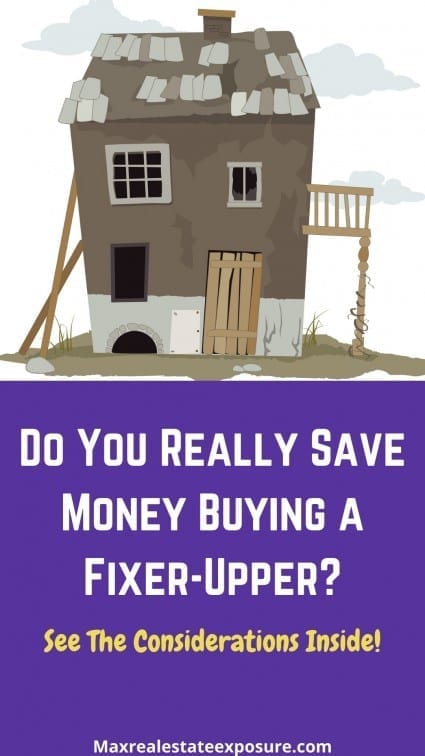 In speaking to many home buyers over the years, one of the common denominators in choosing to buy a fixer-upper has been their budget. Completely understandable if that is all you can afford to pay for a home. There is, however, another subset of buyers who believes they will be able to save a ton of money with a fixer-upper purchase vs. going with the move-in ready home.
But is that really accurate thinking? Based on the evidence, it may not be the drastic savings you expect it to be. The real estate site Porch has done a survey on buying turn-key homes vs. fixer-uppers and found that even when fixer-upper buyers remain within their budget, they end up spending just about as much as buyers who purchased a move-in ready home.
On average, buyers who bought a move-in ready house spent about $250,496, while fixer-upper buyers within their budget ended up paying approximately $246,891.
Fixer-upper homebuyers who went over budget, on the other hand, spent about $25,000 more than turnkey homebuyers, the survey found. Their total spending ended up being around $275,741.
So it seems that the thinking of getting a bargain fixer-upper and having more equity than buying a turn-key home may be somewhat flawed.
Final Thoughts on Buying a Fixer-Upper
If you are prepared, motivated, and have the necessary skills, buying a fixer-upper can make great sense. You should end up with a home worth more than you've spent on it.
There are far more risks involved with such a choice, however. If you have doubts about your ability to handle a big project like this, or if financing the home is going to be too much of a stretch, perhaps a move-in ready home is a better choice.
Whatever decision you decide to go with, follow some of the best moving tips, so your move is less stressful and problem-free.
Hopefully, you have gotten something out of the tips on whether to choose a move-in ready home vs. a fixer-upper property. Ultimately, only you can decide which is the best option for your circumstances.
---
About the author: The above Real Estate information on the should I buy a fixer-upper or a move-in ready house was provided by Bill Gassett, a Nationally recognized leader in his field. Bill can be reached via email at [email protected] or by phone at 508-625-0191. Bill has helped people move in and out of many Metrowest towns for the last 33+ years.
Are you thinking of selling your home? I have a passion for Real Estate and love to share my marketing expertise!
I service Real Estate Sales in the following Metrowest MA towns: Ashland, Bellingham, Douglas, Framingham, Franklin, Grafton, Holliston, Hopkinton, Hopedale, Medway, Mendon, Milford, Millbury, Millville, Natick, Northborough, Northbridge, Shrewsbury, Southborough, Sutton, Wayland, Westborough, Whitinsville, Worcester, Upton, and Uxbridge MA.
Summary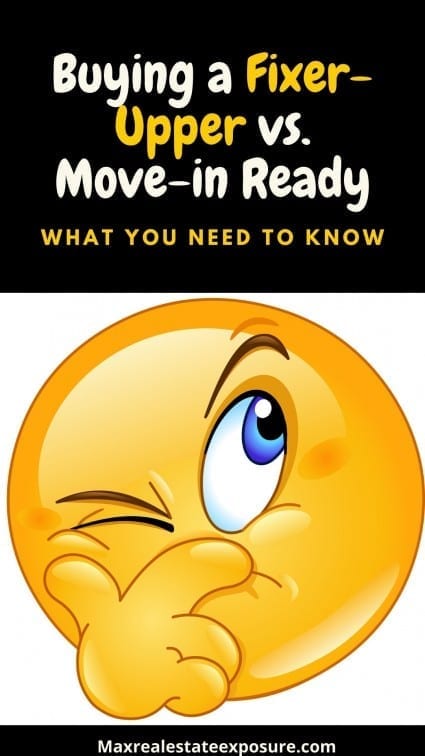 Article Name
Should You Buy a Fixer Upper or Move in Ready Home
Description
One of the questions lots of buyers ask themselves is should I buy a fixer-upper or move-in ready home. See the considerations.
Author
Publisher Name
Maximum Real Estate Exposure
Publisher Logo