How Does An Escalation Clause in Real Estate Work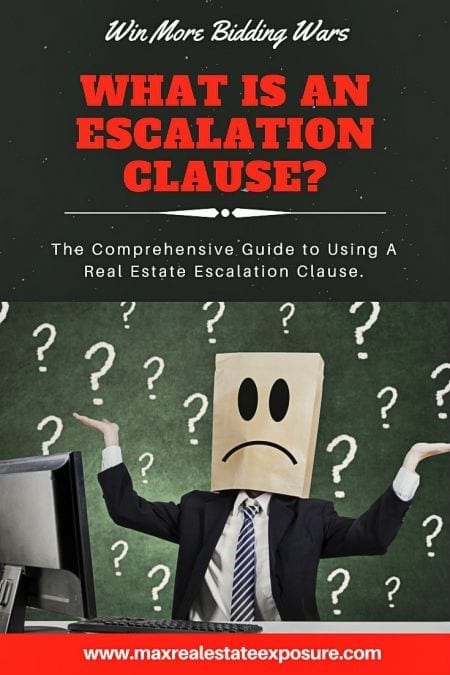 Have you just heard the term "escalation clause" and wonder what the heck it means?
It is not uncommon for a seller to get multiple offers for a home in hot real estate markets. As a buyer, the situation can become frustrating as you make offers – only to lose to other buyers who go higher and repeatedly find another house to bid on.
Over the years, a type of language inserted into an offer known as an escalation clause has become popular to address such situations.
Understanding what an escalation clause is and how they work is important for both buyers and sellers in today's market.
In fact, in strong seller's markets, buyers will often hear about such clauses in contracts and will ask their agent, "what is an escalation clause" or "how does an escalation clause work." Of course, buyers asking these questions are looking for any edge they can get to beat out a competing buyer.
With sellers and their agents setting up deferred showings to increase the odds of a bidding war, buyers need any edge they can get. An escalator can do just that.
However, it should be made abundantly clear up front that you or your agent better know what they are doing when it comes to adding an escalation clause in an offer.
Keep in mind that offers are legal and binding real estate contracts.
If you don't completely understand what you agree to with an escalation clause, consult a real estate attorney.
The Real Estate Escalation Clause Explained

Here is the typical language you could see inserted into a real estate contract that includes an escalation clause.
"Buyer offers to pay $____ for the home, but if the seller receives a bona fide offer that is higher, buyer will increase the price to $____ above the amount of the other offer."
Some key language here is the word "bona fide." A bona fide offer to purchase is an offer that is made in good faith and is legitimate and enforceable. At the buyer's request, the seller must provide documentation to the buyer that the other offer is, in fact, bona fide. In other words, a seller can't "make up" an imaginary offer.
An escalation clause states that you are willing to outbid any other offers on the home by a certain amount, up to a ceiling price. The ceiling is also referred to as a "cap price" or the most you are willing to pay.
For example, you may offer $300,000 on a home with an escalation clause stating that you will outbid other offers by $5,000 up to $321,000. So if another buyer makes an offer of $305,000, your escalation clause means that you will pay $310,000 for the home.
If a buyer offers $325,000, then according to your escalation clause, you are out of the bidding because the offers have gone over your $321,000 ceiling or cap.
An escalation clause's usefulness is obvious if you are buying homes in an area where competing offers are common. You can put in your bid and feel more confident that you will still get the home as long as no other buyer outbids your ceiling.
One of the buyers' greatest frustrations is not knowing what it will take to get the home you REALLY want. Real Estate agents are often asked by their clients what they should offer.
On the one hand, buyers don't want to overpay, but they also don't want to lose the house either. The escalation clause allows buyers to put their best foot forward financially without feeling they overpaid.
When a buyer asks me if an escalation clause is a good idea, most of the time, my answer will be YES! Let's dig a little deeper into why that is the case.
Pros and Cons of an Escalation Clause
Pros For Escalation Clauses

1. Peace of mind for the buyer.
It is stressful to make an offer on a home you really want and then go home and constantly worry that someone else will come along and make a stronger offer.
When you really want a home, an escalation clause lets you put in the terms that work for your budget and keep you in the running for the home.
2. The buyer doesn't overpay.
As a buyer, you obviously want to pay only as much as necessary to get the home. An escalation clause protects you financially because it prevents you from paying more than you need to.
Your escalation clause keeps bumping up your price, but only when other buyers are competing with you. Once they stop making offers, your final price is the lowest that you could have paid to get the home.
3. Increase your odds of getting the house!
The biggest reason you would add an escalation clause to your offer as a buyer is to increase your chances of winning bidder. A properly written escalator will do just that!
Cons For Escalation Clauses

1. The listing agent may not understand escalation clauses.
While they are becoming more common, escalation clauses are still not seen all the time by agents – especially in less demanding markets. There is a possibility that the listing agent will see your escalation clause and not really "get it."
If the agent doesn't know what it is, then the seller is even less likely to. That means your first offer may be the only one you get to make, as other offers coming in will top yours, and neither the agent nor the seller will realize that you are willing to keep increasing your offer.
Real Estate escalation clauses can be confusing if you have never seen one before. In Massachusetts, where I am located, The Greater Boston Real Estate Board has created a standard form when writing an offer. Having such a form should eliminate some uncertainty with agents who have never dealt with an escalation clause before.
Real Estate agents should know how to handle multiple offers for the best outcome possible for the seller. Unfortunately, many agents don't have a clue.
It would be smart to ask your buyer's agent to ask the seller's agent if they know what an escalation clause is and how they work when submitting an offer.
2. You give away your bargaining position.
The biggest drawback of an escalation clause to a buyer is you are giving away your hand upfront. There is no playing poker with an escalator in your offer. An escalation clause identifies the maximum a buyer will pay, which is much more revealing than a traditional offer. The seller will know the highest price the buyer will pay for the home up-front.
Instead of accepting the offer with an escalation clause, the seller could reject the offer and suggest a counter offer at or above the escalation clause's maximum price. The "cap" information in an escalation provision could jeopardize the buyer's bargaining position with the owner.
3. The confusion created by multiple offers.
Sales, where multiple offers come in, are always a bit confusing, but an escalation clause only increases the confusion. The seller and the listing agent may struggle to keep up with the different offers, especially your escalating offers. Someone will have to be doing the math and keeping track of what your escalation clause means with each new offer, which may or may not happen.
The seller may just give up on the calculations and focus on the new, traditional offers coming in. When you consider that the other buyers may be adding escalation clauses, it is easy to see how the situation could quickly become hard to deal with.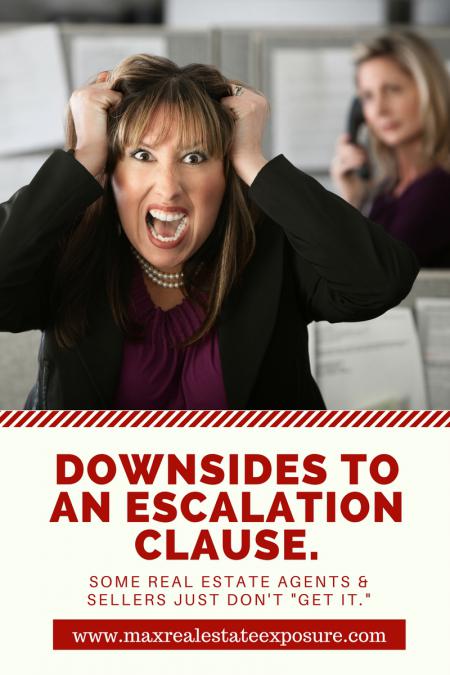 4. You might frustrate the seller.
Sellers are looking to make as much money as possible from their home sale. That means they want the highest offer you have to give.
When you approach sellers with an escalation clause, you might run into an individual who is confused and angry that you are trying to shorten him or her on the house's price.
If your ceiling is really $321,000, why did you start at $300,000? If you want the home, the seller may think that you should be willing to put all your cards on the table.
This is not to say that such an attitude is fair – after all, if the situation were reversed, would the seller turned buyer want to pay more than necessary to buy the home? Probably not.
But the situation being what it is, the seller may not be willing to see things your way.
5. Bank appraisal issues.
Banks lending money for mortgages are very particular about how much they will lend for a home. They demand an appraisal to determine the home's market value and not lend buyers more than the appraisal price.
With escalation clauses, sometimes the offer's automatic nature can lead to a situation where the price offered goes too high – higher than the home will actually appraise at.
You could be told you won the bidding war, only to discover later that the bank will not give you enough money to pay for the home.
Your only options then are to come up with the money another way, convince the seller to sell for less, or walk away from the deal. It is not surprising to know that bidding wars increase the odds you will have to fight a low appraisal. Quite often, the appraiser is justified in their opinion of value; other times, they are not.
6. The seller may not consider your offer.
Whether due to irritation that you aren't putting in your highest offer, confusion over the nature of an escalation clause, or some other reason, some sellers will not be interested in offers that include escalation clauses.
No matter how badly you want the house or how well you get along with the seller, you will still encounter people who just aren't interested in anything but traditional offers. In fact, you may want to have your agent feel the listing agent out ahead of time.
While it may seem like there are more downsides to an escalation clause, that is NOT actually the case.
Escalation Clauses Only Consider The Price
The other issue that buyers need to understand is that an escalation clause only addresses the amount they are willing to pay for a home.
There are many other terms in an offer that could be equally important to a seller. This is where a great buyer's agent in your corner comes in handy.
Your agent should be probing the listing agent to determine the terms and conditions that are most desirable to the seller.
For example, maybe the seller desires to have an extended closing date. The point is that the home's sale price is not always the only term that matters in consummating a real estate transaction.
Other buyers could be putting a significant amount of money down on the home. It's also possible one of the competing bids could be paying cash. These terms might weigh heavily in the seller's mind and deservedly so.
In areas where there are bidding wars on homes, some buyers will go even so far as to remove their home inspection contingency if they feel it will help them land the property. Doing so, by the way certainly, could help if the home is not in perfect condition! Home inspections are often a major hurdle in a real estate transaction and why we always counsel to prepare for them ahead of time.
As a buyer, you can never underestimate what is important to a seller. You might think that everyone only looks at the price, but that is far from the truth.
Buyers should understand that an escalator in their offer does not guarantee them anything. A buyer using an escalation clause could, in fact, be the highest bidder but lose out due to terms in another offer that was better for the seller.
This is where understanding the "escalator" becomes really important. Some buyers assume incorrectly that making the escalator tight at, say, $1000 over the highest bidder is a wise move. In reality, if other terms are just as important to the seller, getting a thousand dollars more is probably not going to make a hill of beans.
You might need a bigger spread for the seller to think twice. Something along the lines of five thousand dollars would be more likely to persued them.
When trying to understand how an escalation clause works, it's important not to discount the importance of either the escalator or the cap price!
Not too long ago, while selling a home in Bellingham, Massachusetts, the seller was in the fortunate position of getting multiple bids. One of the offers happened to have an escalation clause. The agent who wrote the offer, however, had a very tight escalator of $1000. Even though they were the highest bidder, there were other terms in the second and third best offers that were more appealing.
Bonus tip: In order to make an offer more appealing, buyers are often writing a personal letter to the seller. The letter will often include a beautiful picture description of what the buyer loves about the home and how they can see themselves living there. Including your picture so the seller knows who you are is a nice touch. It adds a personal element that other offers might not have.
If the seller is an emotional thinker and not necessarily caught up in their bottom line, this could give you an edge. Believe it or not, some sellers value who will live in the home after them. If you are dealing with an analytical thinker, it will make little difference.
Be Weary of Fraud

You like to think everyone you are dealing with is above board. Ninety-Nine percent of the time, you are. Using an escalation provision in an offer does raise the possibility of fraud.
There would be nothing preventing a seller from asking a friend to write an offer on the home. The seller could then turn around and present this to the buyer with the escalation clause. By doing so, the seller will artificially get more money from the buyer.
Do I think this happens? Rarely – but it is always something to keep in the back of your mind.
Should You Go With an Escalation Clause?
Escalation clauses can be beneficial, which is why more and more buyers are attempting to add them to their offers – especially in hot real estate markets. But they are not foolproof and may not be practical for your situation.
The best way to know if an escalation clause is right for you – whether you should try one as a buyer or accept one as a seller – is to talk with your Realtor. Hopefully, your real estate agent understands escalation clauses as they can be a handy tool in your arsenal when in a bidding war with other buyers.
Always keep in mind what you are ultimately willing to spend on a property. Please give it some serious thought. It is often in bidding wars where buyers later feel remorse.
If not, it might be wise to speak with a real estate attorney who can draft the escalator clause for you. When someone asks what is an escalation clause, you will now know the answer.
Hopefully, this guide to using an escalation clause has been helpful!
Additional Helpful Home Buying Resources
Use these additional home buying resources to make smart decisions when purchasing a home.
---
About the author: The above Real Estate information on what is an escalation clause in real estate was provided by Bill Gassett, a Nationally recognized leader in his field. Bill can be reached via email at [email protected] or by phone at 508-625-0191. Bill has helped people move in and out of many Metrowest towns for the last 34+ Years.
Thinking of selling your home? I have a passion for Real Estate and love to share my marketing expertise!
I service Real Estate Sales in the following Metrowest MA towns: Ashland, Bellingham, Douglas, Framingham, Franklin, Grafton, Holliston, Hopkinton, Hopedale, Medway, Mendon, Milford, Millbury, Millville, Northborough, Northbridge, Shrewsbury, Southborough, Sutton, Wayland, Westborough, Whitinsville, Worcester, Upton, and Uxbridge MA.