3 Sullivan Place Millbury MA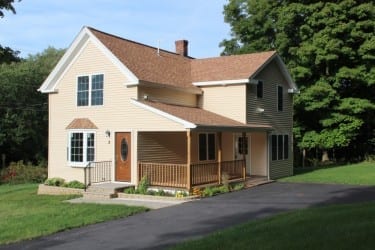 One of the first things that come to mind when walking through 3 Sullivan Place Millbury is the word WOW! The home has been completely gutted down to the foundation. The builders have done an incredible job with making this property like new construction! If you could have seen what the property looked like prior to the remodeling you would not even think it could be possible to look like it does now.
The builder, Blackstone Properties left no stone unturned in making this an exceptional home for some lucky buyer. This former village colonial has a pristine exterior with new vinyl siding, roof and windows. If you like low maintenance you will certainly find that here. To give the home a little pizazz and extra curb appeal the builder added a very nice farmers porch to the front of the home. This will be a great place to enjoy a morning cup of coffee or a place to unwind and read a book.  There is also a new driveway and beautiful brick walkway.
The lot is just terrific with a mix of lawn and woods for privacy. There is plenty of room for a buyer to add a garage in the future as well. One of the things that stands out to me is how good a job the builder did working with the topography of the land and creating a nice retaining wall where you head into the walk-out basement. It is as attractive as it is practical. As an added bonus the builder is leaving a storage that will come with the property.
Heading inside you will be blown away by how well the home presents itself. The kitchen is just exceptional. You will feel like you have stepped into a $600,000 dollar home! The new Maple cabinetry is just stunning. There are solid handsome cabinet doors with a rope design, as well as draws with self closing guides. It will be hard to run out of storage space in this kitchen as there just tons of cabinetry.
The builder spared no expense and appointed the kitchen with granite counters and stainless appliances including a gas stove for those that like to cook. There is even a new refrigerator provided which you almost never see. The floors are adorned with an attractive ceramic tile. A spacious eating area appointed with bead board wainscoting is flooded by a ton of natural light.
Directly off the kitchen is a new powder room/laundry room that is appointed with ceramic tile flooring and a pedestal sink. Also off the kitchen is a formal dining room with new hardwood flooring and a storage closet. The front of the home is where you will find a bright family room with a bay window and hardwood flooring as well.
The second floor features three bedrooms and a new bath. The master spans the entire back end of the home. Part of the bedroom actually includes an addition that the builder put on the home when he did the remodel. The kitchen eating area below is included in that as well. There is a new Hollywood bath that was added as well. It is appointed with a five foot tub/shower, Maple cabinetry with solid top and tile flooring. All of the bedrooms have a neutral beige carpet.
Additional features of 3 Sullivan Place include new walls, insulation, doors plumbing, electrical, lighting, and heating system. There was no expense spared with the heating system as it is two separate systems and comes with central air. There is even a security system! The home has public utilities including water and sewer.
In total there are 6 rooms, 3 bedroom and 1.5 baths. The total gross living area is around 1400 square feet. The lot is 1.5 acres. The taxes on this Millbury home are $2507 for 2012.
Click the link to see a slide show video tour of 3 Sullivan Place Millbury Massachusetts.
You can see a few of the photos of 3 Sullivan Place below. The home is currently being marketed at $254,900.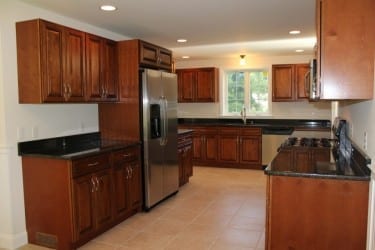 3 Sullivan Place Millbury MA Map
If you are interested in more information about 3 Sullivan Place, Millbury, MA or like this type of marketing that I provide my clients, please get in touch. I would welcome the opportunity to interview with you. You can reach me at 508-625-0191 or by email  billgassett at remaxexec.com
I service Real Estate sales in the following towns in and around Metrowest Massachusetts : Ashland, Bellingham, Douglas, Framingham, Franklin, Grafton, Holliston, Hopkinton, Hopedale, Medway, Mendon, Milford, Millbury, Millville, Northboro, Northbridge, Shrewsbury, Southboro, Sutton, Wayland, Westboro, Whitinsville, Worcester, Upton and Uxbridge MA.
Enjoy This Real Estate Article?
"Subscribe To My Blog - It's FREE and No Spam EVER!"
Get my blog articles in your inbox as soon as they are published!