How Does an Escrow Holdback Work?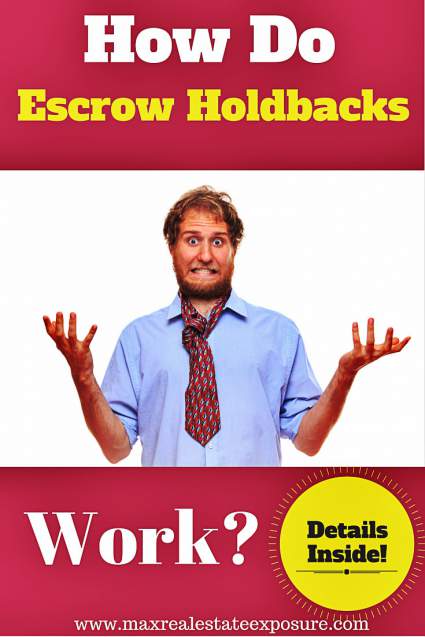 There are few situations more exciting than the approach of closing on your new home. You and your family are eagerly awaiting the moment when you can sign the paperwork and take possession of your new residence, a place where you can finally rest easy and enjoy all the benefits of ownership. But what do you do when closing is fast approaching and work on the house still remains to be done?
What if you are buying a newly constructed home and the contractor has not completed the landscaping, or if the seller has not finished doing the promised repair work on the basement? What if you are the one selling the home, and you find that the work will only be finished after closing? Can you still close?
Yes you can and the solution is affectionately known in real estate circles as an escrow holdback. An escrow holdback is simple money set aside that assures the seller will finish agreed upon work at a later time. It is kind of like an insurance policy. The key is putting the right amount of money in escrow that will motivate the seller enough to want to get these funds.
There are a surprising number of situations where the closing on a home sale gets pushed back, especially situations involving yet-to-be-completed work on a property. The buyer is ready and waiting to close the sale on the agreed upon date, but for some reason or another all the promised construction has not been finished.
The answer to this problem in many cases is to request an escrow holdback agreement!
Unless you have bought and sold homes frequently, or work as a builder or a real estate agent, you may not be familiar with an escrow holdback. An escrow holdback agreement allows a portion of the seller proceeds to be held in escrow until the work on the home has been completed. The money that is held back provides some security for the lender and the buyer, ensuring that if for some reason the work is not completed as promised, the lender and the buyer are compensated. Without such a guarantee, it is very difficult to convince a lender to close on a house. They want to get what they paid for, after all.
Situations Requiring An Escrow Holdback
There are numerous reasons why you might request an escrow holdback. Some of the most common reasons for an holdback include the following:
Approval of newly installed systems – most notably a septic system, etc.
Repair work that has yet to be completed.
Renovations that have yet to be completed.
Title issues.
Missing mortgage discharges.
Cleanups that have yet to be completed.
Discharging conservation issues.
Other seller obligations required for closing.
Not too long ago while selling a home in Grafton Massachusetts, it was discovered there were a couple of missing discharges for an old conservation recording. It was a fairly easy fix but it was going to take about a week to make sure the discharges were completed. The parties agreed to hold back a couple thousand dollars to ensure the discharge was completed but to also ensure the closing happened as scheduled. This is just one example of what can happen in a real estate transaction.
Talking To Your Lender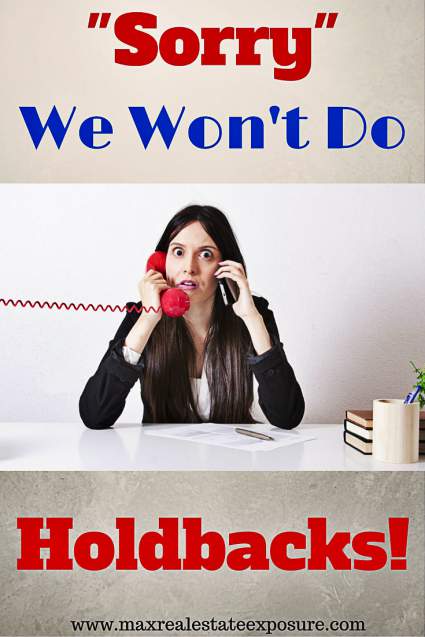 If you are like most home buyers, you are probably getting some assistance from a lender to purchase your new home. Lenders are, naturally, very picky about the situations where they will loan money. The fact that you are already cleared for a mortgage means you have already jumped through numerous hoops to get your financing. In a situation where an escrow holdback will be necessary, you need to prepare yourself to talk to your lender about it. You will need lender approval to close on the house. You should understand that not all lenders will allow a holdback. This makes it vital to discuss right away when you know one will be needed!
You can expect some conditions to be set by your lender to allow the escrow holdback, typically an inspection on the new work that has yet to be completed. When the work is finally done, the lender will probably want to have it inspected to verify that it is up to standard. If it is not up to standard, the lender may not release the escrow funds to the seller. Keep in mind that most lenders will require the escrow amount to exceed the value of the work being done. Traditionally lenders ask for at least one and a half times the cost of repairs/renovations yet to be completed.
You may run into a situation where your lender will not allow you to have an escrow holdback. If this is the circumstances you find yourself it, there is not much you can do besides push back the closing date. If you are selling your own home and some work is not completed, you can always point out that you want to make sure that the work is done right and that the home comes in the best possible condition to the buyer. If you are the buyer, you will have to decide if it is worth it to wait or if you should try to buy another home.
Septic System Holdbacks
One of the more common holdbacks in real estate sales is for the completion of a septic system. In many states including Massachusetts there is a requirement that a septic system must be inspected prior to closing. This is what's known as a Title V septic inspection. There are times when a seller will run into a very unfortunate situation of failing the inspection. Septic systems are very expensive to replace. You can easily be talking about ten's of thousands of dollars depending on a number of factors including soil conditions, water table, etc.
When a seller finds out their system has failed there are only two things they can do. Either replace the system prior to closing or put money in escrow for it. This is a place where both buyers and sellers find out what an escrow holdback actually is used for.
Due to timing with meeting closing dates it is often not possible to get a septic system installed prior to what's been agreed upon. This is where an escrow agreement can be drawn up. In my experience lenders will always require a seller to hold back a minimum of 1.5 times the actual cost of replacement. So if the estimate is $20,000 for a new system most lenders will require $30,000 to be held in escrow until the work is completed. This is to ensure that any overruns are completely covered.
New Construction Holdbacks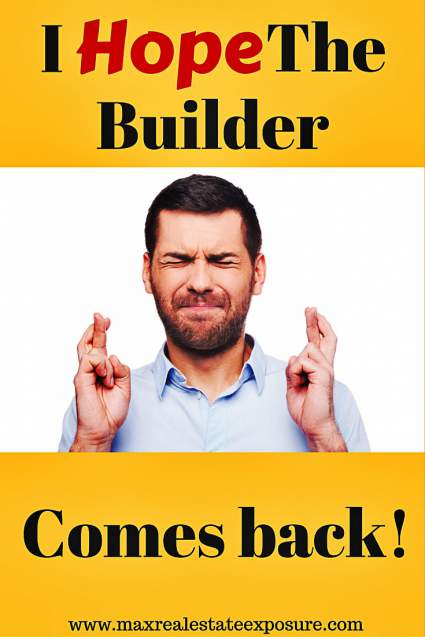 The other common area of real estate sales where you will find money held back at closing is new construction. There are many occasions where a builder will agree to a closing date and during the process of building the home things come up that delays the progress. You may be selling and buying a home at the same time and have no place to go other than an expensive hotel. As long as the builder is able to get an occupancy permit you may still be able to move into the house without it being completely finished.
There could be work however that needs to be done. You would love to just trust your builder when it says it will get done but your attorney is whispering in your ear saying "no way"! This is again another popular place where escrow monies can be held back from the sale. Some common example of escrow holdbacks in new construction include:
Landscaping – this is a very common one especially when the home is located in a cold weather climate and the home is being built during the winter. There are times when a lawn and landscaping just can't be completed.
Driveways – On many occasions a builder will provide a paved driveway which includes two coats of asphalt. Many builders will put on a first coat and want it to cure before putting on the final top coat.
Conservation issues – If the new home was built in close proximity to wetlands on occasion the builder may not get what is called a "certificate of compliance" prior to closing. It may be that the conservation board has not met and given the site their blessing yet. There could also be what's called a "blanket order of conditions" on an entire subdivision in which a builder needs to get individual lot releases.
Punch list items – If you are building a home and there are more than just a few little items left to be done a holdback may be necessary. This is especially important if the sum of what needs to be done adds up to a decent amount of money.
One of the important things to consider when determining if you need or want a holdback is the reputation of the builder for coming back and completing his work. Some do exactly as they say and others really need something being held over them in order to get things done. I would suggest speaking to a couple of the builders past customers and get their experiences with how well you can trust the builders word.
Builders Refusing An Escrow Holdback
While most home building companies are reputable businesses, there are some that may attempt to deny you an escrow holdback. You should always be suspicious of any builder that will outright deny your request. Any experienced real estate agent and any honest home builder will tell you that sometimes, new homes are not completed on time. There are far too many variables to allow for a factory-like efficiency at meeting deadlines. A builder that insists the work will be completed after you close is not a builder you should buy from unless you know they have a sterling reputation and have no issues with other clients in such matters.
Avoid Closing Without An Escrow Holdback
If you are buying a home that is still being worked on, do your best to look at the situation objectively. Closing on the house without an escrow holdback is a very risky proposition. You never know if a builder or seller will do the work if you have no guarantees. The escrow holdback is your leverage, ensuring that the home is completed to the agreed upon specifications. Without such a guarantee there is always a risk that the work will never be completed.
No matter what any builder or home seller tells you, closing without an escrow holdback is not something you should want to do. If you are leaning that way make darn sure you can trust the builder to come back as promised.
Additional Helpful Home Selling Articles
Use these additional helpful articles to become more educated on the home selling process. A well educated seller is in far better position to ensure a successful real estate transaction!
---
About the Author: The above Real Estate information on what is an escrow holdback was provided by Bill Gassett, a Nationally recognized leader in his field. Bill can be reached via email at [email protected] or by phone at 508-625-0191. Bill has helped people move in and out of many Metrowest towns for the last 28+ Years.
Thinking of selling your home? I have a passion for Real Estate and love to share my marketing expertise!
I service Real Estate sales in the following Metrowest MA towns: Ashland, Bellingham, Douglas, Framingham, Franklin, Grafton, Holliston, Hopkinton, Hopedale, Medway, Mendon, Milford, Millbury, Millville, Northborough, Northbridge, Shrewsbury, Southborough, Sutton, Wayland, Westborough, Whitinsville, Worcester, Upton and Uxbridge MA.