Reach More People By Joining Social Media Groups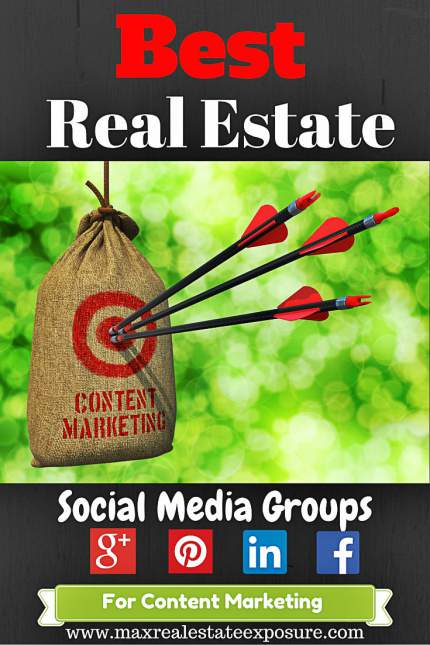 Without fail every week in this space you see helpful articles that are written for both buyers and sellers of real estate. For a change I thought it would be cool to provide some social media advice to help other real estate agents instead. For this reason you are going to see the best real estate social media groups for Realtors.
If you have a blog you will want to pay attention! There are some Realtors who do an excellent job of writing awesome content. Where many of these agents miss the mark however is their ability to reach a large number of people!
As a real estate blogger you can write a magnificent piece of content but if not many people see it where does that leave you? Probably with not much results to show for your efforts! Promoting content is where numerous real estate agents fall flat on their face. While the saying content is king certainly holds true, promoting your content is nearly just as important.
Social media of course is a great place to get exposure for your real estate blog. Some of the most important social channels include Facebook, Google Plus, Linkedin, Pinterest and Twitter. Are you taking advantage of these social media powerhouses? With a show of hands how many of you are using all of these to become more visible? I don't see many hands people! That needs to change if your want your blog to become more well known.
One of the most productive ways to get far more eyeballs on your content is by joining the best real estate social media groups. The beauty of social media groups is they hold far more people in them than the followers to your personal profile. The other thing to remember is the people in these groups are focused on real estate.
You don't have to worry about whether you are not reaching the correct audience. So if you want to significantly ramp up your exposure check out the top real estate social media groups outlined below!
Best Google+ Real Estate Groups
In my opinion more real estate agents should be using Google+ on a daily basis. This is a Google product and that should be enough for you to realize it's smart to be using the site.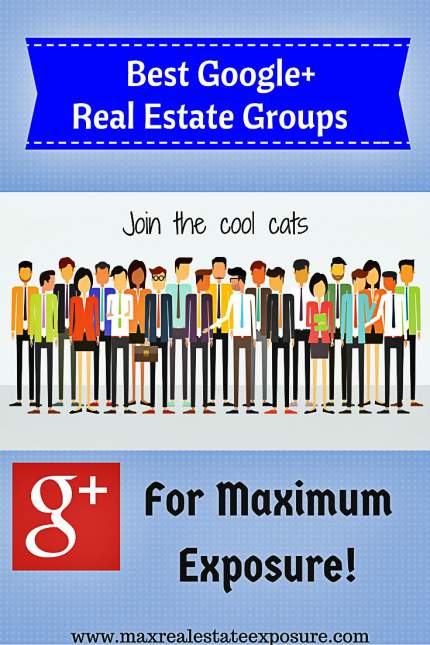 Did you know that if you someone is logged into Google, they follow you, and do a search related to something you have written about they will more than likely see your article appearing on the first page of Google? Wouldn't you say that is enough alone to want to join and use Google+?
One of the best aspects of Google+ is my opinion is some of the fantastic real estate groups. Everyday there is an abundance of great real estate content shared among the members of these groups. The real estate communities are fantastic places for a real estate agent to market their content and build their brand!
The three best Google+ real estate social media groups to join are as follows:
The Google Plus Real Estate Community – For full disclosure this is a Google+ group I started on the first day communities were able to be built. It is one of the largest Google+ real estate communities and certainly one of the most active. Please be sure to read the rules which are located in the upper right corner of every group. Those who do not follow rules get removed. I will make it very clear nearly every large group on Google+ does not allow posting of listings. Realtors sharing listings into real estate groups is in fact one of my biggest pet peeves. Nobody cares about your listing but you! Social media groups are for sharing exceptional content. They are not advertising platforms.
Real Estate Community – The real estate community is owned by friend and mortgage broker Luke Skar of Inlanta Mortgage. Luke's group has many of the same rules that have been applied to my group. You will see a ton of great content ranging from general real estate to mortgage and financial information.
Google+ Realtors Group – The Google+ Realtors group is owned by Walid Mohamed who like myself and Luke also runs a tight ship. You will see very little social media spam in any of these groups. All three of these groups have between 24,000-25,000 members. They are the largest real estate social media groups on Google+.
Have you enjoyed reading this article so far and want to learn more about using why you should use Google+ for real estate as an agent? Take a look at the article and you can also follow me by visiting below.
Follow Bill Gassett on Google+
Best Pinterest Real Estate Groups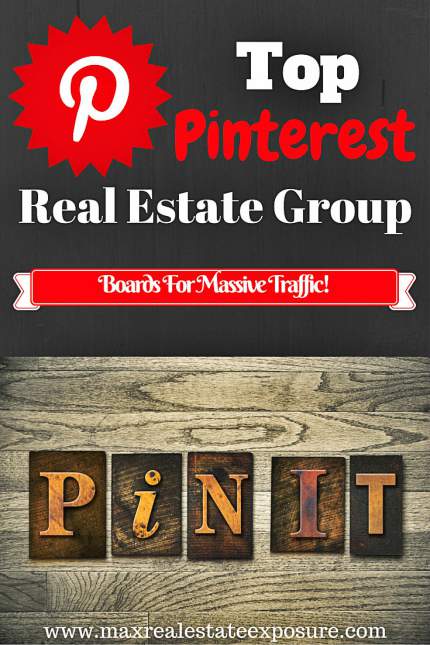 I am going to share something with you that will probably shock you – Pinterest drives more traffic to my real estate blog than any other social media site by far. There are certain keys to being successful on Pinterest. Like anything else, you need good content that other people will want to pin. That goes without saying but there are other keys to making Pinterest work including:
Pinning tall images. A large image does far better than a smaller image on Pinterest. I would suggest getting an account at Canva, a graphic design website that even a novice can use. You can create exceptional graphics like you see here on this blog.
Getting your Pinterest account approved for rich pins. You can see an explanation of how to do this in the linked article. A rich pin looks far superior. You will notice with a rich pin there is a bold title along with the owners web address. These pins stand out! That means one thing – more pinning of your content.
Installing a plugin on your blog that allows images to be pinned right from your site.
Just like other social media groups there are what's called group boards at Pinterest. A group board allows multiple people to join. By joining some of the largest real estate boards on Pinterest, dramatically increasing the reach of your content will be a given.
The three best Pinterest Real Estate social media groups to join are as follows:
Pinterest Real Estate Group Board – As the description reads on the board "the Pinterest Real Estate group board is all about a variety of Real Estate topics from general sales advice, financing, staging, home improvement, marketing, technology and social media". As of this time there are over 9200 members. If you want to join this board just follow the instructions at the top of the board.
Real Estate | Home Improvement | Realtor Advice – This Pinterest group board is dedicated to pinning your top articles about buying and selling a home, home improvement advice and Real Estate social media pins are also welcome. Please do not pin real estate listings or local information! You can also be invited to this board by following the instructions at the site.
Buying a home and mortgage advice – this is another large group that is focused more on mortgage and home buying information although you will see a sprinkling of other related content as well.
Want to learn more about how to use Pinterest for your real estate business? Follow what I am doing.
Follow Bill Gassett on Pinterest.
Best Linkedin Real Estate Groups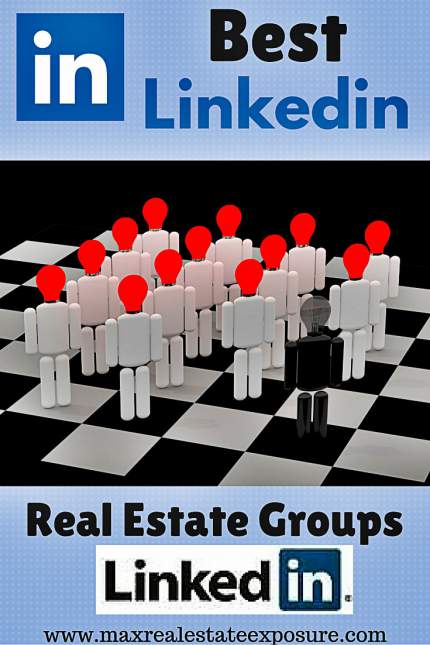 Linkedin groups for real estate are also underutilized by quite a few Realtors who actively are blogging. Some of the Linkedin real estate social media groups have huge membership ranging from 50,000 members to over 500,000! If you write exceptional content some of these groups will be great traffic magnets for your blog.
It is really important to read group rules on Linkedin. You can easily get banned for posting garbage content. Again some real estate agents are notorious for broadcasting things that are not relevant to the group. Pay careful attention not to do this. Not only do you look like a fool in front of your peers, getting banned from the group is certainly possible.
The three best best Linkedin real estate social media groups to join are as follows:
The Real Estate Professionals Group – The real estate professionals group is loaded with great content. I know because I am the moderator of this excellent Linkedin group. Please make sure to read and follow the rules. Some explicit things you can not do are post real estate listings and localized content. These things are not appealing to the masses. Think before you post here or you could get banned.
The Real Estate Professionals Referral Group – this is an excellent Linkedin real estate group with lots of interaction by it's members. When posting here you will notice very quickly how many members will comment on interesting content. This group boasts over 111,000 members at the moment.
The Real Estate Networking Group –  This is one of the largest Linkedin real estate groups by far boasting over 552,000 members. Yes you read that correctly! This is a real estate powerhouse than can drive significant traffic to your website.
Each of these Linkedin real estate groups can drive a good deal of traffic back to your blog. It cannot be emphasized enough not to be just a broadcaster. Interact with others on their posts as well. This is all part of good etiquette and relationship building.
Want to see how I am using Linkedin groups for Real Estate? How about using the Linkedin publisher to get even more brand exposure? Follow me at the link below.
Follow Bill Gassett on Linkedin.
Best Facebook Real Estate Groups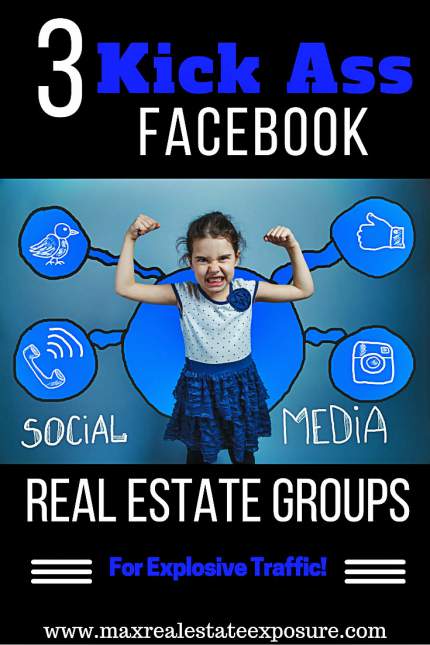 Facebook is of course the largest social media site on the planet. It certainly makes sense that if you are a real estate blogger using social media sites to join some of the best real estate groups.
The three best Facebook real estate social media groups to join are as follows:
Real Estate Connections – The real estate connections group is one of places where you can post listings. Frankly this is the one aspect of the group I am not fond of. The group does however boast 30,000 members so it is a large established group worth joining.
The real estate bloggers – this is an up and coming group and frankly one of my favorites. If you are a real estate bloggers this is a great Facebook real estate group to join. There is active collaboration among the group members. Quite a few of the members here regularly pump out some excellent real estate articles. If you have ever thought about becoming a real estate blogger this is the group to join!
Facebook's Ultimate Real Estate Mastermind – This is another large real estate social media group worth a look based on it's membership numbers which are over 21,000. From the owner of the site the objective is the following: "The focus of the group is to network with like minded people, to build new business ventures and partnerships, to create new opportunity and to share your most valuable resources, ideas and experience to help each other create wealth through the incredible vehicle of real estate".
The National Association of Realtors Group – One of the most important things to know about this real estate group is the fact it is not public facing. You need to be a Realtor and the content within the group can only be seen by it's members. It is a highly moderated group and anything you post here has to be laser focused. You also will not be able to post consumer related advice. The articles posted in this group are to help other real estate agents.
All of the above mentioned groups are among the best in real estate social media. Can you imagine what would happen to your visitor count if you were sharing your content religiously into these groups? Trust me your exposure would increase exponentially!
You can also follow me on Facebook as well.
Follow Bill Gassett on Facebook.
Understand Social Media Etiquette
The best real estate agents utilizing social media for their real estate business understand it is about building relationships with others. So many Realtors look at social media as their dumping ground for their next listing. When you look at the profiles of the real estate agents who do this the sound of crickets in the background is often heard. There is no interaction on their profiles to speak of. Contrast this with someone who is posting memorable content and it's night and day. People are clicking, commenting and sharing. Enough said!
The best way to become more recognized as a real estate agent in social media channels is by sharing other people content as well as your own! Reciprocation is the backbone of making social media work. We all love to see our names in the spotlight. When someone shares your content doesn't it make you feel good? Of course it does! The common denominator for those real estate agents who have large social media followings are two things – excellent content of their own to share and along with content of others.
A side benefit of forming relationships with other real estate bloggers is the links you will acquire pointing at your blog. The next time someone is writing a blog post and they remember you have already written on a similar topic this person is more likely to link to you based on the bond you have formed. It is human nature.
If more real estate agents figured out that social media is more about relationships and less about advertising they would find more success. Treat yourself to all these top real estate social media groups and become a member today!
Additional Helpful Real Estate Social Media Articles
Use these additional helpful social media articles to better understand how you can make your real estate blog more visible. Build your brand awareness by using social media properly and building relationships with others in your business niche.
---
About the author: The above Real Estate information on best real estate social media groups was provided by Bill Gassett, a Nationally recognized leader in his field. Bill can be reached via email at [email protected] or by phone at 508-625-0191. Bill has helped people move in and out of many Metrowest towns for the last 30+ Years.
Thinking of selling your home? I have a passion for Real Estate and love to share my marketing expertise!
I service Real Estate sales in the following Metrowest MA towns: Ashland, Bellingham, Douglas, Framingham, Franklin, Grafton, Holliston, Hopkinton, Hopedale, Medway, Mendon, Milford, Millbury, Millville, Northborough, Northbridge, Shrewsbury, Southborough, Sutton, Wayland, Westborough, Whitinsville, Worcester, Upton and Uxbridge MA.