What to Look For When Buying a House
Understanding what to know before buying a house is essential, so you don't make mistakes.
Buying a home for the first time can be incredibly exciting. Owning a home is a dream for many, many people, and it only makes sense that moving forward with your plan to buy a house would fill you with visions of what the future will hold.
But it is important to remember that the purchase of a home is also expensive.
Even an affordable home will still require a serious investment on your part, which is why it is always advisable to think things over before you purchase.
You want to be prepared and consider your choice carefully before you make the big leap into homeownership.
Take a look at all of the things to do before buying a home. This is an exhaustive list based upon experience. Buyers prepared before putting their foot in the water almost always have a more pleasurable experience.
Knowing what to know before buying your first home will go a long way toward your happiness now as well as years down the road!
Things To Think About Before Buying a Home
Can You Afford to Buy a Home?
Now is a fantastic time to buy a home. The market is still friendly to buyers, and interest rates are still meager based on historical levels.
There is no denying that homes are affordable at the moment. But buying a house is still a major purchase and can significantly impact your financial situation. Many possible costs come with buying the home as well, including the down payment, moving costs, closing costs, and furnishing the home.
When purchasing a home, you need to be prepared to pay for all of these extra homeownership expenses. Make sure that you can do so before you start shopping for a house.
After writing down a budget for what you expect everything to cost, you may discover that you can more easily afford a condo than a full-size home. It is better to buy smart – to buy something you can afford – then to saddle yourself with an impossible financial situation.
Choosing between a condo and a home is one of the considerations buyers will go through. The thought process of a condo vs. house is something worth weighing extensively before your property search begins. When pressed to decide on something you are looking at leads to making choices you regret later.
How Much Cash Do You Have?
Another important consideration when buying a home is your method of financing. The days of getting a conventional mortgage and purchasing a house with no money down are gone – which is a good thing.
You want to be in a stable enough position that you can afford to pay for the costs of buying a home before you commit to 30 years of payments.
If you are a veteran opting for a VA, no down payment loan is still an option, and if you live in a rural area, you may be able to get a USDA loan with zero down as well. For those strapped for cash, these are still good options if you qualify. This doesn't mean you should be any less careful with considering the extra costs of homeownership.
Some things will require cash to pay for once you buy a house, including the closing costs and the down payment. A down payment on a traditional loan can be as low as 3% if you are a first-time homebuyer.
It is possible to buy with a lower down payment when you get a government-backed mortgage like an FHA loan – which may require as little as 3.5%. Either way, you will need thousands of dollars in cash to buy.
When buying for the first time, there are numerous first-time home buyers programs worth exploring besides the ones already mentioned.
Shopping for the best loan that meets your individual needs will be an essential consideration. Many people want to know how to get the lowest mortgage interest rates, which are certainly important but getting the right program is paramount as well.
You should also have some cash on hand to cover unexpected expenses after the home is bought. Because you are the owner, you will be responsible for replacing things that break. If the water heater goes out the first month you are in your new home; you will want to replace it.
What Do Your Credit Scores Look Like?
Another crucial thing to know when buying a house is your credit score. Having a solid down payment is certainly an important consideration when buying a home but so is a good credit score. When you have a desirable credit score, you'll get the best mortgage rates from lenders.
Credit scores are one of the most significant factors lenders will use in assigning interest rates and terms to the mortgages they grant. From a home buying perspective, the terms you get can play a significant role in what you're ultimately paying for a home.
If your credit score needs a bit of fine-tuning, there are credit improvement companies out there, such as Credit Karma, that can assist in boosting your score. They give you credit advice that can quickly increase your score and put you in a better position to buy.
Are You Going to Move Anytime Soon?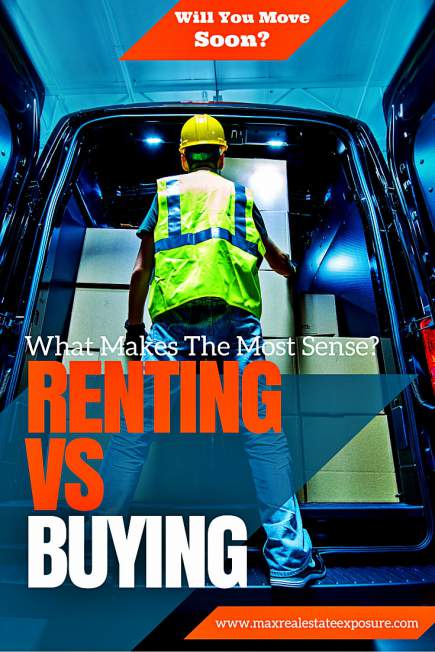 One of the critical things to know when buying a home is whether you expect to get transferred for work sometime soon.
Homeownership is only a smart move if you plan on sticking around for a while – 5 years by most estimates.
There are so many costs associated with purchasing a home that it is next to impossible to come out ahead if you sell only a short time after you buy.
You will also be unlikely to have built up any equity in your home since the first portion of your mortgage payments will be going towards the interest on the loan, not the principal.
Keep in mind when selling, you will also be paying a real estate commission that is often 5-6% of the sale price unless you decide to sell for sale by the owner, which is usually a big mistake.
There is nothing wrong with renting, especially if you want to stay mobile. Wait to buy a house until you are in a place where you want to put down roots.
Once you have gotten that point in your life, however, homeownership makes a lot of sense from a financial standpoint.
Not only can you reap the benefits of appreciation over the years, but there are also tax advantages to owning a home. Those who own a home can put quite a bit of money into their pocket that renters are not.
Are You Buying With Anyone Else?
One of the quickest ways to come up with the cash and the loan is to combine forces with another person for a bigger house.
A spouse, family member, partner, friend – you can buy a home together with anyone who will qualify for a loan or who has cash on hand to purchase a house. But you want to be careful when committing to something so big with another person.
Your co-buyer can make or break your experience and your financial situation. Most of the time, you would be better off just getting a down payment gift rather than having a co-signer.
Before you buy with someone else, you should sit down together and clarify your situation. Do you want the same things from the home? Do you have similar plans for the future? Are you both in a position where you can meet your financial obligations? Are you committed to seeing everything through together? What will you do if one of you wants out?
If you are uncertain how reliable the other person is or have any worry that you will be left paying the mortgage, make certain to have the financial resources to do so before you commit to buying a home.
Making mistakes when buying a home is easy, especially when you do it for the first time. There is no experience to fall back on.
Should You Buy a House That Needs Work?
If you hunt for a bargain, you will wind up looking at many homes that need work done. They may need new carpet, paint, a roof, appliances, or anything that makes a home enjoyable to live in.
Whether these fixer-uppers are a deal is something only you and your Realtor can determine. Your real estate agent can give you an idea of what repairs will cost, but only you can find out if you are qualified to make those repairs, if you want to learn to make the repairs, or if you want to pay someone else to do the work.
Many people buy a fixer-upper and discover that they don't want to fix anything, and they don't have the money to pay someone else to do it. Then they are left with a home that is not nearly as comfortable or enjoyable as it could be.
You don't want to find yourself in this position. Be honest with yourself when considering a home that needs work, and only buy if you believe that you can get the repairs done – or if you are OK with living in the house as-is.
What Do You Need Out of a Home?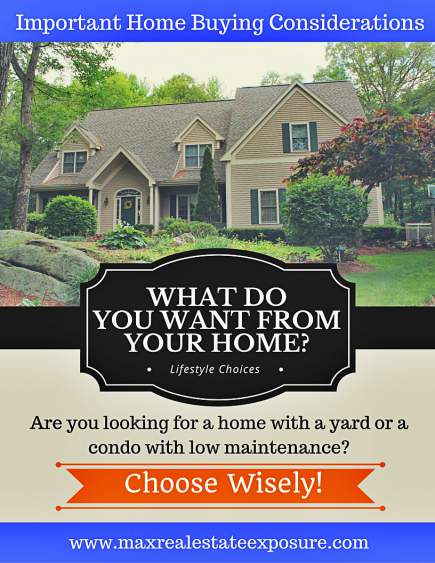 One of the more important things to know when buying a home is your needs and wants. What to look for when buying a house is something that escapes many buyers.
Almost every television show and every movie have people – at least happy people – living in spacious homes that have lots of room and lots of features. But in reality, not everyone needs so much space.
In fact, taking care of a home is a lot of work, even when it is only three rooms. When you have four bedrooms, three baths, and a big yard, you look at much upkeep.
Think about what you need from your home. If you are a professional that spends most of your time at the office, you may not want to deal with a big house and a yard.
A condo may be much more suited to your lifestyle. If you are married and planning on having kids, you may want more room. But how much room?
What if you like to work on your car? You will probably want a garage – a sizable garage where you can move around comfortably, not a garage that barely fits a car.
You are spending a lot of money on your new home. It would be best if you got something that works for you, not something that fits someone else's image of the ideal home.
You should expect to live in your house for five years or more. What do you think you will want out of your home in the next five years?
Understand location vs. value.
One of the critical things some buyers often fail to think about is the relationship between location and value. They get so caught up in the home they are looking at, the town and neighborhood become secondary. This can be a colossal mistake if your life changes quickly, such as having kids, as mentioned above.
The location is one of the top things real estate agents will recommend as to what to look for when buying a house. With good reasons as it plays such a significant role in resale value.
Towns and neighborhood locations can vary dramatically when it comes to value. For example, locally in my area Hopedale Mass and Franklin Mass are night and day. One is a sleepy bedroom community, while the aforementioned has some of a small city's characteristics. You could not get more different when it comes to these town demographics.
It is important to consider what you want out of a city or town? Are you having kids and therefore want smaller classroom sizes? Do you prefer having grocery shopping right in the town you live in? Maybe a more commercialized feel is what you're after instead of a country setting.
How important is access to highways or having a commuter rail nearby? These are the type of questions you should be asking yourself before committing to a particular town to reside in.
Most good real estate agents understand these concepts, but they often can be lost on home buyers. These are all the kinds of things you should put some serious thought into before purchasing a home.
Make a Home Buying Budget
The best way to know if you will be able to afford a certain home is to make a budget for what the expenses will be month to month. If you are buying a single-family home, you will need to calculate what the payment will be, including interest, along with property taxes and insurance.
You will also want to include the cost of utilities (the bigger the home, the higher the heating and cooling bill) and maintenance, including yard work. Make sure to budget for an emergency fund as well. You want to be able to fix things when they break.
For a townhouse or a condominium, there will also be costs for your homeowner's association dues. Ask your Realtor or the homeowners association about any additional fees that you will need to pay to include them in your budget.
If you are buying a fixer-upper, you should also plan in costs for repairs. The plan from the beginning should be to fix the things that need fixing so you can enjoy your home.
Hopefully, you now understand some of the most important things to know when buying your first home!
Additional Helpful Home Buying Articles
Use these additional resources to make smart decisions when buying your first home. First-time buyers who shop wisely make far fewer mistakes than those who don't!
---
About the Author: The above Real Estate information on what to know before buying a house was provided by Bill Gassett, a Nationally recognized leader in his field. Bill can be reached via email at [email protected] or by phone at 508-625-0191. Bill has helped people move in and out of many Metrowest towns for the last 34+ Years.
Thinking of selling your home? I have a passion for Real Estate and love to share my marketing expertise!
I service Real Estate Sales in the following Metrowest MA towns: Ashland, Bellingham, Douglas, Framingham, Franklin, Grafton, Holliston, Hopkinton, Hopedale, Medway, Mendon, Milford, Millbury, Millville, Northborough, Northbridge, Shrewsbury, Southborough, Sutton, Wayland, Westborough, Whitinsville, Worcester, Upton, and Uxbridge MA.