What to Know About Waterfront Homes For Sale
Are you looking into buying a waterfront home for sale? Waterfront homes are naturally appealing to buyers. Who wouldn't want to live right on the water?
Although waterfront homes are of interest to most buyers, not many people know the particular risks and issues that can arise with a waterfront home purchase.
When you start looking at waterfront homes, you want to know which questions to ask to make sure you do not make a purchase that you will regret.
When people think about buying waterfront homes, they usually picture how great it will be. This certainly can be the case, but there are also pitfalls to buying a waterfront property if you buy into the wrong spot.
Below you will find some of the best tips for buying a waterfront home. Use the advice wisely, so you don't make a mistake buying a waterfront property.

The allure of waterfront homes for sale can easily make you forget the bigger picture.
Questions To Ask About Waterfront Homes

Can You Get a Loan
It may not be the most exciting question, but it really should be the first one. Waterfront homes are often considerably more expensive than a similar home in a regular neighborhood.
Because these homes are pricey, they require more substantial loans. Lenders are not apt to give out bigger loans to any but the most qualified buyers. Before you start getting your hopes up about buying a lake house or beach house, check to see that you can get the money to do so.
When buying any home, whether it is a waterfront property or not, you'll want to make sure you have an excellent credit score before proceeding. Buyers who have good credit scores will be rewarded with the best terms and conditions from the lender.
If the location in which you are looking is fairly pricey, you can expect that a jumbo mortgage will be needed. Jumbo loans are used by those who will be taking out a large mortgage.
Make sure you check out the tips on how to get the lowest interest rate on a mortgage. Over the loan's life, you can save yourself thousands of dollars by following this financial guidance.
Will You Be Satisfied With Both The Home and Land?
There are two parts to a waterfront home purchase, the home, and the property. One or the other may be severely lacking, but you might not notice if you are too excited about the purchase. If the home is run-down but on an awesome piece of land, remember that you will need to renovate to get the home up to your standards.
Some folks will choose to get a home construction loan and remodel the place. Understanding how you will be financing the complete project will be essential. Take this into consideration when looking at any waterfront homes for sale.
If the home is fantastic, but the property leads down to a muddy, unpleasant bit of beach, will you really get the benefits you hope for by spending more to live on the water?
You may also find that the neighborhood does not necessarily meet your standards, even though the lake or ocean itself is beautiful. This is where our handy guide on how to choose a neighborhood will come in handy!
What Exactly Are You Buying With Your Waterfront Home Purchase?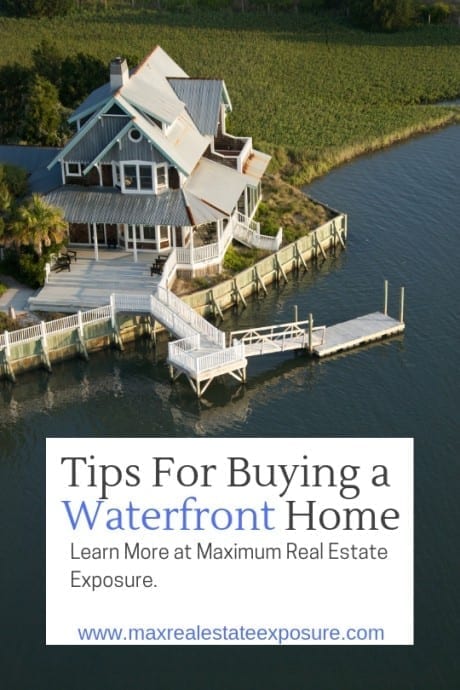 The term waterfront home can mean different things to different people. When you look at a property, verify that it actually extends to the water.
It would be best if you also clarified who has use of your property along the water's edge and what roads, docks, and other areas might be used by people other than you.
The vision you have of owning your own private beach may not be realized in many areas.
You will need to look at a survey of the land, a plat map, and talk to your Realtor – and possibly a real estate attorney – to get completely clear on what you are actually buying.
Recently, I was involved with what looked to the naked eye to be waterfront property. As it turns out, the property did not actually extend to the water, even though it is exactly what it looked like visually.
The town-owned a 20-foot buffer around the lake, which technically meant the home was not waterfront property. Working as a Milford Real Estate agent, this came as quite a surprise when it was discovered.
The owner, in fact, had no idea because he had been maintaining the property as his own for the last twenty-plus years.
Remember, when buying on a lake, you must do a little more careful research into what exactly you are purchasing.
What Does The Homeowners Association Expect of You?
Many waterfront properties are part of a homeowner's association. If you consider buying a property governed by an HOA, you must understand what that association expects of you. HOA's have been extremely helpful at preserving neighborhood home values or being completely unbearable to work with.
It will be essential to know before buying one of the waterfront homes for sale you're considering.
You will be obligated to meet requirements for owning a home in the area, requirements that may or may not be OK with you. This why knowing the homeowners association is so important.
The last thing you want is to be stuck in a place you are not happy with. This can happen when proper research is not done on what you are getting yourself into. When researching waterfront homes for sale, ask your real estate agent to help with any questions about the HOA.
How Do The Neighbors Like Living in This Waterfront Location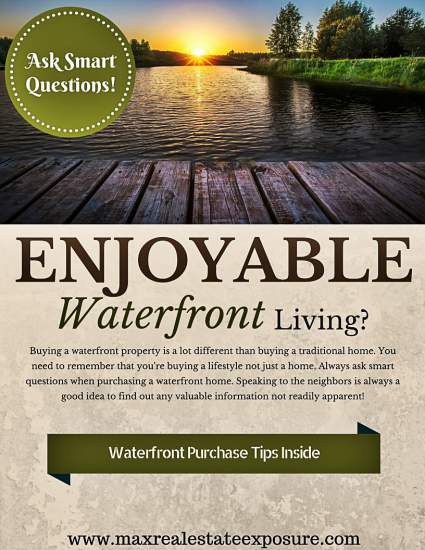 In addition to talking to the homeowner's association and examining legal documents with your Realtor, you can also talk to the property owners that sit adjacent to the property you consider purchasing.
Your potential neighbors may be able to tell you a lot about what to expect when owning property in that area.
They may give you valuable information about what it's like to work with the homeowner's association, as well as how the water is used by the area community.
Those who live in the local community may also inform you of any bad eggs living in the area.
For example, you may not enjoy living next to a bunch of teenagers who are constantly buzzing around your backyard on their jet skis while you are trying to enjoy a lazy afternoon in your canoe. Heck, maybe you are the one that loves jet or water skiing and won't want to bother the old man living next door.
It would be best if you always had a good understanding of who you will be living with when sharing a lake home.
While it does not necessarily pertain to living on a lake, some people like to check if there are any sexual predators living in the general area, especially if they have kids.
What is The Lake Like?
Another great question to ask when buying a lake home is what are the amenities it provides. If you are buying property on a lake, you should verify that it is a lake that you will gain enjoyment from.
Do you like to fish? Is the fishing good? If you like to swim, is the lake enjoyable to swim in? How deep is the lake? Is there an unpleasant odor that comes off of the lake? What about mosquitoes? What one property owner finds enjoyable about a lake may not be the same as what someone else will find enjoyable.
Also, have you seen the lake during the summer? A lake in winter will be a whole lot different than a lake in the heat of the summer. For this reason, I have prepared some of the best tips for buying lakefront property. It is referenced above. Use this as a guide for asking all of the right questions when buying a waterfront home.
Is The Home Built to Withstand The Environment?
There is no guarantee that the builder of the home you are considering actually did his or her research before constructing the home. In many areas, homes were built by people who purchased land and needed a place to live, not people following modern building codes or who had access to flood or weather predictions.
Can the home stand up to a hurricane if hurricanes are a possibility? What about flooding? Can it handle the wind that comes off of the water?
You should definitely hire a home inspector to examine the home and let you know if there are any issues. Moist environments, particularly those around saltwater, can cause deterioration in building materials in ways you might not be aware of.
An excellent home inspector can tell you if the home is built and maintained to last in its environment.
What To Expect For Maintenance Costs With Waterfront Properties?
Because waterfront environments can cause increased wear on a structure, you can probably expect to pay extra for ongoing maintenance. It would help if you asked what the yearly maintenance costs are and consider those costs in your purchase.
Things like pipes, attachments, roofs, and siding may all need to be replaced more regularly on a waterfront home.
Even if you can afford to buy the home, can you afford to keep it up so that it remains a good investment and a dwelling that you can depend on?
What Will it Cost to Insure Your Waterfront Home?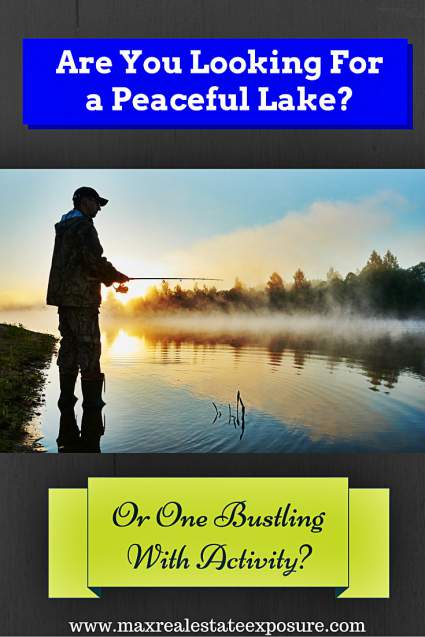 Another important question to ask before buying a waterfront home is if there are any unusual insurance expenses. Because waterfront homes are often at increased risk of being damaged by natural disasters, such as hurricanes or floods, they are typically more expensive to insure.
You will also need to include these increased insurance costs in your overall calculations for the cost of ownership.
You can see how to save on home insurance by following some of the comprehensive article's guidance.
Will a Waterfront Home Work For Your LifeStyle Needs
Of all the questions to ask when buying a waterfront home, this one may be the most important for your long-term happiness. In the excitement that comes from knowing you can buy a waterfront property, it is sometimes easy to lose sight of why you would want to live on the water in the first place.
For instance, a home on the beach may be a long-distance from any docks where you can store and use your boat.
If you love going out on the boat, but it takes over half an hour to get to it, will you be likely to use it regularly?
You may be able to find a home that is not on the water, but that is close to the docks, which gives you better access to the thing you love to do most.
Maybe sitting in a canoe or on your dock going fishing in a peaceful environment is your idea of lakefront living. If this is the case, the thought of jet skis and other motorboats buzzing by your home might not be up your alley.
Talk To A Realtor That Knows Waterfront Homes

If you are interested in buying a waterfront property, you should seek a real estate agent with waterfront real estate experience. A good agent will interview you to determine what you want most out of a home and help guide you to properties that will fit those requirements.
An experienced waterfront Realtor will also know how to get the facts on what owning the property entails, which will allow you to make a more informed, intelligent buying decision. The same can be said when selling a waterfront property – you want someone who knows how to sell the lifestyle!
How to Find Waterfront Properties For Sale
Besides working with a top-shelf real estate agent, you can always do a little searching yourself for a waterfront home. One of the better ways of doing so would be an online search. I would use waterfront homes for sale near me or waterfront properties for sale nearby.
Both of these search terms should generate some results if there is anything available in your general location.
Additional Questions People Ask About Waterfront Homes
Here are more questions and answers about waterfront properties.
1. Why are waterfront homes for sale more expensive?
It is all about supply and demand. Waterfront properties are highly desirable, with a considerable number of home buyers wanting one. Give that it drives up the prices.
2. Are waterfront homes a good investment?
Yes. Waterfront homes carry their investment well due to high demand. Waterfront properties tend to appreciate faster than homes not on the water.
3. Can you own a body of water?
Usually not. Typically, you do not own a navigatable body of water. You usually do not own the land under the water or be able to restrict other people's right to use the water.
4. What does a High Bank waterfront home mean?
High Bank waterfront properties are used to describe those homes that have magnificent vista views. These kinds of waterfront homes typically sit high above the water on some kind of plateau.
5. What determines your water rights?
You normally can use a body of water as you see fit unless it would negatively impact your neighbors or break local laws. Further, you would need to make sure you follow any rules established by a homeowners association.
Final Thoughts on Buying Waterfront Homes For Sale
Buying waterfront homes for sale can be an exciting proposition. However, it is vital to make sure you do some thorough due diligence about the home and the body of water.
Hopefully, you have found this guide to buying waterfront properties to be useful.
Additional Helpful Waterfront Home Buying References

List of Massachusetts lakes and other bodies of water via VisitNewEngland.com. Get some helpful information on some of the waterfront properties in Massachusetts.
Information on lakes in Massachusetts via Wikipedia.com. Get even more valuable information on places where you can own a waterfront home.
Fishing and boating – lakes and ponds Massachusetts via Mass.Gov. If you like fishing and boating, this will be a helpful reference for you.
Use the ten plus questions to ask before buying a waterfront home, along with the above references, in order to make a sound purchase decision.
Remember that purchasing a home on a lake is much different than buying a traditional single-family home. Not only are you buying a home but a lifestyle as well. Best of luck!
---
About the Author: The above Real Estate information on questions to ask when buying waterfront homes for sale was provided by Bill Gassett, a Nationally recognized leader in his field. Bill can be reached via email at [email protected] or by phone at 508-625-0191. Bill has helped people move in and out of many Metrowest towns for the last 34+ Years.
Are you thinking of selling your home? I have a passion for Real Estate and love to share my marketing expertise!
I service Real Estate Sales in the following Metrowest MA towns: Ashland, Bellingham, Douglas, Framingham, Franklin, Grafton, Holliston, Hopkinton, Hopedale, Medway, Mendon, Milford, Millbury, Millville, Natick, Northborough, Northbridge, Shrewsbury, Southborough, Sutton, Wayland, Westborough, Whitinsville, Worcester, Upton, and Uxbridge MA.