Are you ready to sell your home? Have you been thinking about investing in some home improvement projects before you sell? Prospective home sellers, hoping to increase the value of their home, will often pick the wrong projects, not getting the most bang out of their buck. In this article we'll review the top five best and worst home improvement projects to tackle when selling your home.
5 Best Home Improvement Projects
1.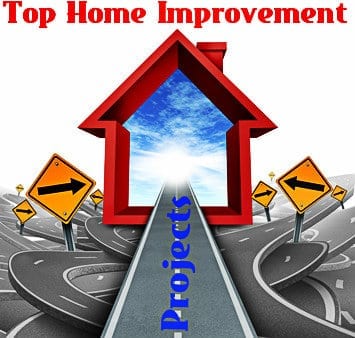 New Appliances: According to a recent AOL Real Estate survey, 69 percent of home buyers are willing to pay more for new appliances. How much more? $1,840 more. Although buyers are drawn to name-brand appliances like Sub-Zero, Viking and Bosch, you can always find quality kitchen appliances that won't break the bank—meaning more return on your investment.
2. Walk-In Closet: Can I get that closet super sized, please? 60 percent of buyers are willing to spend $1,350 more for a walk-in closet. So, if you have a reading nook or extra space in the master bedroom that could be easily converted into a walk-in closet, do it!
3. Granite Counter tops: Back to the kitchen we go! If you haven't noticed, there's been an increasing emphasis on the kitchen in recent years. 55 percent of buyers are willing to spend $1,620 more for granite counter tops. This can be a reasonable remodeling project if you have a reasonably sized kitchen. However, more counter space can quickly become less worth your while financially.
4. Hardwood Floors: Very few people under the age of 55 prefer carpeting these days, especially if that carpeting is a questionable color. In fact, 54 percent of buyers are willing to pay $2,080 more for hardwood floors, so if you still have carpet, rip it up!
5. En-suite Master Bath: The en-suite master bath has become more popular in the past decade. En-suite bathrooms are more convenient and are often larger and come with more features, like two sinks instead of one. If this home improvement project is a possibility for you, go for it. 49 percent of home buyers are willing to spend $2,030 more for this feature.
*Note: Although central air conditioning came out on top for percentage of buyers willing to pay more and amount extra willing to pay for a feature, the cost of installing it makes it a financially irresponsible endeavor.
5 Worst Home Improvement Projects
1.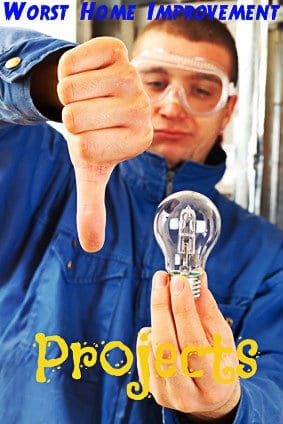 Pool: Pools are fun to swim in, but not fun to install—especially given the hefty price tag! Installing a pool can cost upwards of $20,000 to $60,000, plus an additional $2,000 a year to maintain. However, they don't do much when it comes to upping a home's value. First of all, the relatively small six to 11 percent increase in resale price for an in-ground pool depends on where the home is located. Secondly, above-ground pools have no added value to a home and can even decrease a home's value.
2. Garage: A garage addition or conversion can be financially disastrous. Adding space onto a garage, which can cost up to $60,000, only brings about a 60 percent return on investment and can be a turn off to prospective buyers who don't need the space. Similarly, a garage conversion—into a man cave, family room, etc—can lose you a pool of buyers that expect a home for their car.
3. Sun room: Oh, the sun room. Although lovely in theory, the sun room can be costly in reality. In fact, a sun room's value can drop by more than 54 percent come time to sell. It's more fiscally responsible to install the sun room's less expensive sister, the deck.
4. Home Office: Although a home office can earn you many tax breaks if it's your principal place of business, building it can be a costly investment. While you may spend up to $30,000 constructing it, it's probable you'll only get about half of your investment back when you're ready to sell. If your home office was created out of a former bedroom, buyers who need that space as a bedroom may be hesitant—many a dollar sign will impair their vision when they realize they'll have to convert it back.
5. Outdoor Kitchen: Entertaining outdoors is lovely, but keep the cooking indoors. Yes, a barbeque is always permissible—but a full blown outdoor kitchen is not. While this feature is always very location dependent, the return on your investment won't be much. Stick to simplicity when it comes to outdoor projects and spend your money on financially practical indoor ones.
If you're thinking of doing any home improvements on your house before selling, your best bet is to receive estimates on how much any given project will cost and compare this number to how much of a return on your investment said project will get you. Local real estate agents can help you with this process, as they have experience with how much buyers are willing to pay for certain features at any given time.
As a rule of thumb, bathroom and kitchen updates and remodels are always a safe bet, so stick to what works! Overall, ensure that you are wise about how you spend your money. You want the most for what you've come to call home, and the smarter you are about home improvement projects, the more buyers will covet this special space. We hope you have enjoyed understanding what the five best and worst home improvements are when considering selling your home!