4 West Main Street Hopkinton MA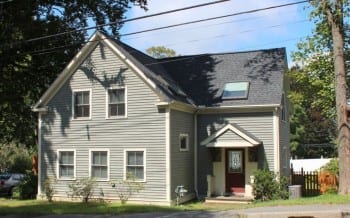 Are you the type of person that really would like a new home but have found that it is almost impossible to find one in the Metrowest area around the $300,000 price point? Well look no further than this home at 4 West Main Street Hopkinton in the heart of Metrowest! This former village colonial was gutted down to the foundation in 2001. Everything in the home is newer including the plumbing, heating, electrical, windows, walls, insulation and roof.
No stone was left unturned by the builder who bought this property and essentially made it like new construction. Walking into this home actually brought back a lot of memories for me as I grew up next door in 2 West Main Street. It is amazing just how different the property is from when I was a kid playing in the yard next door.
One of the things that I really like about this Hopkinton home is how open the floor plan is laid out. When you walk in the door you are welcomed by a bright and sunny area with very few walls. All the rooms are quite spacious and it certainly feels a lot bigger than the actual square footage.
The kitchen is very well done with attractive Maple cabinetry, granite tile counter tops, sleek black appliances, recessed lighting, and a door the leads out to a pressure treated deck. For those that like to cook the stove is natural gas. Directly off the kitchen is a spacious dining room that is appointed with a gas fireplace. If formal dining is not your thing you could easily turn this room into a more traditional family room.
The current owners have the family room set up in the front of the home and like the aspect of a dining room. What is great about the open floor plan is the flexibility to choose whatever fits your lifestyle. The first floor also has a beautiful full bath with tile floors and walls and a pedestal sink.
One of the real striking features of 4 West Main that you will immediately notice is the Hickory hardwood floors that can be found throughout the entire home. It is rare to find a newer property at this price point where the builder went the extra mile and installed wood floors everywhere.
Even the bedrooms have hardwood floors! All three bedrooms are located on the second floor and are very good size with decent closet space. Two of the bedrooms feature skylights which add to the appeal of the room. The second floor also is appointed with an exceptional bath that has a five foot tile shower and flooring.
The home is heated by gas with forced hot air and comes complete with central air conditioning which is only two years old. There is public water and a septic system that was installed in 2000. The home has passed the Massachusetts Title V septic inspection.
Other improvements include a new architectural shingle roof in 2010, a new water heater in 2009, a Humidex De-humidification system in 2008, a cedar fence in 2009 and an 8×12 storage shed in 2011.
Heading outside you will find a yard that is completely fenced in. If you have a young child or dog the yard is plenty big enough for a swing set and a place to play.
West Main Street is centrally located just outside the center of town and only a few miles to the 495 exits as well as the Massachusetts turnpike. The location is easy to get to all major conveniences including major routes, schools, shopping and restaurants. There are sidewalks that take you into the center of town for those that enjoying walking.
In total there are 6 rooms, 3 bedrooms and 2 full baths. The total gross living area is about 1203 square feet. The lot is .12 acres. The taxes for the property in 2012 are $4446.00.
Here are a few photos of the interior of 4 West Main Street. The property is currently being marketed at $309,900.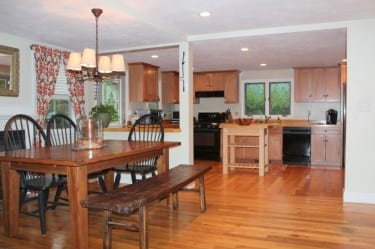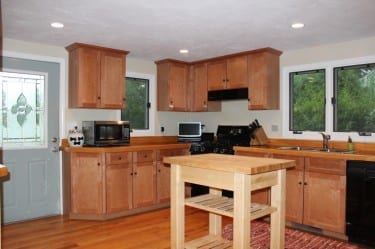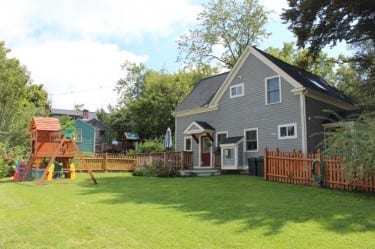 You can see a slide show video tour of 4 West Main Street, Hopkinton, Massachusetts along with numerous additional interior and exterior photos by clicking the link.
For an exact location of the home see the Google map provided below.
4 West Main Street Hopkinton MA Map

View Larger Map
If you are interested in more information about 4 West Main Street, Hopkinton, MA or like this type of marketing that I provide my clients, please get in touch. I would welcome the opportunity to interview with you. You can reach me at 508-625-0191 or by email  billgassett at remaxexec.com
I service Real Estate sales in the following towns in and around Metrowest Massachusetts : Ashland, Bellingham, Douglas, Framingham, Franklin, Grafton, Holliston, Hopkinton, Hopedale, Medway, Mendon, Milford, Millbury, Millville, Northboro, Northbridge, Shrewsbury, Southboro, Sutton, Wayland, Westboro, Whitinsville, Worcester, Upton and Uxbridge MA.